Ryusendo limestone cave [
龍泉洞

]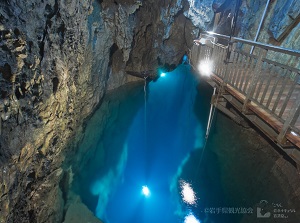 Photo by Iwate Prefecture

Photo by Iwate Prefecture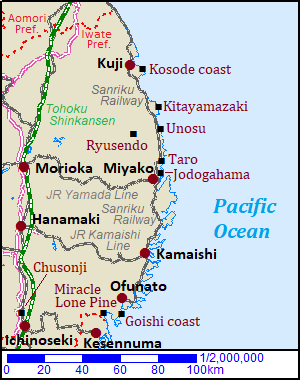 Ryusendo is one of the most famous limestone caves in Japan.
In the word, the first "u" and the last "o" is pronounced long, so it is reas as "Ryûsendô".
It is in the mountains of Iwaizumi town located about 28 km northwest of Miyako city.
The explored part of cave is over 2.5 km long, then it is estimated that the whole length is over 5 km.
This cave has some underground lakes, and now seven lakes are known.
Especially, the third lake is 98 meters deep, and the fourth lake is 120 meters deep.
Additionally, the water in this cave has the world's top clarity.
So, we are fascinated with the beautiful blue color of the lakes.
And the water is bottled and sold as mineral water.
But after the Great East Japan Earthquake in 2011, the water became muddy by shaked deposits on the bottom.
It took about a few months until the original clarity.
In September in 2016, a large amount of rainwater by a typhoon flew into the lakes and the whole caves were filled with the water.
It took more than a half year until the open.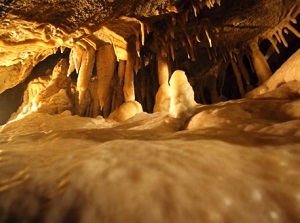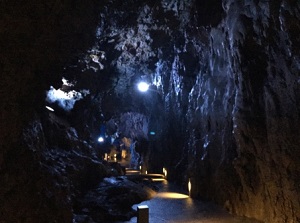 Five kinds of bats inhabit in this cave, so you may see them flying.
The tourists can tour this cave.
We can visit from the first to the third lakes.
The path for tour is set, but you must go up and down many stairs.
It takes about 30 minutes to tour the course.
Across a road from the cave, there is a new cave found in 1967.
It was names as Ryûsen-shindô (New Ryusendo).
At that time, many stone tools and earthen vessels were found in this cave.
Several years ago, people had lived in the cave.
This is smaller than main cave, but it is opened to public as a nantural museum.
How to get here
By Sanriku Railway Line, about 30 minutes from Miyako to Omoto.
Then, from Omoto station by route bus for "Iwaizumi shobosho mae", get off at Ryusendo stop. It takes about 26 minutes.
Or, the direct express bus is operated from Morioka station.
It takes about 2 hours and 15 minutes.
Hotels in Miyako
Other Tourist Attractions in Iwate Prefecture