Tourist Attractions in Sanriku Coast
Northern Part
Southern Part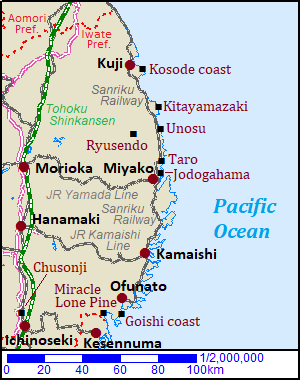 Sanriku Coast ("Sanriku Kaigan" in Japanese) is the coastal area facing Pacific Ocean from north to south.
The area is from the southeast part of Aomori Prefecture to Ojika peninsula in Miyagi Prefecture.
The length is about 280 km.
The part in Iwate Prefecture is designated Rikuchu Kaigan National Park.
We can see the grand view of the ocean and high cliffs.
There are some popular sightseeing spots in this area.
There is Miyako (宮古) city in nearly center of the area.
The northern coast of Miyako has been formed by raising of the land, then the coastline is almost high and steep cliff.
By contraries, the southern coast has been formed by sinking of the land, then the coastline is like sawtooth (ria coast).
So there are many good ports.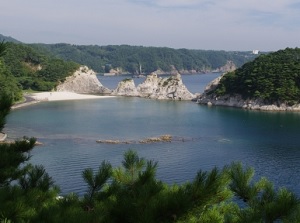 Jodogahama near Miyako
Although the land is rough, a railroad runs along whole coastline.
But some parts of it are JR lines, and the others are private railroads (Sanriku Railway).
Sanriku Railway is a local railway company.
The line runs along the sea, so you can enjoy the scenery of the Pacific Ocean in the train.
There is a road along the coastline, but the route bus services are mostly only between a sightseeing spots and its nearest railroad station.
To visit this area by railway, Miyako and Kamaishi at the ria coast are the main entrance towns.
The local lines lead to the city from the stations (Morioka, Shin-Hanamaki) of Tokoku-Shinkansen (The main line in Iwate Prefecture).
From ancient times, Sanriku coast has sometimes been damaged by tsunami triggered by massive earthquake causing under the ocean off the coast in Tohoku Region.
Especially, in the narrow bays of the ria coast, the wave of tsunami becomes very higher and more powerful.
On March 11 in 2011, large tsunami after the Great East Japan Earthquake destroyed fatally many towns along this ria coast.
The number of killed or missing persons by the disaster was more than 18,000.
About 95% of them were by the tsunami and most of them were the people living around Sanriku Coast.
The interval of large tsunami to this coast is 30 to 50 years, but it is said that such incredible tsunami on the day was since 869. (1,143 years ago)
The towns are still on the road to recovery from the tsunami disaster.
But it may be good that you visit such towns and know the reality of damage by tsunami.
How to get here
To Miyako :
From Morioka by rapid train on JR Yamada Line, about 2 hours and 10 minutes.
From Morioka by route bus, about 2 hours 10 minutes.
To Kamaishi :
From Shin-Hanamaki by JR Kamaishi Line, about 1 hour and 30 minutes by rapid train, about 1 hour and 50 minutes by local train.
Other Tourist Attractions in Iwate Prefecture