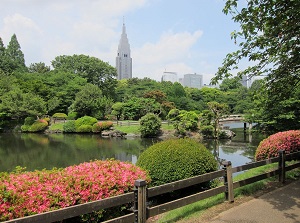 Garden of Shinjuku Gyoen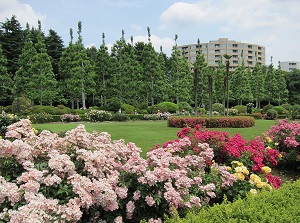 Flowers in spring
Shinjuku Gyoen is a national garden.
It is located just north of JR Sendagaya station and about 0.8 km southeast of JR Shinjuku station.
It is about 1 km from west to east and about 0.6 km from north to south.
In 1872, the Meiji govenment set up a agricultural experimental station in this broad site.
And the study of the cultivation of many fruits, vegetables and flowers had been conducted here.
Therefore, that was contributed much to the Japan's agricultural development.
After the important function had been finished, here was rebuilt as current garden in 1906.
In this garden, there are Japanese, British-style and French-style gardens.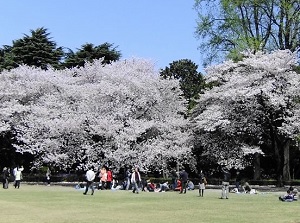 Cherry blossoms in spring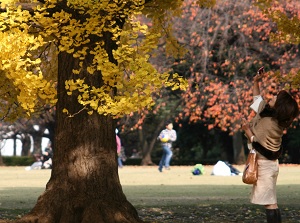 Autumn leaves in Shinjuku Gyoen
Over 10 thousand trees are in this garden, and about 1,300 of them are cherry blossoms.
So, here is one of major cherry blossom-viewing spots in Tokyo.
In the first half of November every year, the exhibition of cultivated chrysanthemums are held here.
There are three gates to enter the garden.
The nearest gate to Shinjuku station is "Shinjuku Gate" located at the northwest end.
At the northeast, there is "Ookido Gate".
And there is "Sendagaya Gate" near JR Sendagaya station at the southest end. This garden has the south gate near JR Sendagaya station and the north gate near Shinjuku-Gyoen-mae on Marunouchi Line (subway).
It is basically opened every day except Monday and the period of New Year.
How to get here
About 10 minutes walk from Shinjuku station.
About 5 minutes walk from JR Sendagaya station of Chuo Line.
Nearest stations of subway.
Shinjuku-Gyoen-mae (●M10 Marunouchi Line)
Kokuritsu-kyogijo (●E25 Ooedo Line)
Hotels around Shinjuku
Other Tourist Attractions in Tokyo Metropolis (Special Wards)