Yamanashi Prefecture [
山梨県

]
Yamanashi Prefecture is located just west of Tokyo Metropolis.
And there is Shizuoka Prefecture to the south and Mount Fuji is on the prefectural border.
There is a basin in the center of the prefecture.
Kofu city, the prefectural capital, and main towns are in the basin.
Many mountains along the prefectural border surrounding the basin.
Especially, mountains 2,600 to 3,000 meters high lie along the western border.
It is called "South Alps".
In the late 16th century, a strong warlord Takeda Shingen (1521-1573) appered, and he governed this area.
He had often invaded the neighboring areas with his strong troops, then his territory expanded.
But in 1582 after his death, Takeda family was lost in a battle with Oda Nobunaga who was the strongest rival.
After that, a castle was built in Kofu by order of Shogun, then here became one of the important land because of the protection of Edo (current Tokyo).
However, Shingen whose ambition had been frustrated is still a hero of Yamanashi.
So, many spots about him remain today.
When you travel Yamanashi, the scenery with vineyards comes in sight of you.
Grape is the famous products of Yamanashi.
Wine made from the grapes is also a specialty.
It is easy to enter Yamanashi Prefecture.
You can visit Yamanashi within 2 hours from Tokyo.
Tourist Attractions in Yamanashi Prefecture
Hotels in Yamanashi Prefecture
Transportation
Railway
To Kofu from Tokyo : By JR Chuo Line, about 2 hour.
To Lake Kawaguchi from Tokyo : By JR Chuo Line, about 1 hour and 10 minutes from Shinjuku in Tokyo to Otsuki.
Then, about 1 hour from Otsuki to Lake Kawaguchi.
Express bus
To Lake Kawaguchi from Shinjuku : About 1 hour and 45 minutes
To Lake Kawaguchi from Nagoya : About 4.5 hours
To Lake Kawaguchi from Osaka : About 11 hours (Night bus)
Main events in Yamanashi Prefecture
Shingen-ko Festival (Around April 12)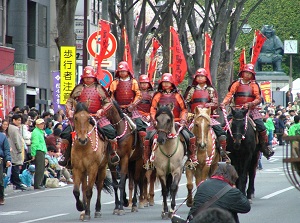 Photo by Railstation.net
It is the festival held in Kofu city.
"Shingen-ko" is a title of Takeda Shingen.
April 12th is the anniversary of his death.
Since 1970, the highlight of this festival has been the parade of army led by Shingen.
More than 1,600 medieval soldiers reproduce the scene going to a battle.
Yoshida Fire Festival (August 26 - 27)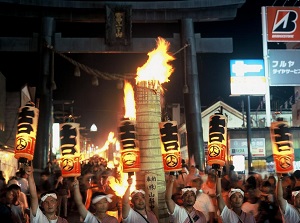 Photo by Yamanashi Tourism Organization
It is the festival held in Fuji-Yoshida city located at the northern foot of Mount Fuji.
It is the autumn festival of both Kitaguchi-hongu-Fuji-Sengen Jinja and Suwa Jinja shrines.
On the first day, two mikoshi (portable shrine) are carried throughout the city, and about 70 huge torches about 3 meters high are kindled in the evening.
On the second day, two mikoshi are carried again and they are returned to the original shrines.
Local foods and products in Yamanashi Prefecture
Houtou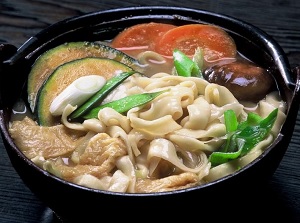 Photo by Yamanashi Tourism Organization
It is the popular local dish in Yamanashi Prefecture.
It is like noodle stew.
But people in Yamanashi Prefecture say "It is neither a noodle nor a stew".
After kneading dough and flattening out it, the sort of noodle is made by cutting into about a few centimeters wide strings.
And it is stewed with various vegetables in miso soup.
Grape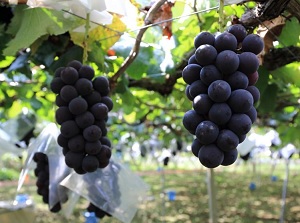 Photo by Yamanashi Tourism Organization
Grape is one of the most popular fruits in the world.
In Japan, Yamanashi Prefecture is the largest production center, and produces the one-fourth amount in Japan.
The basin in the prefecture is relatively low-railfall and there are the large difference in temperature between day and night.
Additionally, the land is good runoff of water.
We can enjoy the grape picking at many vineyards from August to October.
Koshu Wine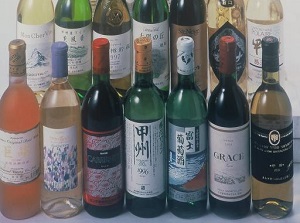 Photo by Yamanashi Tourism Organization
Yamanashi Prefecture is a major production area of grape, so there are many wineries.
Wine brewing in Yamanashi began around the 1870s.
Now, a quarter of Japanese wine is produced here.
The most popular wine is "Koshu". ("Koshu" is the old name of Yamanashi area.)
Koshu is a wine grape variety that has been grown primarily in Yamanashi Prefecture.
Commonly "Koshu wine" is a white wine.
The wine has a mild acid taste and a light flavor.
Crystal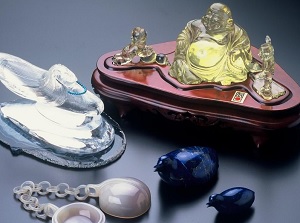 Photo by Yamanashi Tourism Organization
Yamanashi Prefecture produces crystal.
It is said that it was mined more than 400 years ago.
In the 1850s, the first process manufacturer of crystal appeared, and he had produced the accessories, eye glasses and Buddhist rosaries with crystal.
Since the early 20th century, the production was mechanized, so high-quality productions has been made in large quantities.
Now Yamanashi Prfecture is the main center of gem polishing in Japan.