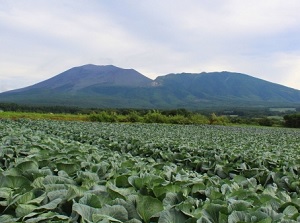 Mount Asama & the field of cabbage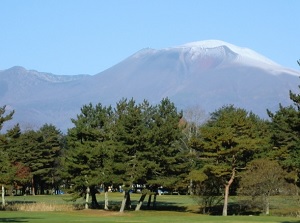 Mount Asama from Karuizawa
Mount Asama is an active complex volcano, and is located on the border between Gunma and Nagano Prefectures.
In Japanese, it is called "Asamayama".
It is located about 9 km northwest of Karuizawa town and about 25 km south of Kusatsu hot spring resort.
The area between Kusatsu and Mt.Asama is Tsumagoi village.
The altitude is 2,568 meters.
It is one of the most active volcanoes in Japan.
Since recorded history, it has often erupted.
When it erupted, its volcanic ash was sometimes observed in Tokyo area about 140 km from here.
Especially the eruption in 1783 was very great.
A great deal of lava flows and pyroclastic flows occured toward the north (Gunma side).
Then, the villages on the northern foot of the mountain had been destroyed quickly.
That killed up to 1,500 people.
The cooled lava flows formed the current Onioshodashi (鬼押出し).
Large amounts of volcanic ash fell on not only whole Kanto Region but also far Tohoku Region.
In this year, great eruptions occured in Iceland.
Therefore, the volcano ash in the sky blocked the sunlight and the temperature in the northern hemisphere fell down.
In Japan, that caused a historical great famine in Tohoku Region until 1788, so whole Japan had fallen into confusion.
This volcane is still active.
Earthquake Research Institute, University of Tokyo, continues to observe the volcano 24 hours a day, 365 days a year.
Around the northern foot of the mountain, a relatively flat highland spreads in Tsumagoi village.
The altitude is between 800 and 1,300 meters, and the climate is cool.
So you can see the field of cabbage as far as the eye can see.
Onioshidashi-en park (
鬼押出し園

)

Onioshidashi is located about 4 km north of the top.
Onioshidashi-en is a pay theme park in Onioshidashi.

Some walking trails are set up in the field of Onioshidashi, so we can see the real cooled lava flows.

There is Asamayama Kannondo temple (浅間山観音堂) is on the lava in the center of the park.

This temple was built in 1958, and enshrins the victims of the great eruption in 1783.
Karuizawa town (
軽井沢

)

On the southeast foot of Mount Asama, there is Karuizawa town which is a major resort town in Nagano prefecture.
About this town, please see the page.
How to get here
To Onioshidashi, by route bus, about 45 minutes from Karuizawa station of Hokuriku-Shinkansen, about 37 minutes from Naka-Karuizawa station of Shinano Railway.
Or, by route bus, about 20 minutes from JR Manza-Kazawa-guchi station.
Other Tourist Attractions in Gunma Prefecture