Daisetsuzan volcano group [
大雪山

]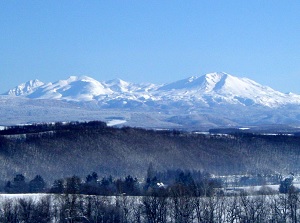 Daisetsuzan in winter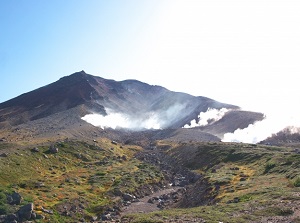 Asahidake in Daisetsuzan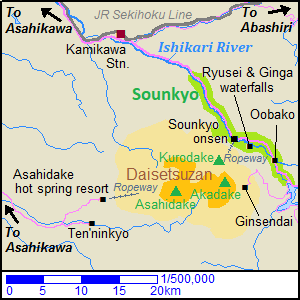 Map around Daisetsuzan
Daisetsuzan is a group of some volcanoes located about 50 km east of Asahikawa city.
The main peak is Asahidake ("Mount Asahi" in English) which is 2,291 meters high, and it is the highest peak of Hokkaido.
The wide area including these volcanoes is designated the Daisetsuzan National Park.
Rich forests spread around the foot of Daisetuzan.
In summer, over 200 kinds of alpine plants are found in the area more than 1,700 meters high.
Ishikari River flows from the east foot along the north foot.
A deep gorge has been formaed and it is called Sounkyo (層雲峡).
Asahidake (Mount Asahi) (
旭岳

)

Asahidake is the main volcano of Daisetuzan, and is 2,291 meters high.

The last eruption was about 5,600 yeras ago, but it is still fuming.

At the western foot of the mountain (about 1,100 meters high), there is Asahidake hot spring resort.
(It was called "Yukomanbetsu hot spring" in a past.)

There are some hotels and minshukus.
Here is the end of the road for car.

A ropeway goes up to the Sugatami station which is on the height of about 1,600 meters.
It is the fifth station of the mountain.

If you dress in trekking outfits, you can trek to see some beautiful ponds and alpine meadow from the station.

Main pond is Sugatami-no-ike and is positioned about 700 meters from the ropeway station. But it is cold even in summer.

The ropeway runs through near the year.
Ten-ninkyo gorge (
天人峡

)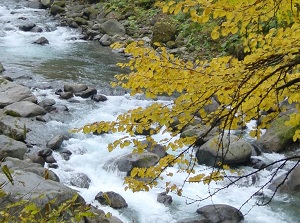 Ten-ninkyo gorge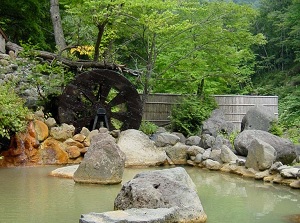 Outdoor bath in a hotel in Ten-ninkyo
Ten-ninkyo is a gorge located along the southwest foot of Asahidake volcano.
Chubetsu River flows, and there are various rocks and cliffs along this area.
From old times, the quiet Ten-ninkyo hot spring resort has been popular.
It has a few onsen hotels along the Chubetsu River.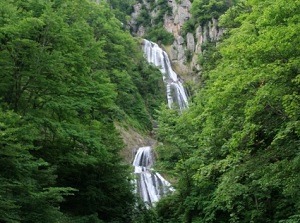 Hagoromo waterfall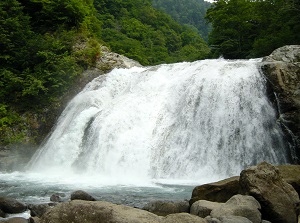 Shikishima waterfall
There are two popular waterfalls around the resort.
Hagoromo waterfall (羽衣の滝, 270 meters high) is located about 1 km northeast of the resort.
And Shikishima waterfall (敷島の滝, 20 meters high) is located 2 km east of the resort.
To see these waterfall, you should join the tekking tour to the observatory that both waterfalls are seen.
Ten-ninkyo is located only 3 km south of Asahidake hot spring resort, but we must take the other road halfway to there.
How to get here
To Asahidake ropeway
From JR Asahikawa station, route bus is operated 4 times in a day.
It takes about 1.5 hours.
To Ten-ninkyo Onsen
There is no public transportation.
A few hotels operates the private shuttle bus for guests.
Hotels around Daisetsuzan
Other Tourist Attractions in Northern Hokkaido