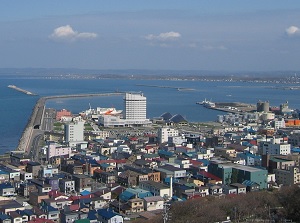 Wakkanai Port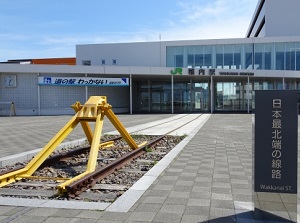 The northernmost tip of rail in Japan
at Wakkanai station
Wakkanai is the northernmost city in Japan.
It is located about 200 km north of Asahikawa city.
It is the center city in northern Hokkaido, but main industies such as fishery and dairy are slumping.
Therefore the population continues to decrease and is about 34 thousand now.
Wakkanai is situated on the nearly same latitude as Milan (Italy), Grenoble (France), Portland (United States) or Montreal (Canada).
But Wakkanai is colder than the cities.
Therefore, Wakkanai is the last city that cherry blossoms bloom in Japan.
We can see cherry blossoms around the middle of May.
The ferries for Rishiri Island and Rebun Island leave here.
There is Sakhalin island which Russia controls effectively toward north across the Soya Strait.
The distance between Wakkanai and Sakhalin is only 43 km.
There is the ferry for Sakhalin from here.
Because Russians visit Wakakani, you can find Russian characters on many signs in the city.

A view from Wakkanai Park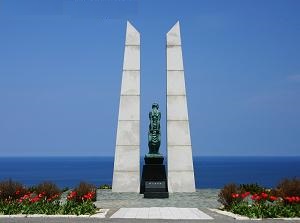 Hyosetsu-no-mon
Wakkanai Park (
稚内公園

)

Wakkanai Park is a park located on the hill west of the JR Wakkanai station.

It is an observatory where we can see the Wakkanai city, port and Soya Strait.
We may see the Sakhalin island distantly when it is fine.

There are many cherry trees in this park.
It is known for the cherry blossoms in May.

There are some monuments in this park.

Hyosetsu-no-mon (氷雪の門, The gate in ice and snow) is most famous in this park.

It was built in 1963 for memorial of the people who died in Sakhalin island.
South Sakhalin had been a territory of Japan until 1945.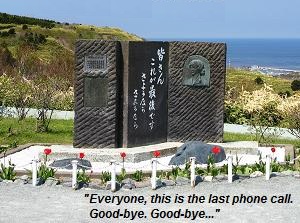 Monument of the Nine Maidens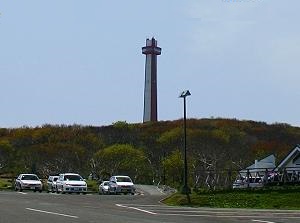 Wakkanai 100th Year Memorial Tower
Monument of the Nine Maidens (九人の乙女の碑) is also built in 1963 for memorial.
On August 15th in 1945, the Pacific War (World War II) ended with the unconditional surrender of Japan.
But Soviet militaly (current Russia) were invading to expand the territory in this area on this occasion.
Young female telephone operaters in Maoka town in Sakhalin Island were working faithfully not to cut off the telephone calls.
The Soviet military launched a fierce attack to this town on August 20th.
The operaters were unable to escape, then they were isolated in the office.
At last, nine of them killed themselves, with saying "Good-bye." on the telephone.
This monument was built as the memorial for the nine girls.
In 1968, Emperor Showa visited these monuments and prayed for the souls of them.
There is Wakkanai 100th Year Memorial Tower built in 1978 at the back of the park.
It was in celebration of the 100th anniversary of opening Wakkanai village.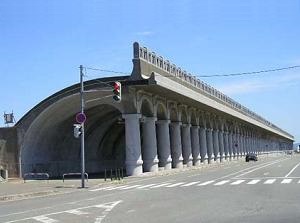 Wakkanai Port Northern Breakwater Dome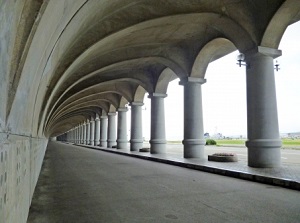 Colonnade like Greek construction
Wakkanai Port Northern Breakwater Dome (
稚内港北防波堤ドーム

)

It is a breakwater like dome, and is the northern breakwater of Wakkanai Port.
The colonnade looks like Greek construction.

It is located 0.5 km north of JR Wakkanai station, and the length is 424 meters.

It was completed in 1936.
And it was used as the breakwater and the walkway between Wakkanai railroad station and the pier of the ferry to Sakhalin.

The ferry to Sakhalin was abolished at the end of the World War II (1945).
But, this dome has been used for the breakwater protecting Wakkanai Port from the force of waves.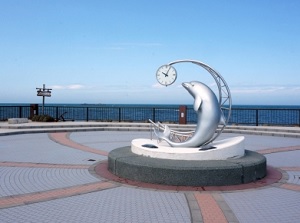 Cape Noshappu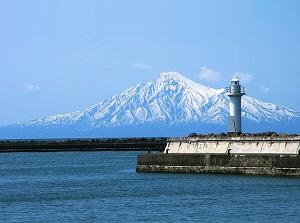 Mt.Rishiri in Rishiri island from Cape Noshappu
Cape Noshappu (
ノシャップ岬

)

Cape Noshappu is a cape located 5 km northwest of central Wakkanai.
It is one of the northernmost capes.

(There is "Cape Nosappu" near Nemuro city at the eastern end of Hokkaido. Distinguish "Cape Noshappu" from "Cape Nosappu".)

The coast has no cliffs and is flat, so it looks like a small pier.
There are a lighthouse and the municipal aqualium around here.

When it is fine, you can see Rishiri Island from here.

By route bus, it takes about 13 minutes from Wakkanai station.
How to get here
By airplane
From each airport to Wakkani Airport, it takes 1 hour and 55 minutes from Haneda (Tokyo) and 50 minutes from Shin-Chitose Airport.
Then by bus, from the airport to Wakkanai Station, it takes 35 minutes.
By railway
By JR limited express, it takes about 5 hours from Sapporo, and 3 hours and 40 minutes from Asahikawa.
Hotels in Wakkanai
Other Tourist Attractions in Northern Hokkaido