Tourist Attractions in Asahikawa
Asahikawa is a city located roughly in the center of Hokkaido.
It has a population of about 340,000 people, and is the Hokkaido's second largest city after Sapporo.
Agriculture is the main industry, especially rice and buckwheat are good quality.
Ishikari River flows near the city.
And some small rivers flow through the city, then they flow into Ishikari River.
So, there are many bridges in the city.
The city is in a basin, then it is the coldest city in Japan in winter.
Asahikawa has the Japanese the lowest temperature record of 41.0 degrees below zero in 1902.
But it is comparatively hot in summer, and the temperatures are sometimes above 30°C.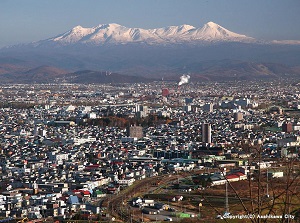 Asahikawa city and Daisetsuzan
Photo by Asahikawa city
Asahikawa is an important place to travel around northern and eastern Hokkaido.
Between Sappro and Asahikawa, JR limited expresses are operated frequently.
The limited expresses for Wakkanai in northern Hokkaido and for Abashiri in eastern Hokkaido leave from Asahikawa.
Of course, we can visit the popular spots such as Furano and Biei from Asahikawa easily.
Asahikawa has some tasty foods.
Especially, Asahikawa Ramen is a specialty of Asahikawa.
It is as popular as Sapporo ramen noodle.
In addition, Asahikawa is unsuspected a city that delicious sake is produced in Hokkaido.
Around Asahikawa, tasty rice is cultivated and good water from Daisetsuzan is obtained.
So, there are a few sake breweries since the end of the 19th century in Asahikawa.
How to get here
By JR limited express, 1.5 hours from Sapporo.
Airplane arrives at Asahikawa Airport.
From the airport to Asahikawa station, about 40 minutes by express bus.
Hotels in Asahikawa
Other Tourist Attractions in Northern Hokkaido