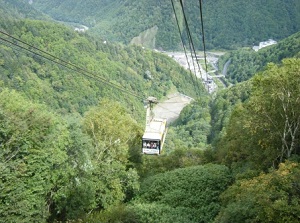 Ropeway to Kurodake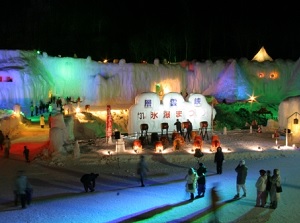 Sounkyo Hyobaku Festival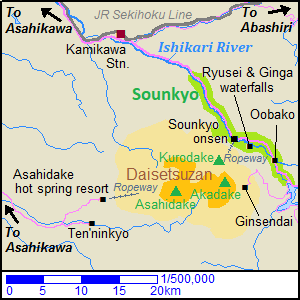 Map around Daisetsuzan
Sounkyo is a gorge located from east to north of Daisetsuzan.
In Japanese, both of "o" in the word is pronounced long as "Sôunkyô".
The gorge is along the upper portion of Ishikari River, and the length is about 24 km.
It is the most popular spot in Daisetsuzan area.
You can enjoy the natural scenery such as many cliffs, rocks and waterfalls.
And there is Sounkyo hot spring resort at the center of area.
In winter, Sounkyo Hyobaku Festival is held in ths resort town.
Many ice sculptures are set up in the town and they are illuminated by the colorful lights in the evening, and various events are held.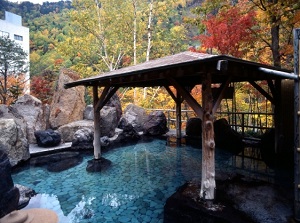 Outdoor bath in a hotel in Sounkyo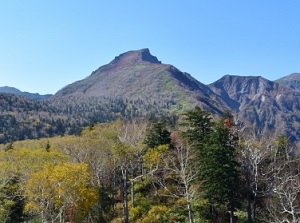 Kurodake
Sounkyo Onsen is the central hot spring resort in Sounkyo.
It is located about 60 km east of Asahikawa city.
It is the main hot spring resort in Daisetsuzan area, and there are more than a dozen big hotels.
And there is the Sounkyo Visitor Center in this resort town.
There is Kurodake volcano (黒岳) located 5 km southwest of Sounkyo Onsen.
This is also one of the volcanoes of Daisetsuzan, and is 1,984 meters high.
We can go up to the 1,300-meters-high observatory with the ropeway.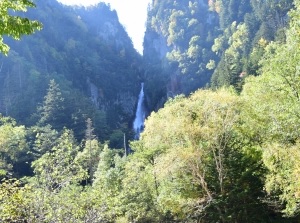 Ryusei waterfall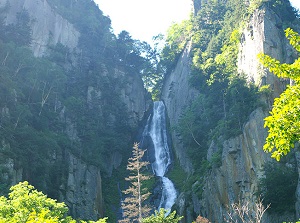 Ginga waterfall
There are two waterfalls at about 3 km east of Sounkyo hot spring resort.
One of them is Ryusei waterfall (流星の滝) meaning "meteor", and another is Ginga waterfall (銀河の滝) meaning "galaxy".
The distance between these two waterfalls is only 300 meters, so you can see both waterfalls from the side road along the Ishikari River.
We feel dynamism for Ryusei waterfall and we feel delicacy for Ginga waterfall.
Oobako (大函) is a huge cliff located 7 km east-southeast of Sounkyo hot spring resort.
The high cliffs with columnar joint stand in front of you.
This is the most popular spot in Sounkyo.
There is similar "Kobako" (小函) near here, but it is close to traffic for rockfall hazard.
And there is Ginsendai observatory (銀泉台) on the eastern slope of Akadake volcano (2,078 m) of Daisetsuzan.
It is located 8 km south of Sounkyo hot spring resort.
This is famous for the beautiful colored leaves.
We can see them in late September, so it is the earliest colored leaves in Japan.
How to get here
By route bus, about 1 hour and 50 minutes from JR Asahikawa station.
Or, by limited express from JR Asahikawa station to Kamikawa station, about 45 minutes.
Then, from Kamikawa station, by route bus about 30 minutes.
Hotels around Sounkyo
Other Tourist Attractions in Northern Hokkaido