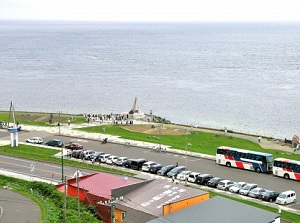 Cape Soya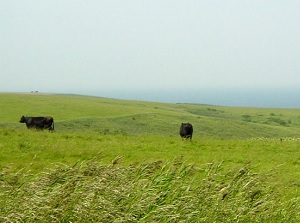 Grassland around Cape Soya
Cape Soya ("Sooya-misaki" in Japanese) is the northernmost cape in Japan.
In Japanese, "o" is pronounced long, so it is call as "Sôya misaki".
It is located about 25 km northeast of Wakkanai city.
The latitude is 45 degrees 31 minutes 14 seconds north.
The southernmost cape of Sakhalin Island is located 43 km just north of this cape.
It is a cape, but there is only a roundly curved normal coast.
And broad and gently‐sloping grassland extends around the cape.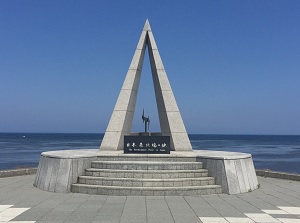 Monument of the northernmost place of Japan
The area around this cape is a park and there are a few monuments.
The main monument is triangular Monument of the northernmost place of Japan.
A bronze samurai is Statue of Mamiya Rinzo (1780-1844).
He was a samurai of Edo government.
At that time, Europeans and Russians had not known whether Sakhalin was a peninsula or an island.
By the order of Edo government, he started from this cape to explore Sakhalin in 1809.
Then, he found that Sakhalin was not a peninsula of Eurasian Continent but an island.
How to get here
By route bus, about 45 minutes from JR Wakkanai station.
Hotels in Wakkanai
Other Tourist Attractions in Northern Hokkaido