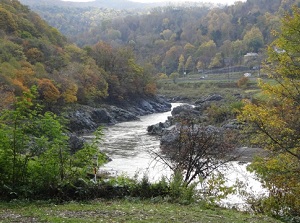 Kamui-kotan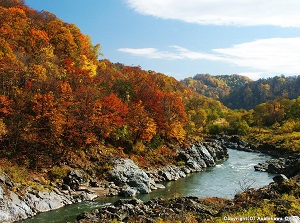 Autumn leaves around Kamui-kotan
Photo by Asahikawa city
Kamui-kotan is a gorge formed by Ishikari River.
It is located about 15 km west of the center of Asahikawa city.
There are steep cliffs along the river, and a lot of strange rocks are in the rapid flow.
Ishikari River flows through Asahikawa city in a basin, then flows to a wide plain with some cities including Sapporo.
This gorge is in the mountain between the basin and the plain.
"Kamui-kotan" means "living place of gods" in Ainu language.
Therefore, here is a sacred place for the native Ainu.
Some prehistoric remains has been found around the gorge, so it is thought that there were a village from long ago.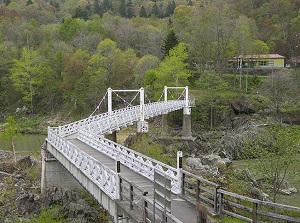 A bridge and former Kamui-kotan station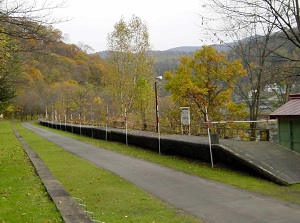 Platform of Kamui-kotan station
In addition, the railway line between Asahikawa and Sapporo had run along this gorge and there was a station around Kamui-kotan.
But the line was moved in a tunnel and the station was shut down in 1968.
Now, the building of the station has been restored.
It is one of the scenic spots of Asahikawa, and you can see beautiful autumn leaves.
In every Autumnal Equinox Day (around September 23th), "Kotan Fesival" is held here, and we can see the traditional Ainu's ceremony and culture.
How to get here
Get on the route bus for Fukagawa from JR Asahikawa station, and get off at "Kamui-kotan" stop.
It takes about 25 minutes.
Other Tourist Attractions in Asahikawa