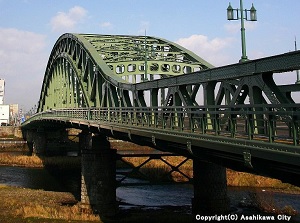 Photo by Asahikawa City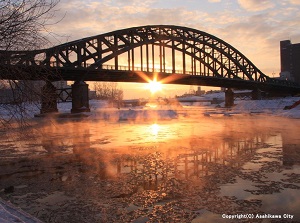 Photo by Asahikawa City
Asahibashi is an arch bridge over the Ishikari River.
It is located just north of central Asahikawa, and is about 1.8 km from JR Asahikawa station.
The length is about 225 meters and the width is about 18 meters.
It was strongly built with steel imported from Germany in 1932.
Originally, there was a wooden bridge.
But, it had been aged and the reconstruction was needed.
The bridge was on the route to a dormitory of the division of Japanese Army, so the strength to pass combat vehicles and withstand enemy's attack was necessary for the bridge.
Then, it was constructed to become a symbol of Asahikawa.
Now Route 40 passes on the bridge.
Even now, the smart bridge is a symbol of Asahikawa.
How to get here
By route bus, get off at "Tokiwa-koen" stop.
About 10 minutes from Asahikawa station.
Then, about 200 meters walk.
Other Tourist Attractions in Asahikawa