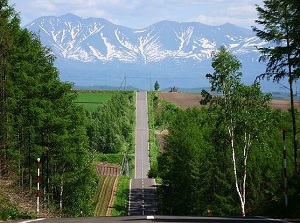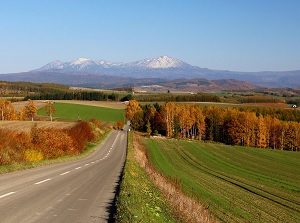 Hill of Shujitsu ("Shûjitsu no Oka" in Japanese) is a hidden popular scenic spot introducing in few guidebook.
It is an obscure country intersection on a hill.
From here, we can see a straight road like roller coaster and grand Daisentsuzan mountains scenery.
And, we can also see the long-distance view of Asahikawa city, Biei town, and the scenery of Asahikawa Airport.
It is located about 19 km southeast of the center of Asahikawa city.
And it is located about 6 km southeast of Asahikawa Airport and about 5 km northeast of Biei station.
It is a very interesting observatory, but if you want to visit here, you must rent a car or walk.
How to get here
There is no public transportation.
You can go to there by using a rental car.
Hotels in Asahikawa
Other Tourist Attractions in Asahikawa