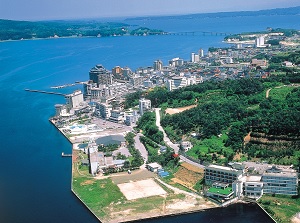 Wakura Onsen
Ishikawa Prefectural Tourism League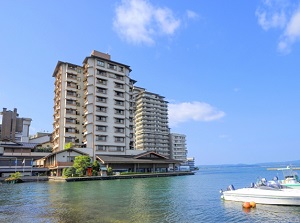 Hotels of Wakura Onsen facing Nanao Bay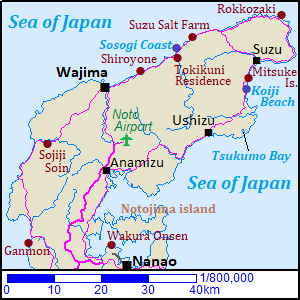 Wakura Onsen is a hot spring resort located at the middle part of Noto Peninsula.
It is located about 60 km north-northeast of Kanazawa city.
The resort is in Nanao city, and the onsen town faces Nanao Bay.
There is Notojima island in the center of Nanao Bay, and there is Wakura Onsen on the southwestern coast.
Because Notojima lies like a huge breakwater, the waves in the bay are relatively fewer than the outside of the bay.
This hot spring began to spring out in the early 9th century in a valley.
After that, the springing place had moved to the sea by crustal movement.
It is said that a fisherman and his wife found an egret curing its own wound in the steaming sea and the hot spring was found again in the 1050s.
In 1611, when Maeda Toshinaga, the 1st lord of Kaga Clan, had a swelling, he ordered the Wakura's hot water and the swelling had been cured.
That created a sensation, then Maeda Toshitsune, the 3rd lord, constucted an artificial island around the hot spring to use the water conveniently.
That was the start of Wakura onsen town.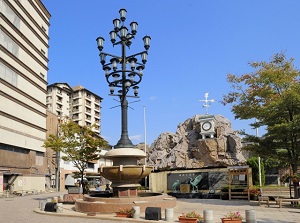 Center of Wakura Onsen town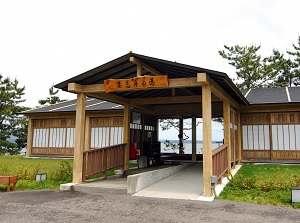 Foot bath facility in Wakura Onsen
Ishikawa Prefectural Tourism League
There are high-class hotels and ryokans along the coast.
The resort offers many tourists a base to tour Noto Peninsula.
The spring water contains very thick salt and warms the body.

There is Sôyu (総湯) in the center of the town.
It is the public bath house of the onsen town, and is built on the original place of the hot spring.
How to get here
From Kanazawa to Wakura-onsen of JR Nanao Line, about 1 hour by limited express.
The terminal station of local train is Nanao station, and it takes 1 hour and 40 minutes from Kanazawa.
From Nanao station, route bus to Wakura Onsen is operated and it takes 18 minutes.
The bus stops at Wakura-onsen station and it takes 6 minutes to onsen town.
Other Tourist Attractions in Ishikawa Prefecture
Kaga area
Noto area