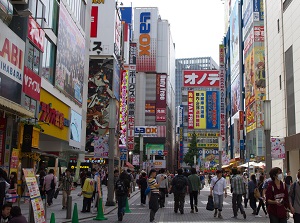 Street in front of Akihabara station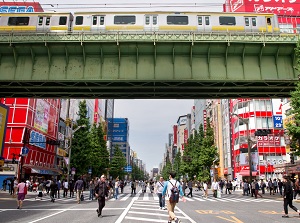 Main street in Akihabara on Sunday afternoon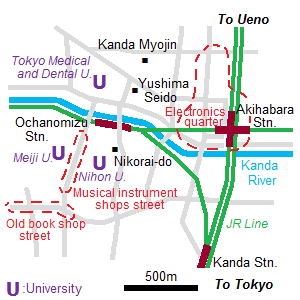 Akihabara is a popular electronics quarter located about 2 km north of Tokyo station.
It is sometimes called Akiba for short, a little affectedly.
The main area is the west side of JR Akihabara station where Yamanote, Keihin-Tohoku Line and Sobu Line cross.
After the World War II, many shops selling the parts for radio had gathered here.
Then the shops of household electrical goods had increase during the high-growth period of the Japanese economy in the 1960s.
Since that, Akihabara became synonymous with electronics quarter.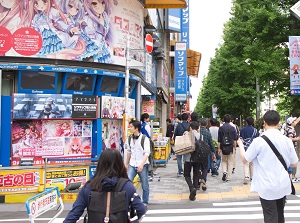 Main street in Akihabara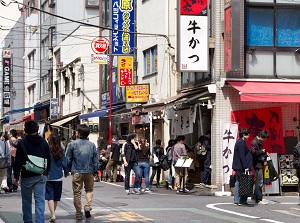 A side street in Akihabara
From the 1980s, personal computer and game machine became popular.
And the game softwares for the machine had been sold at the same time.
Akihabara were changing to the town of hobby and electrical goods.
And in the 1990s, such games including various Mangas and Animes created unique people who imitates the characters.
So after the 2000s, Akihabara has become a subculture town for mania and hobby.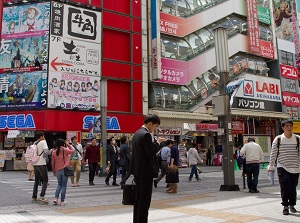 Shops in Akihabara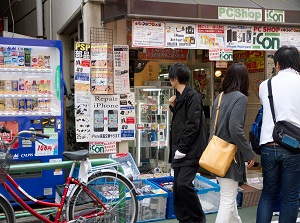 A shop in Akihabara
Now we can find the following shops in Akihabara area.
There are several duty-free shops in this area.
Household electrical goods
Electronics parts
Smartphone, Personal computers and its peripheral devices
Game, music and various softwares
There are a lot of duty-free shops in this area.
Many of major shops have foreign language speaking workers.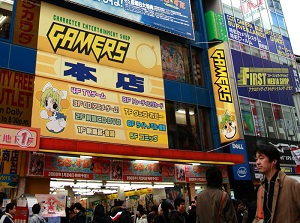 A game shop in Akihabara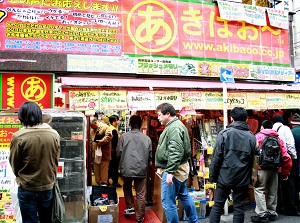 A shop in Akihabara
If you are interesting in anime and manga, the following shops are major.
Gamers / Tora-no-ana / animate / etc.
Of course, there are other many shops for manga and anime.
You can find an enormous number of comics, game softwares, various goods, etc.
However, most of them are the products in Japanese.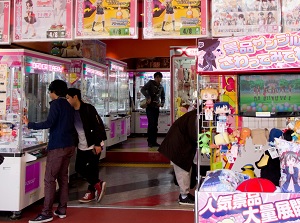 A game center in Akihabara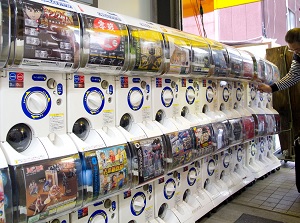 Gashapon
And, there are some amusement arcades in Akihabara.
It is called Game Center in Japan.
Video games are main, but claw cranes and "Gashapon" are also popular because the player can get any goods.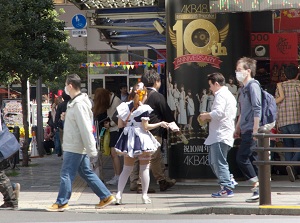 Attracting passerby to Maid cafe
We can find some restaurants and cafes.
Especially maid cafe in this area is famous.
The waitresses are cosplaying, and they serve you saying "My master" or "My lady" like a maid in Anime.
But in most cases, above words by maid are Japanese, because Maid cafe is a Japanese subculture.
But if you don't know Japanese, they will serve you with fun atmosphere.
Some cafes have English website.
(Cafe may be suddenly closed.)
But, there are the following unique cafes.
Anyhow, you will find the signs, banners, posters of anime and manga everywhere in Akihabara.
Chuo Street (The main street running from north to south) is free of vehicle from 13:00 to 18:00 on Sunday. (From 13:00 to 17:00, from October to March)
How to get here
By JR Yamanote, Keihin-Tohoku Lines, about 3 minutes from Tokyo station.
Nearest stations of subway.
Akihabara (●H16 Hibiya Line)

Hotels around Akihabara
Other Tourist Attractions in Tokyo Metropolis (Special Wards)