Ameya Yokocho (Ame-Yoko) [
アメヤ横丁(アメ横)

]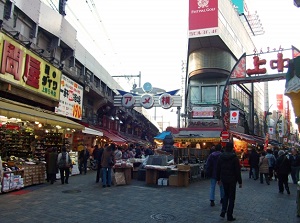 Entrance of Ueno station side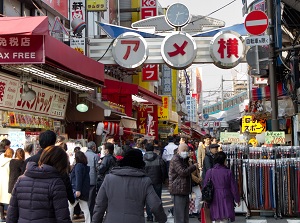 Entrance of Okachimachi station side
Ameya Yokocho is a market street along the west side of elevated JR Line between Okachimachi station and Ueno station.
"Ameya" means "candy shop" and "yokocho" means "alley".
It is often called Ame-Yoko for short.
Along the street about 400 meters long, there are more than 400 small shops.
There are fish shops, dry foods shops, meat shops, clothes shops, sporting-goods shops and other many shops.
About 10% of the shops are managed by Asian and African shopkeepers.
There are some food stalls in the street, and you can taste the unique foods.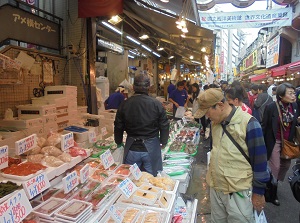 Shops of Ame-Yoko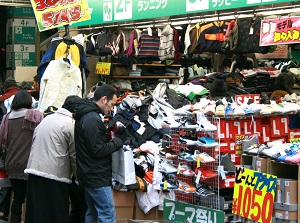 A shop of clothes and shoes
You will be able to find various unique and cheap products and foods.
The street is always busy.
Originally, here was the black market after the World War II.
In the 1950s, a lot of surplus goods of US Army in Japan had been sold here due to the Korean War, and this area had developed.
Recently sporting-goods shops are increasing, especially here is famous as the town of sneaker shop.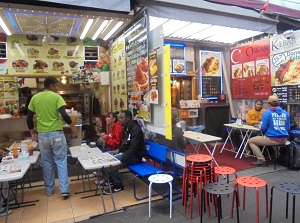 Food stall in Ame-Yoko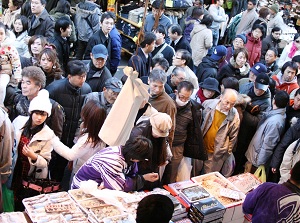 Ame-Yoko at the end of the year
There is Ameyoko Center Building at the north part of the street.
It was built in 1982, and many small shops are in the building.
At the end of every year, Ame-yoko is crowded enough not to walk for buying the goods to get ready for the New Year.
It is said that about 500 thousand visitors come here in a day in the period.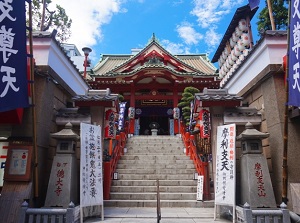 Entrance of Tokudaiji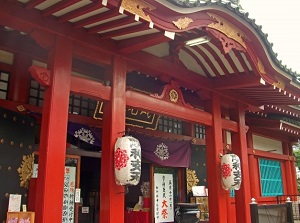 Main temple of Tokudaiji
At the center of the area, there is Tokudaiji temple (徳大寺).
It enshrines a Marishiten god, so the temple is often called Marishiten temple (摩利支天).
It is said that it was established in 1653, so this temple is much older than Ame-Yoko.
Marishiten is the god of victory, therefore, this temple wasn't destroyed by the Great Kanto Earthquake in 1923 and Tokyo air raids by US in 1945.
It is said that, if you visit and worship this temple, the god will expel evil spirits and you will get vigor, physical strength and money.
How to get here
Get off at Okachimachi or Ueno station (JR Yamanote or Keihin-Tohoku Line)
Nearest stations of subway.
Ueno-Okachimachi (●E09 Ooedo Line)
Ueno-Hirokoji (●G15 Ginza Line)
Ueno (●G16 Ginza Line, ●H18 Hibiya Line)
Hotels around Ueno
Other Tourist Attractions in Tokyo Metropolis (Special Wards)