Sumida Hokusai Museum [
すみだ北斎美術館

]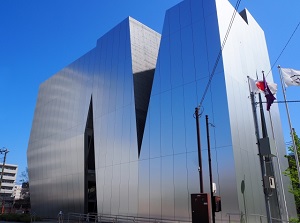 Sumida Hokusai Museum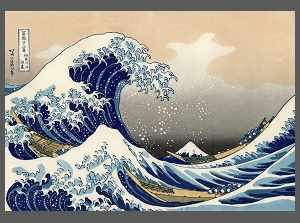 Famous piece in Fugaku Sanjurokkei
Sumida Hokusai Museum is the art museum for Katsushika Hokusai.
It is located about 0.6 km east of JR Ryogoku station and to the east of Ryogoku Kokugikan and Edo-Tokyo Museum.
Katsushika Hokusai (1760-1849) was an Ukiyoe print artist and was born near this museum.
He created more than 30 thousand works during his lifetime.
A wide variety of works such as landscape, paintings of animals, pictures of beautiful women, etc. were created.
In additon, he created even "manga" and erotic pictures.
His masterpiece is Fugaku Sanjurokkei (36 Views of Mt.Fuji) which is a set of 46 landscapes of Mt.Fuji and has main 36 pictures and additional 10 pictures.
This work was introduced into Europe, then they influenced the impressionists such as Gogh, Cézanne, Monet, etc.
This museum was opened in 2016.
Over 1,000 works donated by a few international collectors are stored in this museum.
How to get here
Ryogoku station (JR Sobu Line)
Nearest stations of subway.
Ryogoku (●E12 Ooedo Line)
Hotels around Sumida Ward
Other Tourist Attractions in Tokyo Metropolis (Special Wards)