Shibamata Taishakuten temple [
柴又帝釈天

]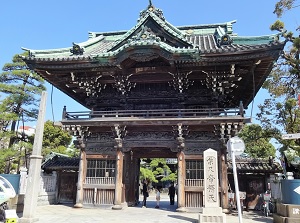 Nitenmon gate of Shibamata Taishakuten

Taishakudo of Shibamata Taishakuten
Shibamata Taishakuten is a Buddhist temple, and the formal name is Daikyoji (題経寺).
It is located about 10 km northeast of Asakusa.
Edo River ("Edogawa" in Japanese) flows to the east of the temple.
It is said that this temple was built in 1629.
Originally, this temple had a wooden board on which Nichiren (1222-1282, a high priest) himself carved a picture of Taishakuten (one of the gods in Buddhism) and scriptures.
But it had been missing for a long time.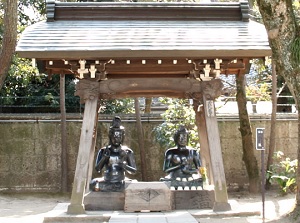 Two Kan-non statues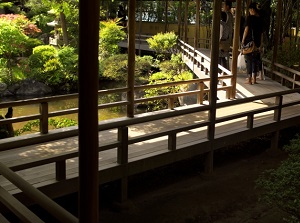 Japanese garden and a corridor
In 1779, when the main hall was repaired, the board was found in the building at last.
Four years later, the eastern Japan was struck by great famine.
The chief priest of this temple had carried the board on his back, and he had been to Edo city.
And he made the people to worship the Taishakuten on the board.
Then it is said that miracle effects were seen.
So, the believers of this temple had been increased since that.
The main buildings such as the main gate named Nitenmon and Taishakudo temple have no coloration.
Instead, they have many delicate carved decorations.
Most of the buildings were rebuilt from the late 19th century to the early 20th century.
Especially, on the outside walls of the inner temple of Taishakudo, the reliefs based on ten stories of Buddhism are carved.
We can see them along the exclusive path "Carving Gallery" for a fee.
And there is a Japanese garden "Suikeien" in the temple.
We can't enter the garden, but we can see it from the corridor.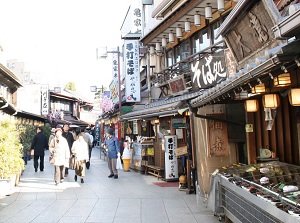 Approach to Shibamata Taishakuten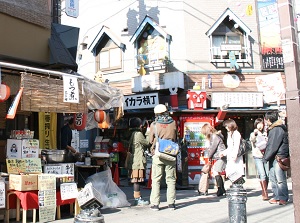 Shops in the approach
The nearest station is Shibamata of Keisei Railway.
There is an approach about 300 meters long from the station to Shibamata Taishakuten.
Along the approach, there are many restaurants and Japanese souvenir shops.
How to get here
About 7 minutes walk from Shibamata station on Keisei Line.
Shibamata is a station of Kanamachi Line (a branch line of Keisei).
It is the next station of Keisei-Takasago station.
It takes only 3 minutes.
To Keisei-Takasago, about 16 minutes from Keisei-Ueno, about 11 minutes from Nippori, by limited express of Keisei Line.
Additionally most trains of Toei Asakusa Line come direct to Keisei-Takasago.
About 16 minutes from Asakusa, about 28 minutes from Higashi-Ginza.
Hotels around Katsushika Ward
Other Tourist Attractions in Tokyo Metropolis (Special Wards)