Gero Onsen town
Photo by GERO-SPA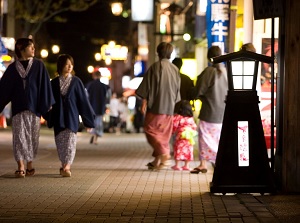 Street of Gero Onsen town
Photo by GERO-SPA
Gero Onsen is a hot spring resort located about 65 km northeast of Gifu city.
It is in the valley formed by Hida River.
There are many hotels and ryokans in this resort town, and it has been one of the three excellent springs in Japan, along with Arima (near Kobe) and Kusatsu (in Gunma Prefecture), since the 17th century.
In the early 10th century, the first hot spring had spouted on the top of a mountain.
But the spring stopped in 1265.
The following year, people saw that a wounded egret swoop to the shore of Hida River.
The people found a new hot spring at the place where the egret landed.
Then, the egret soared up again, and perched on a branch of a pine tree standing on a mountainside.
The people found a Buddha statue at the foot of the pine tree.
The people believed that the egret had been the incarnation of Buddha.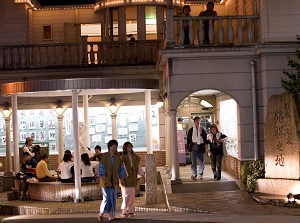 Foot bath in Gero Onsen
Photo by GERO-SPA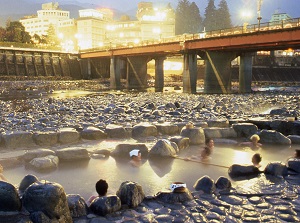 Funsenchi in Gero Onsen
Photo by GERO-SPA
The hot spring that the egret came is opened as a outdoor bath now.
It is on the shore of Hida River.
It is called Funsenchi (噴泉池).
It is near the main bridge in the center of the Onsen town and is in full view from the visitors of the town.
Of course it's free.
When you take a bath in Funsenchi, you must wear swimsuits.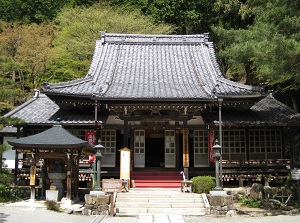 Onsenji in Gero Onsen
Photo by GERO-SPA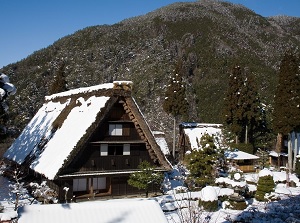 Gassho-mura in winter
Photo by GERO-SPA
At the place where a Buddha statue was found, there is Onsenji temple (温泉寺) founded in 1671.
The statue is enshrined in the temple.
The temple is located to the north of the resort town, and we must climb a flight of 173 stone steps.
At about 1 km east of the resort town, there is an open air museum Gasshô-mura (合掌村).
It has about 10 houses of "Gassho-zukuri" (traditional house with a steep rafter roof), and all of them were removed from Shirakawa-go and rebuilt here.
Some of them are designated as national important cultural properties.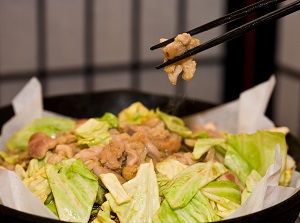 Keichan
Photo by Gifu Prefecture Tourism Federation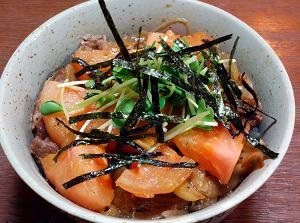 Tomato-don
Photo by Gifu Prefecture Tourism Federation
Gero area has unique dishes, and we can eat them at any restaurant in Gero.
Keichan is a dish made by frying seasoned chicken and chopped cabbage on a special iron pan.
It is a home cooked dish started in this area around the 1950s.
Tomato-don is one of rice bowl dishes.
First, cooked sliced Hida beef and onion are put on rice (It is the same as "Gyudon").
Then many cut tomatoes are topped on it.
Tomato is one of main agricultural products and Tomato-don was invented in Gero around 2000.
How to get here
From Nagoya, by limited express of JR Takayama line, about 1 hour and 45 minutes.
Other Tourist Attractions in Gifu Prefecture