Mie Prefecture is the prefecture located at the southwest part of Tokai Region.
Mie Prefecture is long from north to south, and the length is about 180 km.
The northern area faces Ise Bay, and a plain land spreads.
Most of the cities in the prefecture are on this area.
From wide geographical view point, large Kii Peninsula extends from Honshu Island to the south between Nagoya and Osaka, and Mie Prefecture is located on the east side.
The prefectural capital is Tsu city in the center part of the plain.
The largest city in the prefecture is Yokkaichi in the north part, but the population is about 300 thousand.
This area is close to Nagoya which is a big city in the center of Tokai Region, but the cities in Mie Prefecture are not so large.
Suzuka Mountain range runs along the west side of the plain.
At the western foot of the mountains, there is Iga Basin.
Iga (伊賀) is known as a birthplace of Ninja.
On the east side of the prefecture, there is Shima Peninsula.
To the south from the peninsula, there is the mountainous land.
The area has a sawtooth coastline, and there are many small coves.
It is a rainy area.
Especially, the annual amount of rainfall around Owase city exceeds 4,000 millimeters, and it is about three times more than Tokyo.
The climate is totally mild.
So, one of the main industries is agriculture.
Rice, green tea and mikan (a kind of Mandarin orange) are the main farm products.
Fisheries is also main industry, and cultured pearl is famous.
Expensive Japanese spiny lobster ("Ise ebi" in Japanese) and abalone are also popular.
Since ancient times, this prefecture has been the land with sacred Ise Shrine (伊勢神宮).
It has been the central Shinto shrine of the all shrines in Japan.
So Mie Prefectur has developed by many worshippers from all over the country.
Even now, Ise is the great sightseeing spot in this prefecture.
Ise is on the north coast of Shima Peninsula, and the area including Ise and some other spots on the peninsula is generally called Ise-Shima.
In 2016, 42nd G7 Summit was held in Ise-Shima area.
Tourist Attractions in Mie Prefecture
Transportation
Mie Prefecture has neither airport nor Shinkansen.
In this prefecture, Kintetsu Line is the convenient railway.
From Nagoya, Kyoto and Osaka, many limited expresses are operated.
The trains of JR line are not so frequent.
But only JR Kisei Line leads to the south part of the prefecture.
Railway
To Ise city from Nagoya : By Kintetsu railway, about 1 hour and 30 minutes.
To Ise city from Osaka : By Kintetsu railway, about 1 hour and 50 minutes.
To Owase city from Nagoya : By JR limited express, about 2 hours and 40 minutes.
Express bus
To Ise from Tokyo : About 9 to 10 hours (night bus)
To Iga from Tokyo : About 8 hours (night bus)
To Iga from Nagoya : About 2 hours
High speed boat
When you arrive at Chubu Centrair Airport, high speed boat is operated to Tsu port on the opposing coast of Ise Bay.
It takes 45 minutes.
From the port, express bus to Ise and Toba is operated two times a day.
Main events in Mie Prefecture
Ageuma Shinji (May 4, 5)
It is one of the main festivals held in Tado-taisha shrine in Kawana city at the north part of Mie Prefecture.
The festival has been held since the 14th century, and "Ageuma Shinji" is the main event.
"Ageuma" means making a horse go uphill and "Shinji" means shrine ritual.
Two young riders from each of six districts in Tado area are selected, and they try to climb a steep slope like a wall on a horse.
Each rider tries three times in two day.
They dress like a samurai.
They run to generate momentum for about 100 meters and run up the slope more than 2 meters high.
It is very difficult for the horse, so some of them don't succeed.
With the degrees of success, they divine whether farming and business will be good or not.
Kumano Fireworks Festival (August 17)
It is the great fireworks festival held in Kumano city at the south end of the prefecture.
"Bon" is a Japanese Buddhist custom to honor the spirits of our ancestors and the date is basically August 15.
This festival has been held as the last event of Bon for over 300 years.
This festival is held around Shichiri Mihama beach.
It is a place in Kumano Kodo pilgrimage routes which is designated a World Heritage site.
About 10,000 fireworks were launched around the beach from 19:00 to 21:00.
Over 150 thousand people visit every year.
But it is less convenient for transportation of train and bus, so the area is really crowded.
Local foods and products in Mie Prefecture
Akafuku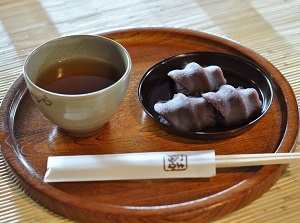 It is a famous rice cake made by an old confection store in Ise city.
Very soft and glutinous rice cake is coated by plenty sweet red bean paste.
Near Ise Shrine, there is a directly-managed tea room serving Akafuku, and many visitors always enjoy it.
Akafuku is bought at not only some its shops in Ise city but also some department stores and the stands in main stations along Kintetsu railway.
So, we can get it at Nagoya, Kyoto and Osaka stations, but it isn't bought in Tokyo.
Ise Udon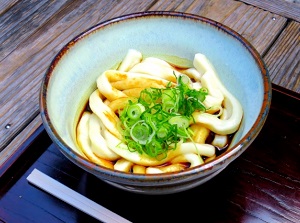 Udon is one of the popular Japanese noodles, and the white noodles are made from wheat.
Ise Udon has been eaten only around Ise city, and it is a little different from common Udon dish.
The noodle of Ise uden is very thick and soft.
The soup for common udon is filled in a bowl, but the soup of Ise udon is low in the bowl.
In addition, it is thick and the color is close to black.
But the taste of the soup is not thick but mild.
We eat the noodles with dressing thick soup.
Matsusaka beef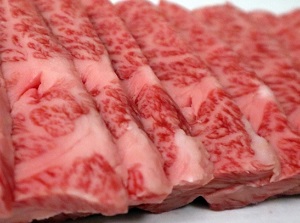 It is one of the most famous high-class beefs in Japan, along with Kobe beef.
It is the beef of virgin female cows.
They are born in Tajima area in Hyogo Prefecture and sre raise around Matsusaka city in the middle part of Mie Prefecture.
Matsusaka beef is meltingly soft and delicious.
Of course, it is very expensive.
In Matsusaka city, there are some long-established sukiyaki or steak restaurants using only Matsusaka beef.
Cultured pearl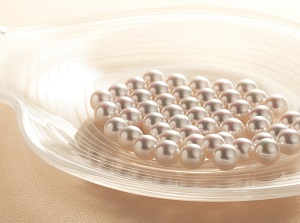 (C) ISESHIMA TOURISM & CONVENTION ORGANIZATION
http://www.iseshima-kanko.jp/
Pearl is a jewel created inside shellfish, and it had been rare jewels for a long time.
But Mikimoto Kokichi (1858-1954) succeeded the world's first quantity production of cultured pearl at Ago Bay in Mie Prefecture in 1905.
Britain and France claimed that the pearl was a sophisticated fake, but he pursued legal action and won a lawsuit in 1927.
At last, the pearl achieved recognition as a real jewel.
Now pearls are produced around Ago Bay, but the amount of production in Mie Prefecture is ranked third in Japan, along with Nagasaki and Ehime.
But Ago Bay is well-known as the birthplace of pearl.