Toba city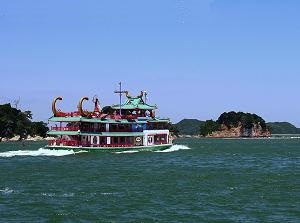 Toba Bay cruise
Toba is a city located at the northeast part of Shima Peninsula.
It is located about 15 km east of Ise city.
Toba city faces Ise Bay and has an indented coastline.
Several coves are along the coast and some islands are near the coast.
The cove in front of the main area of the city is called Toba Bay.
There are few plains and mountains comes close to the coast.
So the main area of the city is along the coast.
JR Sangu Line and Kintetsu railway leads to the central area.
And Kintetsu Shima Line runs toward the south from here.
Toba is the starting point to go to sightseeing spots in Shima Peninsula.
Toba Aquarium (
鳥羽水族館

)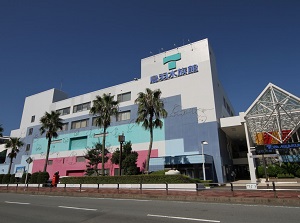 Toba Aquarium
Photo by Toba City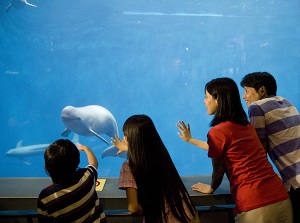 Finless Porpoise in Toba Aquarium
Photo by Toba City
Toba Aquarium is one of the largest aquariums in the world.
It is located about 0.8 km south of Toba station.
The aquarium has 12 zones in the building and has about 1,200 kinds of 30,000 fishes and aquatic animals.
The number of varieties is the largest amount in Japan.
This aquarium was opened in 1955.
Ministry of Education, Culture, Sports, Science and Technology designated this aquarium as a museum in 1958, so it is an institution for academic research.
This aquarium has made an effort to save endangered species.
That has succeeded in breeding finless porpoise and sea otter.
And dugong has been living here for a long time.
Mikimoto Pearl Island (
ミキモト真珠島

)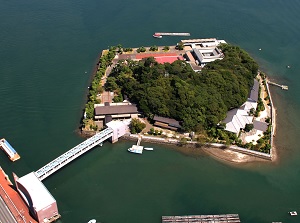 Mikimoto Pearl Island
Photo by Toba City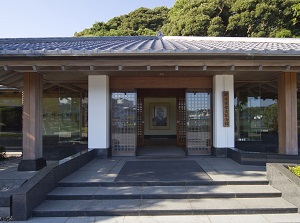 Kokichi Mikimoto Museum
Photo by Toba City
Mikimoto Pearl Island is a small island near Toba Aquarium.
It is about 150 meters square and we can visit this island across a bridge about 70 meters long.
Mikimoto Kôkichi (1858-1954) succeeded to produce cultured pearls in this island for the first time in the world in 1893.
By his effort, Japan became a major producer of cultured pearl in the world.
In 1951, this island was opened as a museum of cultured pearls.
In this island, there are Pearl Museum (真珠博物館) introducing cultured pearl and the crafted products, and Kokichi Mikimoto Museum (御木本幸吉記念館) introducing his life.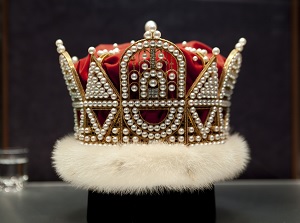 Displaying Crown cap in Pearl Museum
Photo by Toba City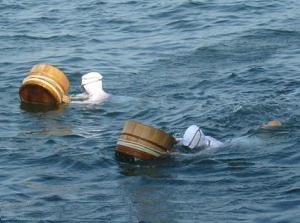 Performance of Ama in Mikimoto Pearl Island
And we can see the performance of Ama (Woman fishing diver with traditional white wear).
In Toba area, many ama have worked from ancient times.
To produce cultured pearls, ama had to dive into the sea and catch "Akoya Pearl Oyster", then dive to return the seeded oysters to the sea.
The diving work in the tradistonal style is seen only in this island.
Toba Bay Cruise
A pleasure ship is operated from around Mikimoto Pearl Island.
It cruises around Toba Bay for an hour.
It visits "Dolphin Island" with some entertainment facilities of dolphins.
The ship is operated every 30 minutes, so you can enjoy the island.
How to get here
By limited express of Kintetsu railway, about 1 hour and 30 to 40 minutes from Nagoya, about 2 hours and 10 to 15 minutes from Kyoto, about 2 hours from Nanba or Osaka-Uehonmachi.
From Uji-Yamada (Ise), about 12 to 20 minutes.
Or, from Nagoya, by rapid train of JR Kansai, Kisei and Sanguu Lines, about 1 hour and 45 minutes.
Other Tourist Attractions in Mie Prefecture