Gifu Prefecture is an inland prefecture located at the north part of Tokai Region.
The area is broad, and it is about 130 km from north to south and about 120 km from east to west.
Most area of this prefecture is mountainous.
Especially, the northeastern prefectural border is along Northern Alps with beautiful mountains around 3,000 meters high.
The flat land is only around the southern edge of the prefecture, and it is at the lower reach of Kiso River, Nagara River and several main rivers.
The area is in a plain including Nagoya city which is the center of Tokai Region.
Gifu city which is the prefectural capital is in the area.
The southern half of the prefecture is called Mino (美濃) area, and there are Gifu city and some other cities.
It is hot in summer and it is cold in winter.
The northern half of the prefecture is called Hida (飛騨) area.
Whole Hida area is in the mountains, and small villages are dotted along the main rivers.
The main city is Takayama (高山).
The altitude of this area is high, so it is relatively cool in summer.
It snows in Hida area from late December to February, and the northern part is in a heavy snowfall area.
Tourist Attractions in Gifu Prefecture
Hotels in Gifu Prefecture
Transportation
Railway
To Gifu city from Nagoya : By JR Tokaido Line or Meitetsu railway, 20 to 30 minutes.
To Takayama from Nagoya : By JR limited express, about 3 hours and 30 to 40 minutes.
To Takayama from Toyama : By JR limited express, about 1.5 hours
Express bus
To Takayama from Nagoya : About 3 hours
To Takayama from Osaka : About 5.5 hours
To Takayama from Tokyo : About 5.5 hours
Main events in Gifu Prefecture
Takayama Festival (April 14, 15 and October 9, 10)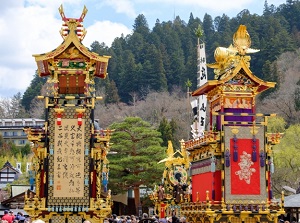 It is held in Takayama city, and is held two times in spring and autumn.
This festival has been held since the middle of the 17th century.
San-no Festival (the annual festival of Hie Shrine) is held in April, and Hachiman Festival (the annual festival of Sakurayama-Hachimangu shrine) is held in October.
In both festivals, about a dozen beautiful and gorgeous floats are pulled throughout the city.
They are often called "moving Yomeimon gate (in Nikko Toshogu shrine)".
A few floats have Karakuri on the top.
Karakuri is traditional Japanese mechanized puppet or automaton, and magical show of Karakuri is performed by some operaters in the float.
These beautiful floats are registered as cultural properties.
When it rains or looks like rain, the parade isn't done.
Takayama Festival is one of the three major beautiful festivals in Japan, along with Gion Festival in Kyoto and Chichibu Night Festival in Saitama Prefecture.
Gujo Odori (Over 30 days between mid-July and early September)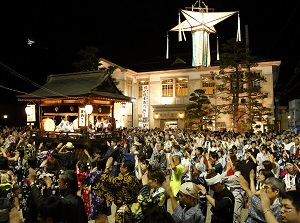 Photo by Gifu Prefecture Tourism Federation
It is the great Bon Festival dance held in Gujo city.
"Bon" is a Japanese Buddhist custom to honor the spirits of our ancestors and the date is basically August 15.
"Odori" means "dance", and many people in the town and village dance together for Bon.
This festival has been held for over 400 years.
The dance event is held from 20:00 to around 22:30 on Saturday and Sunday in the period.
In August, the event is held in most days.
Especially, around the day of Bon (August 13 to 16), the dance is held all night until 4:00 or 5:00 the next morning.
Gujo Odori is danced to the music called Gujo-bushi.
The musicians play Gujo-bushi on a float, and many dancers dance in a circle around the float.
The dance is easy, so you can join the dance.
Local foods and products in Gifu Prefecture
Hôba-Miso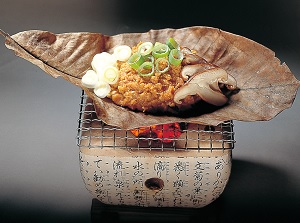 Photo by Takayama City
It is a specialty in Hida area.
"Hôba" is a leaf of Japanese bigleaf magnolia.
Chopped negi (green onion), mashrooms and wild plants are mixed with miso on a Hôba, and they are broiled on a table cookstove.
If you eat Hôba-Miso with boiled rice, it is very tasty.
Hôba has the effect of sterilizing and doesn't burn easily.
Recently, meats and vegetables are often added to the original Hôba-Miso and that is served as a dish in restaurants and ryokans.
Hida beef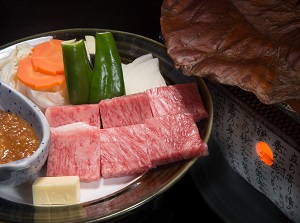 Hida beef is a high‐grade beef producing in Hida area.
It is one of the tasty beefs in Japan.
Of course, only the highest ranks among the beefs in Hida area are given the name of "Hida beef".
The beef is marbling and soft.
In 1981, Gifu Prefecture bought a good beef cattle from Tajima area where is one of the excellent beef producing centers in Japan.
And the offspring of the cattle fed in Hida area has produced the tasty Hida beef.
The restaurants and ryokans in Hida often serve Hida beef as an ingredient of Hôba-Miso.
Takayama ramen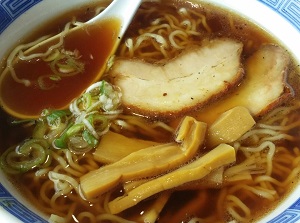 Soba is Japanese buckwheat noodle, but in Takayama, "soba" means "Takayama ramen".
Rather, "Chûka soba" meaning Chinese noodle is the main name of the ramen in Takayama city.
Takayama ramen uses thin and curly Chinese noodle.
And the process of making soup is simple and unique.
Generally, ramen soup is made by boiling the bones of pork or chicken and vegetable and straining them.
And before the ramen is served, the soup is seasoned with shoyu (soy sauce) or miso in the ramen bowl and the boiled noodle is put into there.
In Takayama ramen, the soup is made by mixing the main broth and shoyu.
Miso is not used.
So the taste is simple.
Mino-washi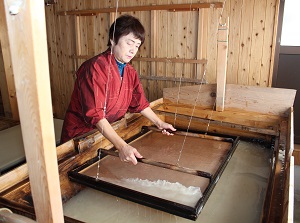 Photo by Gifu Prefecture Tourism Federation
Mino-washi is the traditional Japanese paper, and it has been produced around Mino city to the northeast of Gifu city.
Mino-washi has already been used as the paper for family registration in the early 8th century.
They are in Shosoin treasure house of Todaiji temple in Nara city.
So it is one of the Japan's oldest paper.
The paper is thin and strong, so it has been used for various purpose such as recording, paper sliding-door or paper lantern.
Now, the production process of most Mino-washi has been mechanized.
But some papers are produced by the traditional process, and only the products is called Hon-Minoshi.
Hon-Minoshi has been added to the UNESCO Intangible Cultural Heritage list.
Sarubobo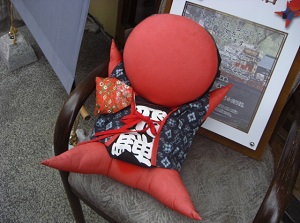 Sarubobo is a simple doll and is sold in Hida area.
The red color and shape is associated with a baby of monkey, so the doll was named as "saru" (monkey) and "bobo" (baby in Hida dialect).
Since ancient time, this doll has been made as an charm for good marriage, safe childbirth, good health, etc.
But the doll has disappeared in most areas in Japan, but the custom remains only in Hida area.
If you visit Takayama area, you can find a lot of Sarubobo in various shops.