Aichi Prefecture is located at the center of Tokai District.
The east part of the prefecture is mountainous, and the west part is flatland.
And, the southeast side of the prefecture faces Pacific Ocean (formally, Philippine Sea).
Two peninsula, western Chita Peninsula and eastern Atsumi Peninsula, extend like breakwaters.
And Mikawa Bay is inside both peninsulas and there is Ise Bay to the west of Chita Peninsula.
Many of the cities in the prefecture are in the west part.
Especially, Nagoya (名古屋) is the fourth largest city in Japan and the population is about 2.3 million.
But, the densely populated area is smaller than Tokyo area and Osaka area.
From the late 16th century to the early 17th century, three outstanding feudal warlords were produced in this prefecture.
They were Oda Nobunaga (織田信長, 1534-1582), Toyotomi Hideyoshi (豊臣秀吉, 1537-1598) and Tokugawa Ieyasu (徳川家康, 1543-1619).
They are the most famous figures in Japanese history, and became the top leader of Japan in order.
But they founded the base of the government in Osaka and Tokyo.
So Aichi Prefecture hasn't been the center of Japan.
Aichi Prefecture is located just between Osaka and Tokyo, and the traffic has been busy.
There is no doubt that Aichi Prefecture is an important area.
In Japan, the culture of Kanto (Tokyo, Yokohama) and the culture of Kansai (Osaka, Kyoto) are very major.
A little unique culture in Aichi Prefecture doesn't belong to both cultures.
Probably, many people in this prefecture may see them as the rivals.
Now, the main industry is manufacturing, and car industry is particularly known.
Toyota city located to the east of Nagoya has the name of the worldwide car company "Toyota".
Traditional industries such as pottery, miso, vinegar, etc. are also in this prefecture.
Tourist Attractions in Aichi Prefecture
Hotels in Aichi Prefecture
Transportation
Railway
To Nagoya from Tokyo : By Shinkansen, 1 hour and 35 to 55 minutes.
To Nagoya from Kyoto : By Shinkansen, about 35 minutes.
To Nagoya from Shin-Osaka : By Shinkansen, about 50 minutes.
To Nagoya from Nanba (Osaka) : By limited express of Kintetsu Railway, about 2 hours and 10 to 20 minutes.
Airport
Chubu Airport (Centrair) is located by the west coast of Chita peninsula, and is about 35 km south of Nagoya city.
It is one of the main international airports in Japan, so it has the international flights from many cities in the world.
And it has the domestic flights from various cities in Japan except Kansai area.
Especially, the flights from Shin-Chitose (Sapporo), Sendai, Haneda (Tokyo), Fukuoka and Naha (Okinawa) are operated frequently.
There is Nagoya Airport about 12 km north of Nagoya city.
It is a domestic airport and has the flight from some local cities such as Aomori, Hanamaki, Izumo, Kochi, Fukuoka, Kumamoto, etc.
Main events in Aichi Prefecture
Konomiya Hadaka Festival (Mid-February [Jan.13 in lunar calendar])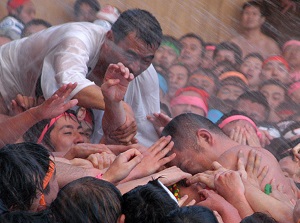 It is a unique traditional festival, and is held at Konomiya Shrine in Inazawa city located about 10 km northwest of Nagoya.
"Hadaka" means "naked".
A sacred man is selected from the candidates.
The selected man purifies himself in the shrine for three days.
On the day of the festival, thousand of men with only a loincloth gather in this shrine from surrounding area.
They are mainly 25 or 42 years old which are the unlucky year in men's life in Shinto.
After they jostle each other, the sacred man without a stitch of clothing enter the crowd in the evening.
All men try to touch the sacred man to drive away their unlucky, so the crowd becomes very exciting.
After about an hour, the mobbed sacred man is pulled into the shrine at last.
In the midnight, the sacred man who sucked up much unlucky is expelled from the shrine by the priests, and he can return to his home.
Then the festival is finished.
Inuyama Festivel (1st Saturday & Sunday in April)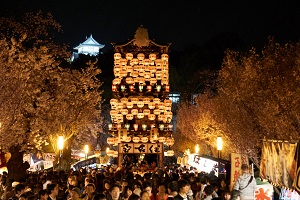 Photo by Inuyama City Tourist Association
It is a festival held in Inuyama city.
It is said that this festival has been held since 1635.
Thirteen floats parade throughout the city.
The float has three stories.
On the highest floor, a Karakuri Doll (Japanese mechanized puppets) is set up.
It was created in the 17th century, but moves magically.
And some operators operate the doll on the second floor, and the musicians play music on the lowest floor.
Not only the parade of the floats but also the show of the Karakuri Dolls is the main attraction.
Local foods and products in Aichi Prefecture
Kishimen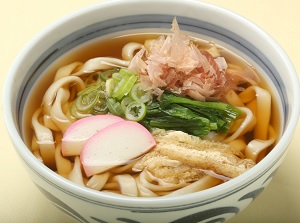 Photo by Nagoya Convention & Visitors Bureau
Udon is one of popular noodle in Japan.
Kishimen is the thin and wide noodle made from the same dough as udon.
There are the various dishes of Kishimen like udon, so Kishimen is served in most noodle restaurants in Nagoya city.
Most basic Kishimen dish is the boiled noodle in hot soup of dashi and soy sauce.
And a piece of age (fried tofu), kamaboko and boiled spinach are topped, and heaped shaved Katsuobushi (dried bonito) is added on the dish.
Miso-nikomi udon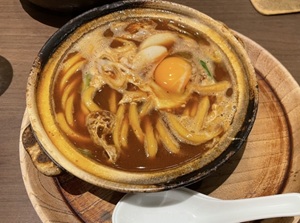 Photo by Nagoya Convention & Visitors Bureau
It is an udon noodle dish stewed in miso soup, and it is one of popular udon dishes in Japan.
But the dish around Nagoya is unique.
Haccho-miso (red miso made from only soy beans and mainly made in Okazaki city) is used, so the soup has a thick taste.
And the udon noodle is also thick and hard.
Hard udon noodle is put in Haccho-miso soup in a pottery bowl, and some pieces of chicken, negi (green onion), shiitake (Japanese mushroom), sliced kamaboko (processed fish paste) are topped.
And an egg is broken in the center of the bowl.
It is boiled over an open fire, then the boiling bowl is served.
So it is very hot but the noodle is still a little hard.
You think that the noodle is half-cooked, but it is tasty.
Hitsumabushi

Photo by Nagoya Convention & Visitors Bureau
It is also a popular dish in Nagoya.
A bowl of rice topped with grilled eel with dipping soy sauce, mirin and sugar is served.
First, you put a quarter of the dish into a small bowl by yourself, and eat it.
Secondly, you put a quarter of dish into the small bowl, and eat it after topping with nori (dried laver), wasabi and chopped negi (green onion).
Thirdly, you put a quarter of dish into the small bowl, and top in the same way. Additionally, you pour green tea or dashi soup over it and eat it.
Finally, you eat the last quarter by your favorite way.
These are the basic way, but, of course, eat it freely.
Uirou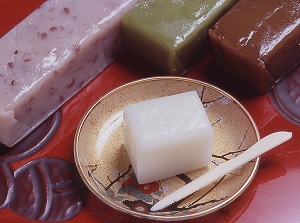 Photo by Nagoya Convention & Visitors Bureau
It is a steamed cake made of rice flour and sugar.
The confectionery is made in some area in western Japan, but uirou in Nagoya is well-known.
There are several variations of the cake.
White uirou is made with white sugar, and brown uirou is made with brown sugar.
And there are other various flavored uirou such as green tea, red bean, coffee, citrus, and so on.
These are colorful.
Ebi-senbei (Shrimp cracker)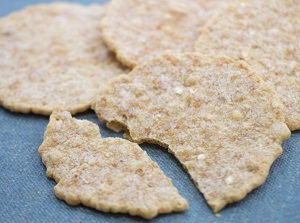 It is a Japanese cracker with shrimp, and most productions in Japan is made in the towns facing Mikawa Bay and in Chita Peninsula.
Especially, Isshiki town is well-known.
Ebi-senbei is made by baking starch with water in a circle.
Shrimp is used with adding in whole on the starch, or minched shrimp is mixed in the starch.