Shizuoka Prefecture [
静岡県

]
Shizuoka Prefecture is located at the southeast part of Honshu Island.
And it is positioned just between Tokyo area and Nagoya area.
Shizuoka Prefecture faces Pacific Ocean (formally, Philippine Sea) to the south.
And the area is broad from east to west.
The northern part of the prefecture is mountainous, so most of the cities are along the southern coastline.
There is Mount Fuji on the northeast prefectural border.
In the east part of the prefecture, there is Izu Peninsula (伊豆半島).
Originally, it was an island in the Pacific Ocean.
The island had moved slowly toward north with plate movement.
At last, it collided against Honshu Island about a million years ago, so it became a peninsula.
It is still pushing Honshu Island, so earthquakes sometimes occur.
Izu Peninsula is very mountainous.
But many hot springs are dotted in whole peninsula.
Because it is not so far from Tokyo area, Izu area is one of the popular resort areas of the metropolitan area.
The west coast of Izu Peninsula faces Suruga Bay (駿河湾).
It is the deepest bay in Japan, and reaches a depth of about 2,500 meters though it is narrow.
Tourist Attractions in Shizuoka Prefecture
Around Mount Fuji
Around Izu Peninsula
Around Shizuoka city
Western area
Hotels in Shizuoka Prefecture
Transportation
Railway
To Atami from Tokyo : By Shinkansen, about 50 minutes.
To Shizuoka from Tokyo : By Shinkansen, about 1 hours.
To Shizuoka from Osaka : By Shinkansen, about 2 hours.
To Hamamatsu from Tokyo : By Shinkansen, about 1.5 hours.
Airport
There is Shizuoka Airport in Shimada city at the nearly center of the prefecture.
It is located about 30 km from Shizuoka and about 45 km from Hamamatsu.
It has the some flights a day from Fukuoka and has a flight a day from some other cities.
And it has the international flights from Seoul, Taipei, Shanghai and a few cities in China.
The express buses to Shizuoka station run from the airport, and it takes about an hour.
Main events in Shizuoka Prefecture
Obi Festival (Mid-October every 3 years)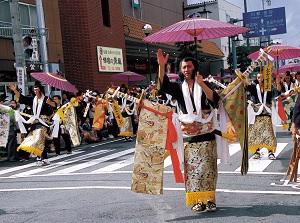 Photo by Shizuoka Prefectural Tourism Association
It is one of the events of the festival of Ooi Shrine in Shimada city.
It is held for three days, once every four years.
This festival is the reenactment of feudal lord's procession.
But the style of retainers is unique, and they hang a few "Obi" (sash of kimono) at their sides.
Once, the brides who had come to Shimada from the other town had to visit all home in Shimada with the the wedding dress and gorgeous Obi.
But the citizens felt sorry for the brides.
So, instead of the bride, samurai retainers came to carry the own Obi in the procession as the festival of the shrine from 1695.
Daidogei World Cup (Early November)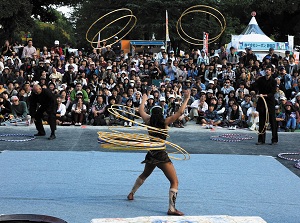 Photo by Shizuoka Prefectural Tourism Association
"Daidogei" means "street performance" in Japanese.
This is the largest event of street performance in Japan, and has been held every year since 1992.
More than 150 performers from Japan and many other countries are invited, and they show their performances to win first prize.
The performers must act at the predetermined place and time.
Several places for performances are set in the center of Shizuoka city.
Every year, over 1.5 million spectators visit Shizuoka city.
Local foods and products in Shizuoka Prefecture
Green tea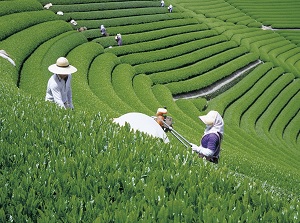 Photo by Shizuoka Prefectural Tourism Association
Japanese tea is mostly "green tea".
Shizuoka Prefecture has nearly half of Japan's tea production because it is relatively warm and rain falls moderately in this prefecture.
The tea is cultivated on the hilly area in the central and western parts of the prefecture.
When we travel by Tokaido Shinkansen, we can see the scenery of tea farms between Shizuoka and Kakegawa.
Sakura shrimp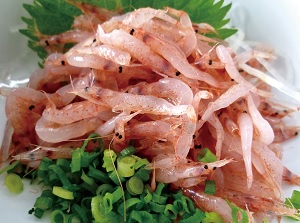 Photo by Shizuoka Prefectural Tourism Association
It is a kind of shrimps living in deep sea.
It is about 4 centimeters long and is transparent with light pink.
So the name of "sakura" (cherry blossom) has been given.
It lives at the depth of 200 to 300 meters below the surface of the sea in the daytime, and comes to the depth of 20 to 50 meters in the nighttime.
This shrimp is allowed to catch only in Suruga Bay in Japan.
And the open seasons are from April to June and from October to November.
Yui fishing port at the northeast part of Shizuoka city is known as the landing of this shrimp.
We can eat raw.
And, dried shrimp is used as one of the ingredients of tempura and okonomiyaki.
Shizuoka Oden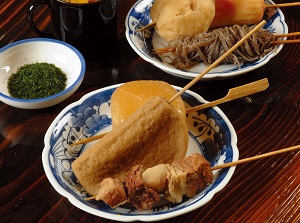 Photo by Shizuoka Prefectural Tourism Association
Oden is the popular Japanese stewed dish consisting of several ingredients such as various foods made of minced fish, daikon (Japanese radish), kon-nyaku.
General oden is stewed in Japanese dashi broth, but Shizuoka oden is stewed in beef tendon broth containing blackish soy sauce.
So the color of the soup is very dark.
And in Shizuoka oden, all ingredients are stuck through on a thin bamboo stick.
When we eat, a little powder of dried fish and laver are is sprinkled over the ingredients.
Fujinomiya Yakisoba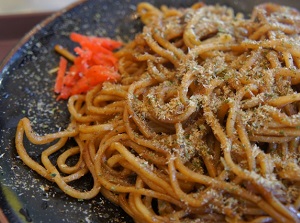 Yakisoba is the fried Chinese noodle with Worcester sauce, and is one of the popular noodle dishes in Japan.
Fujinomiya is a small city at the southwestern foot of Mount Fuji, and there are more than 140 restaurants serving yakisoba in the city.
Fujinomiya yakisoba uses the very springy Chinese noodle made in the city.
And strained lees of the pork that lard has been pressed is added when cooking.
When we eat, the powder of dried sardine or mackerel are sprinkled over the dish.
Hamamatsu Gyoza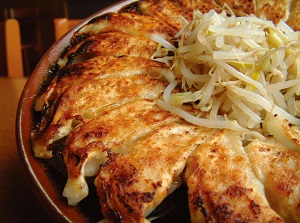 Photo by Shizuoka Prefectural Tourism Association
Gyoza is a kind of dumpling stuffed with minced pork and vegetables.
Originally, it is one of Chinese foods, and is called "jiaozi" in Chinese.
In Japan, it has been popular since the cooks who had learned in Manchuria (current northeastern China) came back to Japan and served it after World War II.
In Hamamatsu, some returned soldiers from Manchuria opened food stalls near Hamamatsu station around 1955, and they served gyoza.
Since that, it became popular in Hamamatsu.
It is unique that fried bean sprout is certainly topped on the dish.