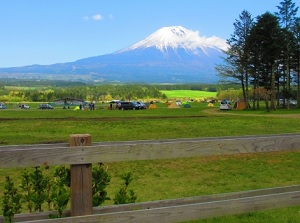 Asagiri highland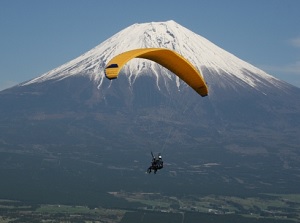 Paragliding in Asagiri highland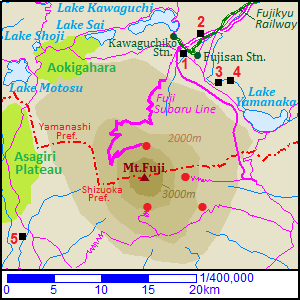 1) Fuji-Q Highland 2) Arakurayama Sengen Park
3) Shinobi-no-Sato 4) Oshino-hakkai
5) Shiraito Falls
Red circles are the 5th stations and are the entrances of mountain trail.
Asagiri highland is the area on the western foot of Mount Fuji.
It is at the level of 700 to 1,000 meters.
The position is about 15 km west of the top of Mount Fuji.
"Asagiri" means "morning mist".
Literally, fog sometimes rises in this area.
The slope is very gentle, and there are many cattle ranches with broad meadow.
From here, we can see Mount Fuji clearly and widely.
And this area is one of the nice summer resorts, so there are many camping sites, golf courses, schools for paragliding and the other facilities in this area.
National Route 139 runs from north to south in this area.
Basically, Asagiri highland stretches around the road.
To the south of the area, there is Shiraito Falls (白糸の滝).
And when we have a drive toward north on the road, it leads to Fujigoko (富士五湖, Fuji Five lakes).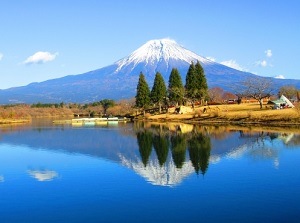 Lake Tanuki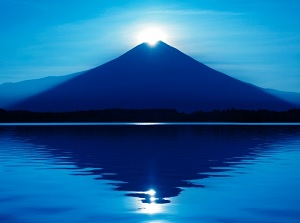 Diamond Fuji at Lake Tanuki
In the west part of the highland, there is Lake Tanuki (田貫湖).
It is a small lake, and is about 0.8 km from east to west and about 0.6 km from north to south.
Originally, it was a small pond.
But it was expanded to ensure water for agricultural purposes in 1935.
So, it is basically an artificial lake.
Lake Tanuki is known for "Diamond Fuji".
It is an optical phenomenon that the sun comes just behind the top of Mount Fuji and the sun shines like a diamond.
We can see the beautiful Diamond Fuji from here in the early morning only around April 20 and August 20.
How to get here
By route bus, about 1 hour and 10 minutes from Shin-Fuji station of Tokaido Shinkansen, about 1 hour from Lake Kawaguchi.
Hotels around Asagiri highland
Other Tourist Attractions around Mount Fuji
Other Tourist Attractions in Shizuoka Prefecture
Around Izu Peninsula
Around Shizuoka city
Western area