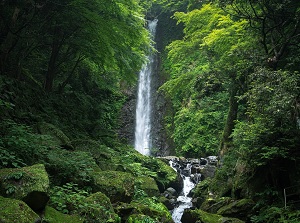 Yoro Falls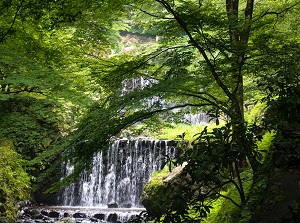 Downstream of Yoro Falls
Yoro Falls is a waterfall located in Yoro town at the southwest part of Gifu Prefecture.
Both "o"s in the word are pronounced long, so it is reas as "Yôrô".
Small Yoro Mountains range runs from north to south around the southwestern edge of Gifu Prefecture.
Yoro Falls is at the east side of the mountains.
The falls is about 2.5 km west of Yoro station of Yoro Railway.
There is Yoro Park with open space and camping site on the way between the station and the falls.
And there are some Buddhist temples and Shinto shrines around this park.
Yoro Falls is at the western end of the area.
The height is 32 meters and the width is about 4 meters.
The water is clear and tasty.
In the 8th century, a poor lumberjack was living around this area.
He had supported an old father with sense of respect.
But he had a low income, so he wasn't able to buy his father's favorite Sake.
He had always thought that he made his father drink enough sake.
That was his only wish.
He worked in the mountain with diligence every day.
One day, when he walked on a path near the falls, he had fell down.
At that time, he felt smell of Sake.
Surprisingly, Sake was falling down as te waterfall.
In a moment, he brought the sake home and gave it to his father.
After drinking the sake, his father got younger, and the family became happy.
This story was reported to Nara city which was the capital of Japan at that time.
And that reached Empress Gensho's ear.
The Empress said "The gods praised his filial devotion to the parents."
Then, the Empress visited this falls, and she also drank the water.
She changed the name of the era to "Yoro" which means "supporting old age", and this waterfall had been called "Yoro Falls".
Of course, the water of this falls is not sake, but it is very tasty.
This falls is a sightseeing spot and ascetic Buddhist monks also visit here as a sacred place.
There is Yoro Shrine about 0.5 km downstream of the falls.
It is said that this shrine was founded after Empress Gensho's visit.
Because, there is Kikusuisen spring (菊水泉) in the shrine.
It is said that Empress Gensho drank the water of the spring.
How to get here
From Nagoya, by rapid train on JR Tokaido Line, about 30 minutes to Ogaki.
Then, from Ogaki to Yoro, by local train of Yoro Railway, about 23 minutes.
Other Tourist Attractions in Gifu Prefecture