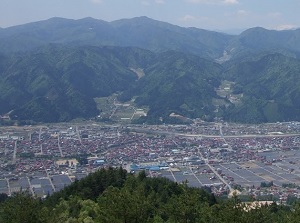 Hida-Furukawa town
Photo by Hida City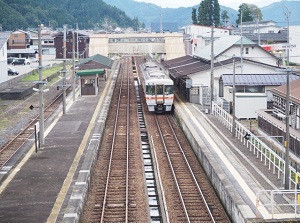 JR Hida-Furukawa station
Hida-Furukawa is a small town located about 13 km north-northwest of Takayama city.
It is a central district of Hida city and there is Hida city hall.
Miya River (Miyagawa) flows from Takayama city through the district to the north.
And it forms a narrow basin around this district.
There was a castle built in 1586.
But Takayama became the center in this area and the castle in Furukawa was demolished in 1695.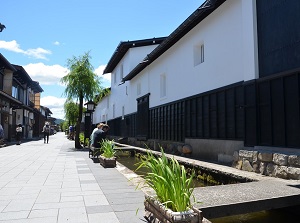 Old town in Hida-Furukawa
Photo by Hida City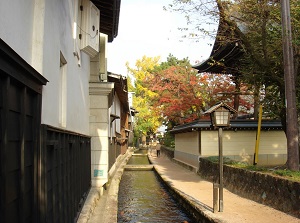 Setogawa in Old town
Photo by Hida City
After that, the lord in Takayama was moved to the other region suddenly and this area including Takayama became a government-ruled town.
Takayama Jin-ya was set up in Takayama, then Furukawa district had been governed by it.
Naturally, this town was influenced by the culture of Takayama.
The area is narrow, but there are an old town and traditional festivals like Takayama.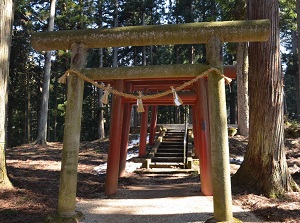 Keta-Wakamiya Shrine in Hida-Furukawa
Photo by Hida City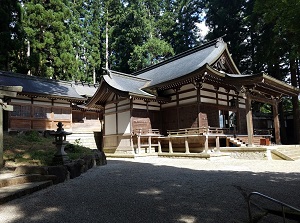 Main shrine of Keta-Wakamiya Jinja
Photo by Hida City
This town has no well-known tourist spots, but has come to attract attention in Japan.
In 2016, Japanese animated romantic fantasy drama film Your Name. (Japanese title is "Kimi no Na wa.") was a big hit in Japan and about 40 countries in the world.
The real sceneries in Hida-Furukawa are drawn very truthfully and beautifully in the drama.
Since that, many people have visited this town to find the places in the film.
In Japan, for visiting the places in animated film, a word "Pilgrimage" has been used in Japan now.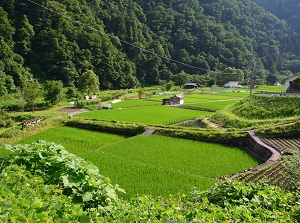 Satoyama in Hida-Furukawa
Photo by Hida City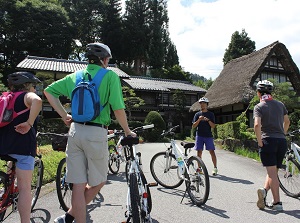 Satoyama Cycling Tour
Photo by Hida City
Another reason is that Satoyama Cycling Tour has been held since 2010.
Rural area extends just out of small central town of Hida-Furukawa, and the whole area is surrounded by low hills and mountains covered with forest.
The hills and mountains have been managed properly to do agricultural activity without destroying the ecosystem.
The hills and mountains are called "Satoyama" in Japanese.
Satoyama has been in every part of the country, but is decreasing because of the developement or depopulation.
The cycling tour visit the area around Hida-Furukawa.
The scenery is quite common for Japanese people, but the tour is popular with foreigners.
Old town in Hida-Furukawa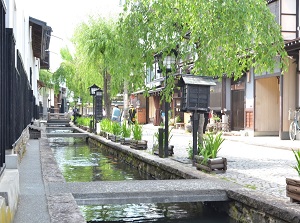 Old town in Hida-Furukawa
Photo by Hida City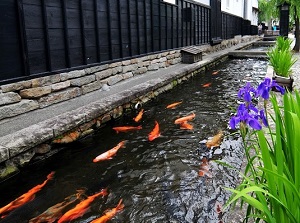 Carp in Setogawa
Photo by Hida City
There is the old town about 300 meters southwest of JR Hida-Furukawa station.
Two streets runs for about 300 meters, and old houses and warehouses with white wall are along the streets.
And Setogawa canal flows along the street, and colorful carp swim from April to November.
(They are moved to a pond during winter.)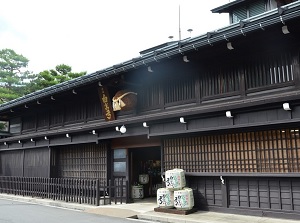 A sake brewery in Hida-Furukawa
Photo by Hida City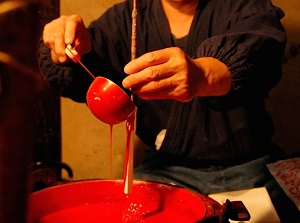 Making traditional candle
Photo by Hida City
There are Sake breweries and the workshops of traditional Japanese candles and yew wood carvings in the town.
These are the local specialties in Hida area and you can observe the work.
To walk around this town, there is Kimono rental shop.
San-tera mairi (Visit to three temples)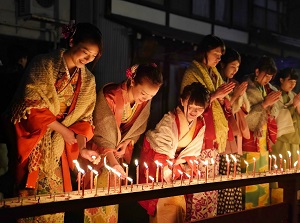 San-tera mairi in Hida-Furukawa
Photo by Hida City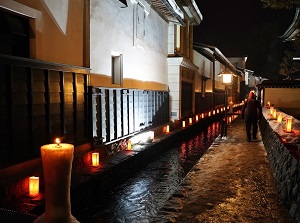 Street on the day of San-tera mairi
Photo by Hida City
San-tera mairi is an event held on January 15, and has been held every year for over 200 years.
In the evening, in the old town, unmarried woman lights the white candles to make a good match.
And, newly-married woman lights the red candles to offer the thanks to the gods.
Then, they visit three Buddhist temples to worship.
These are Enkôji (円光寺), Shinshûji (真宗寺) and Honkôji (本光寺), and are around the old town.
Along the streets connecting these temples, many big candles are set up and lit in the evening.
The town becomes dreamlike atmosphere in snow, and it is said that a new romance may start to develop.
Furukawa Festival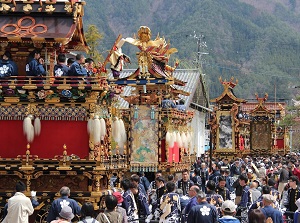 Furukawa Festival
Photo by Hida City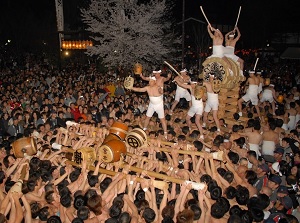 Okoshi-daiko
Photo by Hida City
Furukawa Festival is the annual festival of Keta-Wakamiya Shrine located about 0.7 km northeast of JR Hida-Furukawa station.
It is held on April 19 and 20.
Vibrant Okoshi-daiko that many men rush with beating drums and elegant Parade of nine gorgeous floats like Takayama Festival are the main events.
You can feel this festival in Furukawa Matsuri Kaikan.
It is located near Enkoji temple.
Three real floats are displayed and we can see the festival in the theater.
How to get here
By JR Takayama Line, 15 to 18 minutes from Takayama, about 1 hour and 15 minutes from Toyama.
Hotels around Hida-Furukawa
Other Tourist Attractions in Gifu Prefecture