Oku-Hida Onsen village [
奥飛騨温泉郷

]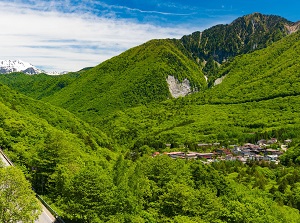 Hirayu Onsen town
Photo by Hirayu Onsen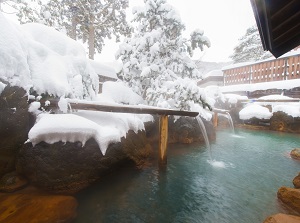 Open-air bath in Hirayu in winter
Photo by Hirayu Onsen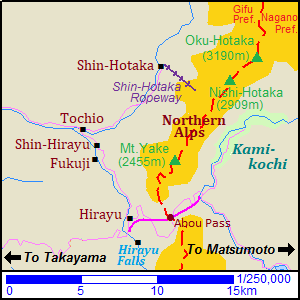 Oku-Hida Onsen village ("Oku-Hida Onsengo" in Japanese) is located on the west side of Mount Hotaka (3,190 meters high) in Northern Alps.
On the opposite side of Northern Alps, there is Kamikochi.
Five hot springs are dotted in the valleys formed by the rivers from Northern Alps.
They are located about 35 to 50 km east-northeast of central Takayama city.
The five hot springs are Hirayu (平湯), Fukuji (福地), Shin-Hirayu (新平湯), Tochio (栃尾) and Shin-Hotaka (新穂高).
They are located at the level of 800 to 1,300 meters.
Each hot spring resort has several hotels and ryokans.
And there are more than 100 open-air bathes.
Some of them are the public bathes and we can use them cheaply or at no charge.
This area is one of the entrances of climbing to Mount Hotaka which is a group of some peaks and the altitude of the highest peak is 3,190 meters.
The mountain is popular, so many climbers visit this onsen area.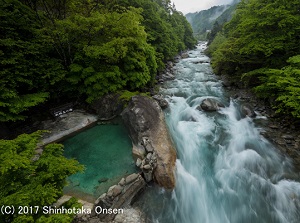 Open-air bath in Shin-Hotaka Onsen
Photo by Shinhotaka Onsen

Winter event in Shin-Hotaka Onsen
Photo by Shinhotaka Onsen
In addition, this area has much snow in winter.
Snow falls from November to April, and there are a few ski resorts in this area.
Between late December and February, various events of snow and ice are held in each resort and they are illuminated in the evening.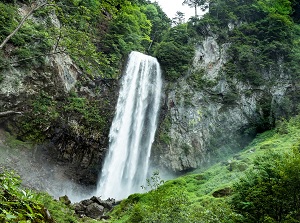 Hirayu Falls
Photo by Hirayu Onsen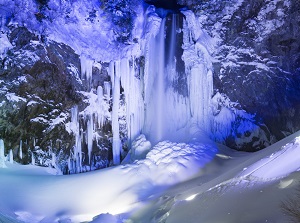 Illuminated frozen Hirayu Falls in winter
Photo by Hirayu Onsen
There is Hirayu Falls (平湯大滝, "Hirayu Ôtaki" in Japanese) about 2 km south of Hirayu hot spring resort.
The height is 64 meters and the width is 6 meters.
In the middle of the 16th century, an exhausted troop of samurai attacking Hida area reached this waterfall.
At that time, a white monkey appeared and led them to a hot spring.
The troop got into the hot spring, then recovered from their exhaustion.
It is said that the hot spring was Hirayu Onsen.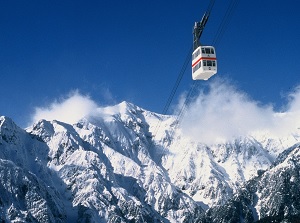 Shin-Hotaka Ropeway
Photo by Takayama City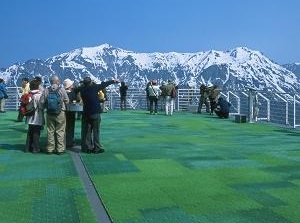 Observatory of Shin-Hotaka Ropeway
Photo by Gifu Prefecture Tourist Federation
From Shin-Hotaka hot spring resort, Shin-Hotaka Ropeway is operated.
It leads to the observatory at an altitude of 2,150 meters.
General tourists can also use it.
From Hirayu hot spring resort, a road passes through under Abou Pass on Northern Alps to the east.
After the passing, the road leads to Kamikochi or Matsumoto city in Nagano Prefecture.
The shuttle bus to Kamikochi is operated from Hirayu.
(From late April to mid-November)
How to get here
By route bus, from Takayama, 1 hour to Hirayu, 1 hour and 9 minute to Fukuji, 1 hour and 13 minutes to Shin-Fukuji, 1 hour and 16 minutes to Tochio, 1 hour 33 minutes to Shin-Hotaka.
From Matsumoto, about 1 hour 30 minutes to Hirayu.
Hotels around Oku-Hida Onsengo
Other Tourist Attractions in Gifu Prefecture