Seki Traditional Sword Smith Museum [
関鍛冶伝承館

]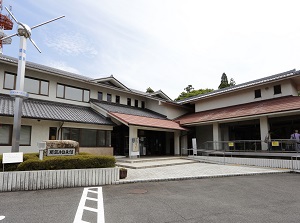 Seki Traditional Sword Smith Museum
Photo by Gifu Prefecture Tourism Federation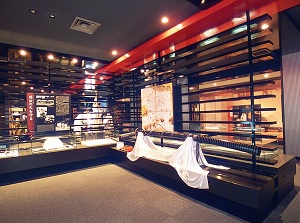 Japanese swords
Photo by Gifu Prefecture Tourism Federation
Seki Traditional Sword Smith Museum is a museum about Japanese sword in Seki city.
Seki city is located about 20 km northeast of Gifu city.
Japanese sword had been produced since around the 9th century.
So many schools of sword craftsmenship appeared in the country, and each school created excellent swords for the strong warlord.
It is the first time that a distinguished sword craftman came to Seki in 1229 and he began to create the swords.
Because, in this area, he could get the clear water of Nagara River, good soil and high-quality wood charcoal.
So, many excellent sword craftmen came to Seki in the 15th century.
The high-quality swords were used by many strong warlords and samurais.
After samurai period finished, new Meiji Government abolished to hold Japanese sword in 1876.
Since that, producing Japanese sword had become obsolete.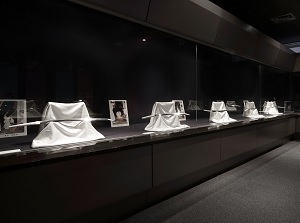 Japanese swords
Photo by Gifu Prefecture Tourism Federation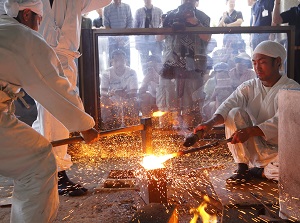 Performance by swordsmiths
Photo by Gifu Prefecture Tourism Federation
In Seki city, cutlery industry was created based on their experience and technical expertise.
There are many companies producing razor, kitchen knife, scissors, etc.
On the other hand, the traditional technology for Japanese sword has been preserved.
Even now, there are some swordsmiths in Seki city.
In this museum, the traditional Japanese sword is introduced.
You can see many Japanese swords created in Seki.
And, on the first Sunday in every month (except January and October), you can see the performance that the swordsmiths wearing traditional clothes produce a sword soulfully.
Monet's Pond (
モネの池

)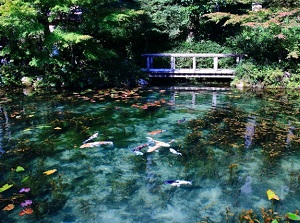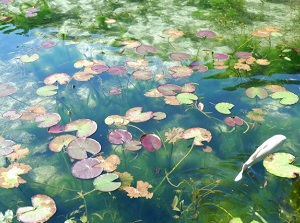 There is another unique and popular sightseeing spot in Seki city.
Monet's Pond is a small beautiful pond which became popular in Seki city quite recently.
It is located about 30 km north-northwest of the center of Seki city.
It is in a village near Itadori River which is a branch of Nagara River.
The pond is a nameless irrigation reservoir by the approach to Nemichi Shrine.
The size is only within 40 meters.
Clear river-bed water is gushing, so the pond is always full of the water.
But the grass had grown over the pond.
In 1999, a manager of a flower shop near the pond removed the grass and planted water lily and nuphar in the pond.
Then, a people in the village released some carps in the pond.
In 2005, a visitor found that the scenery was like the paintings entitled "Water-Lilies" by Claude Monet and posted the photo on SNS.
Then, this pond became popular quickly and began to be called "Monet's Pond".
Since that, many people visit here.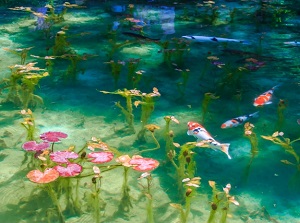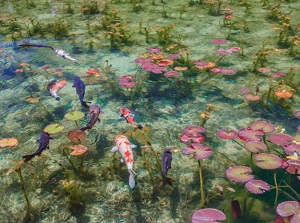 This pond is a common pond with clear water.
But, the water becomes muddy after a rain, and the color of the scenery fades out by the positions of the sun.
The best season is from May to November.
After good weather has continued more than a few days, the morning from 9 to 10 o'clock is the best chance.
Basically, this pond is not a sightseeing spot.
So there is no public transportation.
You can only use a taxi or a tental car.
How to get here
By local train of JR Takayama Line, about 35 minutes from Gifu to Mino-Ota.
Then, by Nagaragawa Railway, about 18 minutes from Mino-Ota to Hamono-Kaikan-mae.
From the station, about 300 meters walk.
Hotels in Seki city
Other Tourist Attractions in Gifu Prefecture