Tsumago & Magome post stations [
妻籠宿, 馬籠宿

]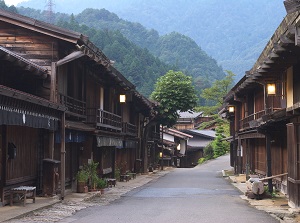 Street of Tsumago
Photo by Nagano Tourism Organization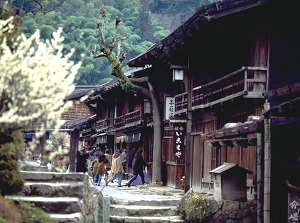 Old inns in Tsumago
Photo by Nagano Tourism Organization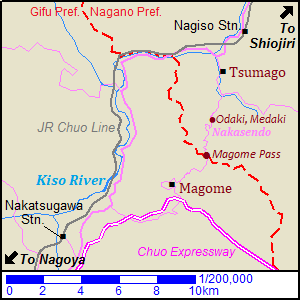 Tsumago post station ("Tsumago-juku" in Japanese) and Magome post station ("Magome-juku" in Japanese) are located near the border between Nagano and Gifu Prefectures and in Kiso Valley.
The distance between both post stations is about 9 km, and there is a mountain pass between them.
(Tsumago is in Nagano Prefecture, and Magome is in Gifu Prefecture.)
In Edo Period (1603-1868), two main routes were set up between Edo (current Tokyo) and Kyoto.
The coastal route was "Tôkaidô" (488 km) and the inland route was "Nakasendô" (526 km).
Tsumago and Magome post stations were on Nakasendo.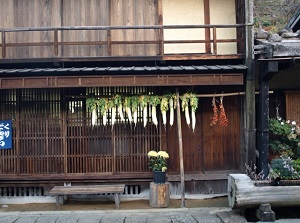 Scenery in Tsumago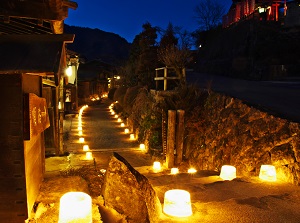 Lamp festival in February in Tsumago
Photo by Nagano Tourism Organization
Both post stations are very popular as the traditional street with old Japanese buildings.
The scenery of Tsumago has been preserved by the people of this region, then it has been designated as a national conservation district of traditional buildings since 1976.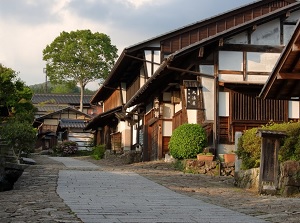 Street in Magome
Photo by Nakatsugawa City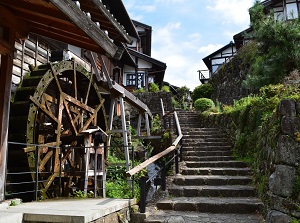 Scenery in Magome
Photo by Nakatsugawa City
On the other hand, Magome was destroyed by fire in 1895 and 1915.
The buildings were restored.
Along the main street, there are many old buildings.
Most of them are souvenir shops, restaurants and inns.
A few buildings are museums.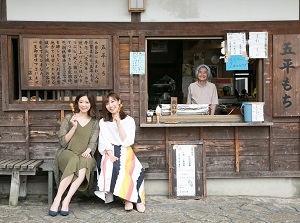 Gohei-mochi shop in Magome
Photo by Nakatsugawa City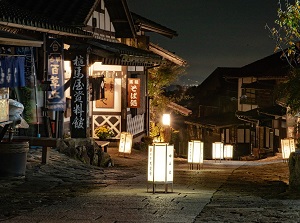 Magome in the evening
Photo by Nakatsugawa City
Recently, foreign tourists walking between Tsumago and Magome on Nakasendo are incresing.
They often call the route "Samurai Trail".
The distance is about 9 km, and it takes about 2.5 to 3 hours.
Most part of the trail is in the forest.
On the way, the tourists can see the waterfalls named Odaki and Medaki.
The highest point is Magome Pass (馬籠峠) and the altitude is 801 meters.
It is located about 6 km from Tsumago and about 3 km from Magome.
The slope from Tsumago is relatively gentle but the slope from Magome is tough.
If you want to walk more easily, you should start from Tsumago.
How to get here
Get off at Nagiso station or Nakatsugawa station of JR Chuo Line.
To Nagiso, by limited express, about 1 hour and 10 minutes from Matsumoto, about 2 hours from Nagano, about 1 hour and 10 minutes from Nagoya.
Between Nagiso and Nakatsugawa, about 15 minutes.
By route bus, from Nagiso station, 7 minutes to Tsumago, 35 minutes to Magome.
From Nakatsugawa station, 25 minutes to Magome.
Other Tourist Attractions in Nagano Prefecture
Northern part
Central part
Along Northern Alps
Along Kiso Valley
Along Ina Valley