Narai post station [
奈良井宿

]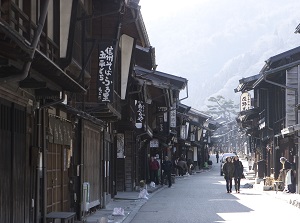 Street of Narai post station
Photo by Nagano Tourism Organization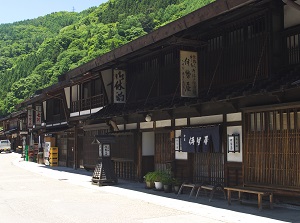 Old inn in Narai
Photo by Nagano Tourism Organization
Narai post station ("Narai-juku" in Japanese) is located about 20 km southwest of Shiojiri city.
It is in a narrow valley, and Narai River flows through the town.
In Edo Period (1603-1868), two main routes were set up between Edo (current Tokyo) and Kyoto.
The coastal route was "Tôkaidô" (488 km) and the inland route was "Nakasendô" (526 km).
Narai was one of the post stations on Nakasendo route.
It is roughly at the midpoint between Edo (Tokyo) and Kyoto.
There is steep Torii Pass just at southwest of this town, so here had always been full of travelers who had to get over the pass right now or had gotten down from the pass.
It is said that there were about a thousand inns in this post station in that time.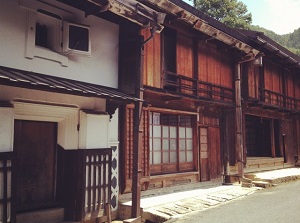 Old houses in Narai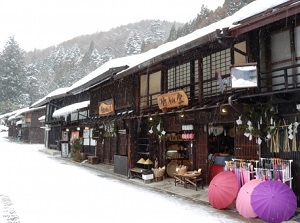 Narai in winter
Narai post station has been designated as a national conservation district of traditional buildings since 1978.
Along the main street, there are many old buildings for about 1 km.
Most of them are souvenir shops, restaurants and inns.
A few buildings are museums.
To the west of the town, some Buddhist temples and shrines are dotted.
How to get here
From Matsumoto, by local train for Nakatsugawa of JR Shinonoi & Chuo Lines, about 45 to 55 minutes to Narai station.
Or, from Tokyo, by limited express of JR Chuo Line, about 2 hours and 30 to 50 minutes to Shiojiri.
Change to the local train to Nakatsugawa.
About 22 minutes from Shiojiri to Narai.
Or, from Nagoya, by limited express of JR Chuo Line, about 50 minutes to Nakatsugawa.
Change to the local train for Matsumoto. About 1 hour and 20 minutes from Nakatsugawa to Narai.
Other Tourist Attractions in Nagano Prefecture
Northern part
Central part
Along Northern Alps
Along Kiso Valley
Along Ina Valley