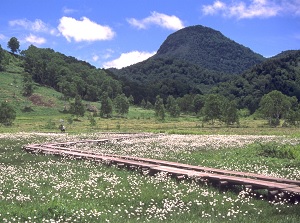 Marshland in Shiga highland
Photo by Nagano Tourism Organization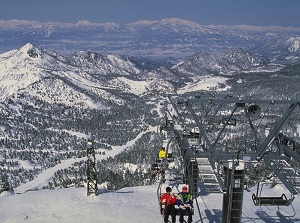 Ski resort in Shiga highland
Photo by Nagano Tourism Organization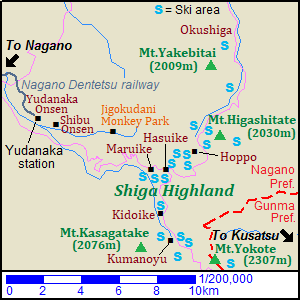 Shiga highland ("Shiga Kôgen" in Japanese) is the highland located about 25 to 30 km east-northeast of Nagano city.
The highland is located at the level of 1,000 to 1,800 meters.
The three sides of the highland are surrounded by several mountains having altitudes of around 2,000 meters.
So, there are over 20 ski resorts in this area.
A few ski areas of them were used when Nagano Winter Olympic Games were held in 1998.
And, some of the mountains have the ski slopes from their peaks:
Mt. Kasagatake (2,076 m), Mt. Yokote (2,307 m), Mt. Higashitate (2,030 m) and Mt. Yakebitai (2,009 m).
There are some ponds in the valleys surrounded by these mountains.
Especially, Hasuike (蓮池) and Maruike (丸池) ponds are in the center of Shiga highland, and there are many hotels and ski areas.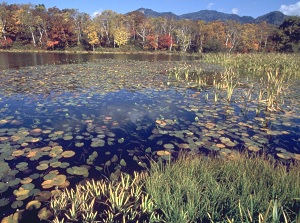 Hasuike in Shiga highland
Photo by Nagano Tourism Organization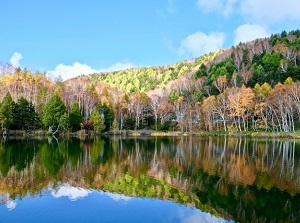 Kidoike in Shiga highland
And there are several hot springs are in this area.
The popular hot springs are Hoppo (発哺), Kidoike (木戸池) and Kumanoyu (熊の湯).
In this area, it starts to snow in late October.
The snow depth becomes over 2 meters in January and February.
Of course, it is cool in summer and the temperature rarely reaches over 30 degrees Celsius.
Therefore, here is one of the good summer resorts.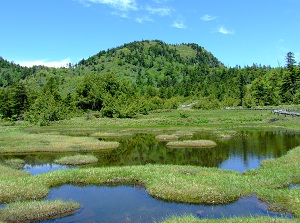 Shijuhachi-ike marsh in Shiga highland
Photo by Nagano Tourism Organization

Route of Shiga-Kusatsu Road
From Shiga highland, Shiga-Kusatsu Road about 30 km long leads to Kusatsu Onsen resort in Gunma Prefecture.
It is one of popular highways, and is set up on the highest place as national road in Japan.
How to get here
From Nagano to Yudanaka, by Nagano Dentetsu railway, about 50 minutes by limited express, about 1 hour and 10 to 20 minutes by local train (Probably you need change to a train on the way).
Then, from Yudanaka station, by route bus, about 40 minutes to Hasuike area, about 1 hour and 20 minutes to Okushiga area located to the north of the area..
Other Tourist Attractions in Nagano Prefecture
Northern part
Central part
Along Northern Alps
Along Kiso Valley
Along Ina Valley