Jigokudani Monkey Park (Snow Monkey Mountain) [
地獄谷野猿公苑

]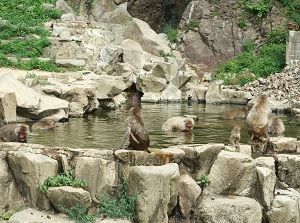 Bathing monkeys in Jigokudani Monkey Park
Photo by Nagano Tourism Organization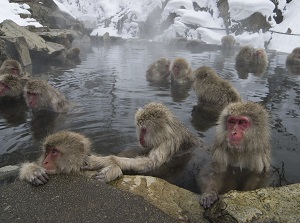 Monkeys in hot spring in winter
Photo by Nagano Tourism Organization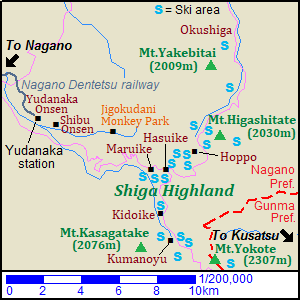 Jigokudani Monkey Park is the natural facility protecting some groups of wild monkeys.
In English, it is also called Snow Monkey Mountain.
And, in Japanese, it is called Jigokudani Yaen-Koen.
It is located about 3 km east of Shibu Onsen.
It is in the upper reaches of Yokoyu River flowing near Shibu Onsen and is at the bottom of the gorge formed by Yokoyu River.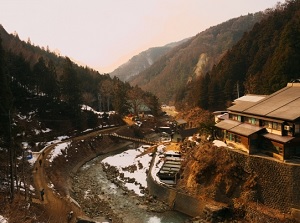 Jigokudani hot spring resort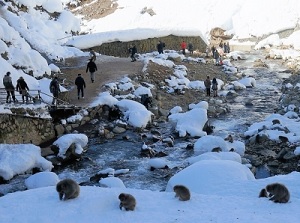 Monkeys around Jigokudani in winter
There is Jigokudani hot spring and only a ryokan near this park.
A geyser shoots boiling water.
In the 1950s, wild monkeys in this mountain had been causing damage to the farms.
To prevent the damages, this park was set up in 1964 and the monkeys were fed.
There was an open-air bath of the ryokan.
Soon after opening the park, curious baby monkeys took a bath first.
Subsequently, adult monkeys had learned to take a bath.
So, the hot spring bath for the monkeys was constructed.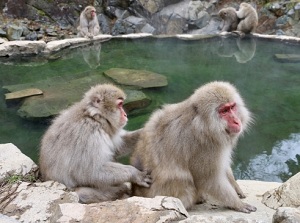 Monkeys in summer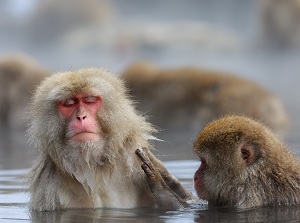 Monkeys enjoying hot spring
Now, about 50 monkeys take a bath from December to March.
It is said that they take a bath to warm themselves.
Basically, they don't take a bath in warm season.
So, if you visit there in warm season, no monkey may take a bath.
There is a trail for about 2 km from the bus terminal to this spot.
When the monkeys take a bath in winter, you will probably walk on a trail covered with snow.
It takes about 30 to 40 minutes.
And, you must not give feed to the monkeys and touch them.
More than half of the vistors are foreign tourists now because this monkey park has been known to the world since Nagano Olympic Winter Games in 1998.
Please keep good manners.
How to get here
By route bus, about 11 minutes from Shibu Onsen to Kanbayashi Onsen.
From Kanbayashi Onsen to the park, walk on the walking trail for about 2 km.
Other Tourist Attractions in Nagano Prefecture
Northern part
Central part
Along Northern Alps
Along Kiso Valley
Along Ina Valley