Tateshina highland [
蓼科高原

]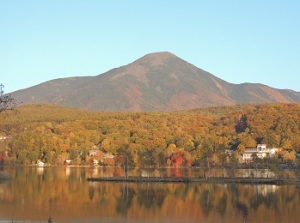 Mount Tateshina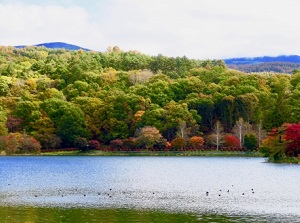 Lake Tateshina
Tateshina highland is located at the northwestern slope of Yatsugatake mountains.
The highland area is located at the level of 900 to 1,800 meters.
There are Mount Tateshina (2,531 m) and Mount Yokodake (2,480 m) to the east of the highland.
Mount Tateshina (蓼科山) is the northernmost peak of Yatsugatake mountains, and the shape is similar to Mount Fuji.
The highland is cool.
So it is a popular summer resort, and some ski resorts are opened in winter.
Resort hotels and inns are dotted in this area.
The sightseeing road named "Venus Line" runs through the main spots in this area.
Lake Tateshina (
蓼科湖

)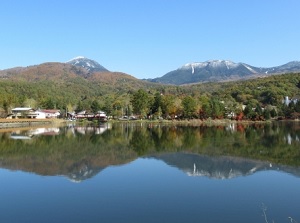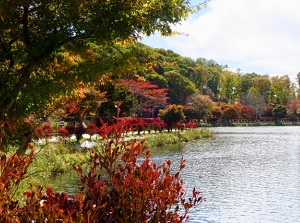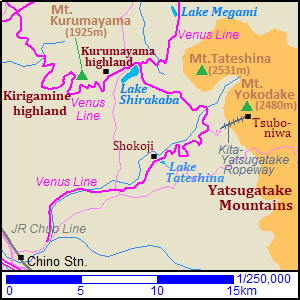 Lake Tateshina is a small artifical lake at the level of about 1,250 meters.
It is located about 12 km northeast of Chino city.
And it is at the western foot of Yatsugatake Mountains.
There are some hotels, inns and golf courses around this lake, so a resort area is formed.
This area is an entrance to Tateshina highland area.
Near the lake, there is Musée Marie Laurencin.
It was opened by a Japanese collector in 1983, and it houses about 500 works by Marie Laurencin (1883-1956, a French female painter).
Shokoji temple (
聖光寺

)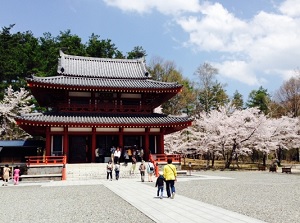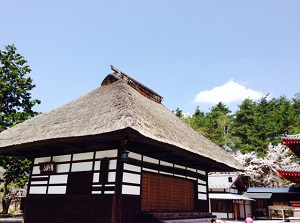 Shokoji is a Buddhist temple located just to the north of Lake Tateshina.
In the word, both "o"s are pronounced long, so it is read as "Shôkôji".
The temple was built by Toyota Car Corporation in the 1970s.
Toyota is the biggest car company in Japan.
It was founded to pray for reduction of traffic accidents.
Therefore, if you pray here, it is said that you can drive in safety.
The site of the temple is the popular cherry blossom-viewing spot in this area.
The season is from late April to early May.
Tsuboniwa (
坪庭

)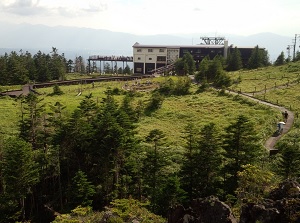 Ropeway station of Tsuboniwa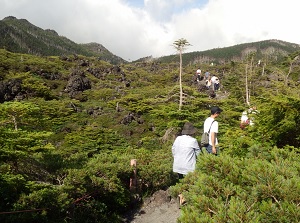 Tsuboniwa
Tsuboniwa is a small highland located just to the south of the peak of Mount Yokodake.
The altitude is about 2,240 meter, and is located about 7 km northeast of Lake Tateshina.
There are many various alpine plants on the lava field.
To this highland, we can climb by Kita-Yatsugatake Ropeway.
The station is located about 4.5 km east-northeast of Lake Tateshina, and we can reach Tsuboniwa for only 7 minutes.
In Tsuboniwa, a walking trail is set up.
We can walk about 40 minutes.
Lake Shirakaba (
白樺湖

)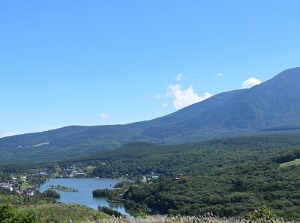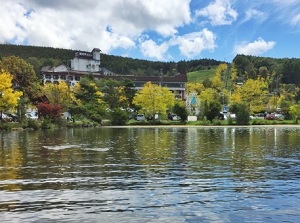 Lake Shirakaba is an artifical lake located about 7 km north of Lake Tateshina.
The lake level is 1,416 meters, and Mount Tateshina is located about 5 km east of this lake.
"Shirakaba" means "white birch".
Originally, it was constructed as a lake for agricultural water in 1946.
After that, here became a leisure spots since the 1950s.
Now there are many hotels, restaurants, rental boats, and a few ski areas around this lake.
Here is the most popular spots in Tateshina area.
Lake Megami (
女神湖

)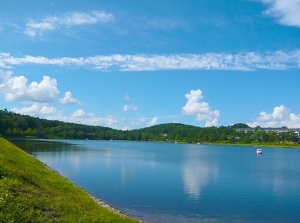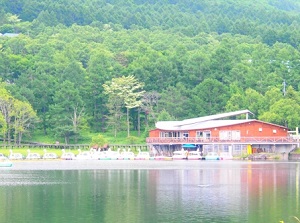 Lake Megami is also an artifical lake for agricultural water located about 4 km northeast of Lake Shirakaba.
"Megami" means "goddess".
Once, Mount Asama was called "god" and Mount Tateshina was called "goddess".
Therefore, the name was given to this lake.
There are many hotels and inns, shops, restaurants, and a ski resort around here.
Gosensui-shizen'en (御泉水自然園) is located about 2 km southeast of this lake, and has many alpine plants in the forests.
Kurumayama highland (
車山高原

)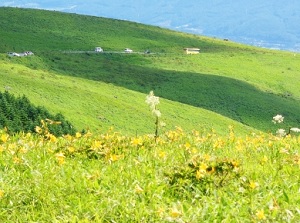 Kurumayama highland & Venus Line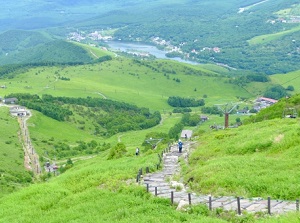 Kurumayama highland & Lake Shirakaba
Kurumayama highland is a popular ski resort located about 2 km west of Lake Shirakaba.
In summer, here becomes an extensive field with many alpine plants.
There is Mount Kurumayama (1,925 m) just west of the highland, and the western side of the mountain is Kirigamine highland.
How to get here
By limited express on JR Chuo Line, get off at Chino station.
From Shinjuku, about 2 hours and 10 to 30 minutes.
By route bus, from Chino station, about 30 minutes to Lake Tateshina, about 55 minutes to Kita-Yatsugatake Ropeway.
And, from Chino station, by route bus to Kurumayama-kogen, about 45 minutes to Lake Shirakaba, about 1 hour to Kurumayama highland.
From Lake Shirakaba to Lake Megami, about 10 minutes by route bus for Sakudaira station.
Other Tourist Attractions in Nagano Prefecture
Northern part
Central part
Along Northern Alps
Along Kiso Valley
Along Ina Valley