Kirigamine highland [
霧ヶ峰

]

Kirigamine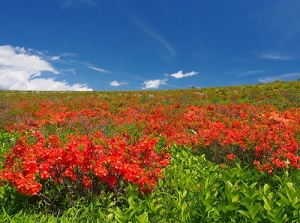 Japanese azalea in Kirigamine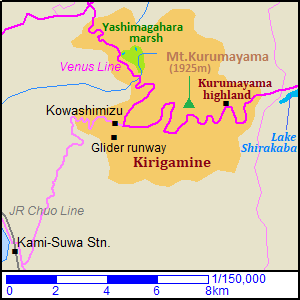 Kirigamine is a mountain located about 10 km west of Mount Tateshina, and about 10 km northeast of Lake Suwa.
It is a shield volcano, so it has relatively-gentle slopes.
The highest peak of Kirigamine is Mount Kurumayama (1,925 m), and the east side of the mountain is Tateshina highland.
Kirigamine highland spreads at a height of 1,500 to 1,900 meters on the west slope of the mountain.
This area is cool, and is sometimes covered by a fog.
"Kirigamine" means "ridge of fog".
The area is mostly extensive grassland, and is filled with blossoming alpine plants in summer.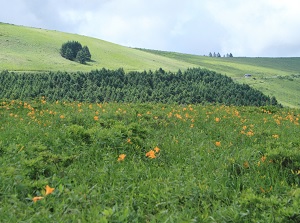 Daylily in Kirigamine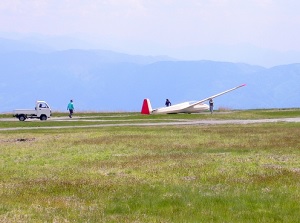 Runway for glider in Kirigamine
The sightseeing road "Venus Line" from Tateshina highland runs through the area.
Kowashimizu district (強清水) located about 3 km west of Mount Kurumayama is the central town.
There are some hotels and inns in this town.
Kirigamine is the birthplace of glider in Japan, so there is a runway for glider near the town.
(A professor was interested in glider in Germany, and he founded the glider club after his returning home in 1932.
Then this runway was built in 1933.)
Yashimagahara marsh (
八島ヶ原湿原

)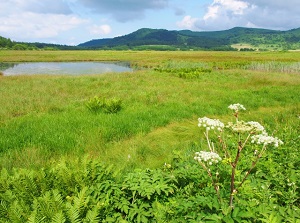 Yashimagahara marsh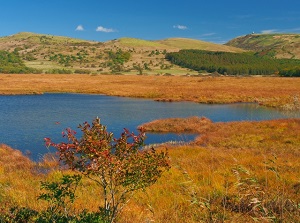 Yashimagahara marsh in autumn
Yashimagahara marsh is a marsh located about 2.5 km north of Kowashimizu district.
The altitude is about 1,630 meters, and it is about 43 hectares in area.
It is the most popular spot in Kirigamine.
Because "Yashimagahara" is a long word, it is often called "Yashima marsh" in short.
It is one of high altitude marshes like Oze, and is designated as a national natural treasure.
The marsh has a peat layer about 8 meters deep.
It is estimated to be formed for over 12,000 years.
There is the visitor center near Venus Line.
It is opened from the end of April 29th to the middle of November.
A walking trail is set up around the marsh.
The length is about 5 km, and we can walk for about 1.5 hours.
How to get here
By limited express on JR Chuo Line, get off at Kami-Suwa station.
From Shinjuku, about 2 hours and 30 minutes.
Then, by route bus to Kowashimizu, about 36 minutes from Kami-Suwa station.
The route bus from Kowashimizu to Yashimagahara marsh is operated only from mid-July to late August. About 10 minutes.
Also the route bus from Lake Shirakaba is operated in the same period.
Other Tourist Attractions in Nagano Prefecture
Northern part
Central part
Along Northern Alps
Along Kiso Valley
Along Ina Valley