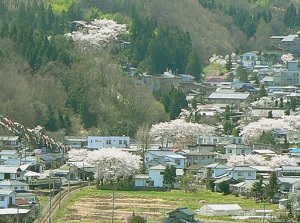 Bessho Onsen town in spring
Photo by Ueda City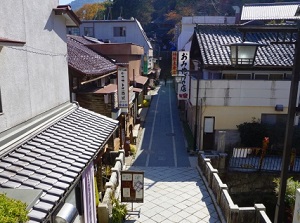 A street in Bessho Onsen town
Bessho Onsen is a spring resort in Ueda city.
The center of Ueda city is located about 20 km west-northwest of Komoro city and about 40 km west of Karuizawa.
Bessho Onsen is at about 10 km southwest of the center of Ueda city.
This hot spring has been known since ancient times.
In legend, Yamato Takeru found seven hot springs in this area.
(He was a prince and is written as a hero in a few old history books in Japan.
The period is around the 4th century.)
In fact, here had been known as a hot spring in the 12th century.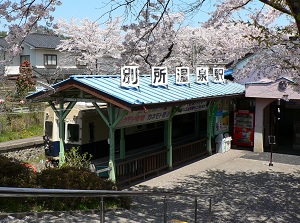 Bessho-Onsen station
Photo by Ueda City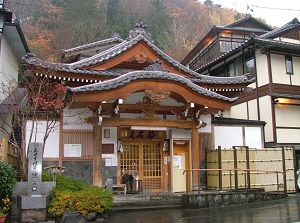 A public bathhouse in Bessho Onsen
Photo by Railstation.net
Ueda-Dentetsu railway leads to this onsen town from Ueda station, and Bessho-onsen station is the entrance of the onsen town.
The area of onsen town is within 800 meters to the southwest of the station.
There are more than a dozen hotels and ryokans.
And this onsen town has three communal bathhouses.
There are many temples and shrines around this town.
Because they were built mainly in Kamakura Period (the 13th and 14th centuries), this area is sometimes called Kamakura in Shinshu.
("Shinshu" is another name of Nagano Prefecture.)
Kitamuki Kannon temple (
北向観音

)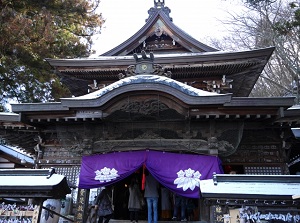 Main temple in Kitamuki Kannon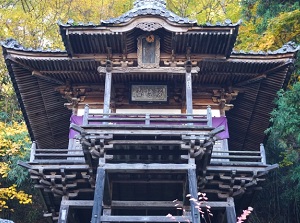 Onsen-Yakushi Ruriden in Kitamuki Kannon
Kitamuki Kannon is a Buddhist temple located at the southwest end of Bessho Onsen town.
This is a branch temple of Jorakuji as described below.
It is said that this temple was founded by a priest En-nin in 825.
The first temple was destroyed by fire in the 12th century, but the new temple was rebuilt in 1252.
Current temple was rebuilt in 1721.
"Kitamuki" means "facing north".
It is rare that Buddhist temple is built facing north.
It is said that Kannon (the Buddhist Goddess) hoped to become the spiritual guide of people as Big Dipper in the northern sky had been a guide for wandering people.
In addition, visiting both Kitamuki Kannon and Zenkoji in Nagano city is better.
Because, it is said that Kitamuki Kannon will make your wishes come true in your former life and Zenkoji will make you happy in your future life.
Jôrakuji (
常楽寺

)

Main temple of Jorakuji
Photo by Railstation.net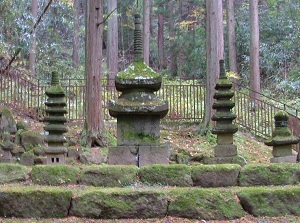 Stone pagodas in Jorakuji
Photo by Railstation.net
Jôrakuji is the principal temple of Kitamuki Kannon.
It is located at the north edge of onsen town, and about 400 meters from Kitamuki Kannon.
This temple was also founded by a priest En-nin in 825.
The main temple has a thatched roof and many beautiful pictures are painted on the ceiling of the hall.
And there are some small stone pagodas and Buddha statues in the precincts.
Anrakuji (
安楽寺

)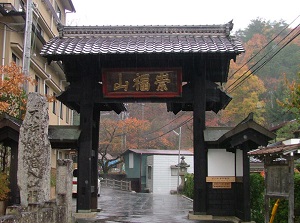 Kuromon gate to Anrakuji
Photo by Railstation.net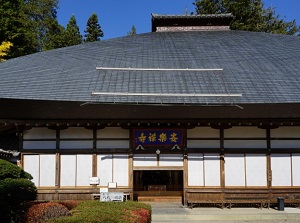 Main temple of Anrakuji
Anrakuji is a Zen temple of Soto school, one of the major Zen schools in Japanese Buddhism.
It is located about 300 meters southwest of Jorakuji
It is said that the temple was founded in the 8th or 9th century.
In the 12th and 13th centuries, this temple had been developed.
But it declined after the opening of Muromachi Period (1333).
The temple was rebuilt in the 1580s.
It is the oldest Zen temple in Nagano Prefecture.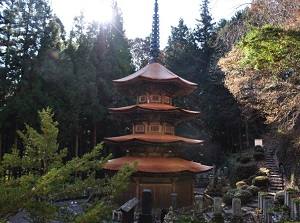 Octagonal three storied pagoda in anrakuji
Photo by Railstation.net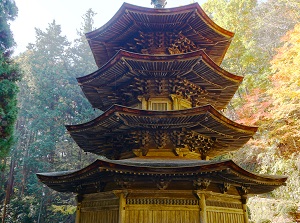 Roofs of Octagonal three storied pagoda
In the precincts, there are several buildings, but the most famous building is Octagonal three storied pagoda (八角三重塔).
It stands in the graveyard in the back of the precincts.
It is only existing old octagonal pagoda in Japan, then has been designated as a national treasure in 1952.
It is thought that it was built in the 1290s, according to the result of investigation by tree-ring dating.
The height of the pagoda is 18.75 meters.
It looks like four stories pagoda, but the lowest roof is the eaves.
The other pagodas in Japan is basically square.
This pagoda was built faithfully in the architectural style of original Chinese Zen temple.
So this pagoda has a rare octagon shape.
How to get here
By Hokuriku Shinkansen, about 1 hours 30 to 40 minutes from Tokyo to Ueda.
Then, by Ueda-Dentetsu railway, from Ueda to Bessho-onsen terminal, about 30 minutes.
Other Tourist Attractions in Nagano Prefecture
Northern part
Central part
Along Northern Alps
Along Kiso Valley
Along Ina Valley