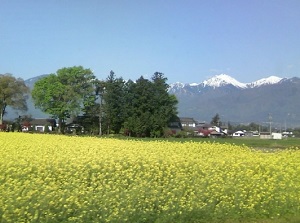 Azumino in spring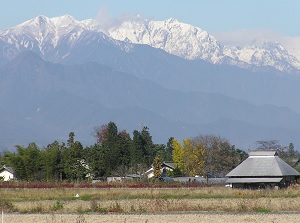 Azumino & Northern Alps in late autumn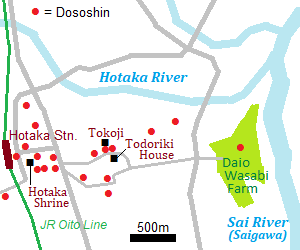 Azumino is a small town located about 15 km north-northwest of Matsumoto city.
It is in a narrow basin, and the landscape of beautiful mountains of Northern Alps is seen to the west.
Along the eastern side of the basin, Sai River (Saigawa) flows from south to north.
And many small clear rivers from Northern Alps flow into Sai River through Azumino.
The appeal of Azumino is the original landscape of Japan with beautiful mountains and rivers.

A Dososhin in Azumino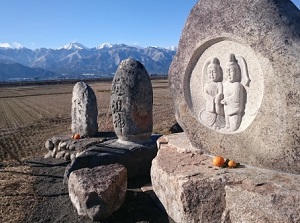 Dososhins in Azumino
Especially, Azumino is known as the town with many Dôsoshin (道祖神).
Dôsoshin is a guardian deity on roadsides.
It is a talismanic stone that the gods, people or characters are carved, and it has been believed that Dôsoshin protects the village from evil.
There are about 400 Dôsoshins, so you can find them when you walk around the town.
Many of them were created in the 18th and 19th centuries.
And, in the city, cafes, restaurants and inns are dotted.
This area has no route bus, so you have only to tour Azumino by taxi, rental bicycle or on foot.
Of course, the tour by rental car is very convenient.
Hotaka shrine (
穂高神社

)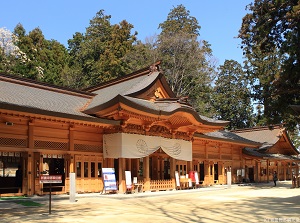 Main shrine of Hotaka Shrine
Photo by Azumino Tourist Association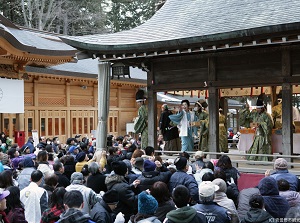 Setsubun Festival in Hotaka Shrine
Photo by Azumino Tourist Association
Hotaka shrine is a Shinto shrine located just to the east of JR Hotaka station.
It is the main shrine in this area.
It is unknown when this shrine was founded, but there is a record indicating that this shrine existed in the 9th century in an old document.
The worship object of this shrine is Mount Hotaka.
It is a popular mountain in the Northern Alps and stands about 20 km west of the town.
The branch shrine is on the top of Mount Oku-Hotaka (3,190 m) which is one of the peaks of Mount Hotaka.
And, another branch shrine is at Kamikochi which is at the southern foot of Mount Hotaka.
Tôkoji temple (
東光寺

)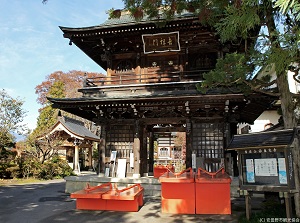 Huge geta of Tokoji
Photo by Azumino Tourist Association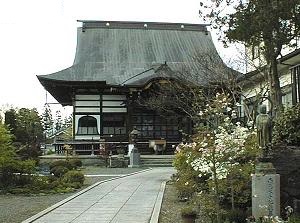 Main hall of Tokoji
Tôkoji is a Buddhist temple of Soto Zen school, and is located about 1 km east of JR Hotaka station.
In this temple, there are some Buddha statues created in the 14th to the 16th centuries.
And the most popular things in this temple are two pairs of huge Geta (Japanese wooden clogs) in front of main gate.
If you wear them, it is said that your wish will come true.
Todoriki House (
等々力家

)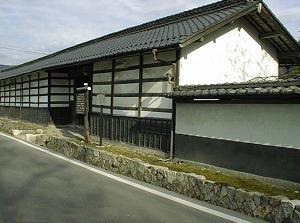 Todoriki House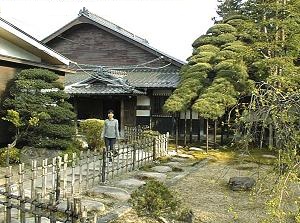 Garden in Todoriki House
Todoriki House is a lodging for feudal lords in Matsumoto Clan in the 17th to 19th centuries.
It is located about 1.2 km east of Hotaka station and is just to the east of Tokoji temple.
This building was built in 1590.
Todoriki Family governed Hotaka area in this house.
When feudal lords went hunting, they stayed here.
In the house, the rooms for lords and Japanese garden are set up.
Daio Wasabi Farm (
大王わさび農場

)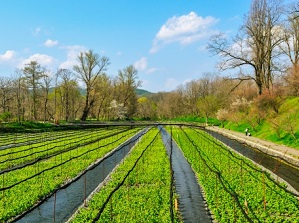 Wasabi field in Daio Wasabi Farm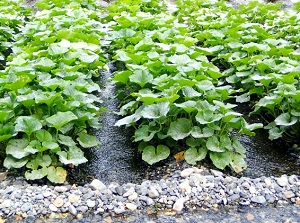 Growing wasabi
Daio Wasabi Farm is the popular wasabi farm located about 2.5 km east of JR Hotaka station.
Wasabi is translated into English as Japanese horseradish, and grated wasabi is used the spice of sushi.
It grows only on the place where clear water flows.
So, Azumino is well-known as one of the production centers of wasabi.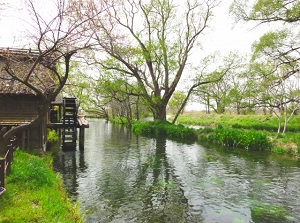 Water mill in Daio Wasabi Farm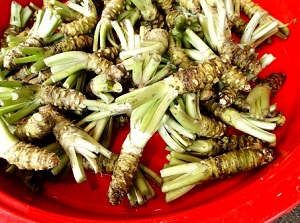 Harvested wasabi
Here is the largest wasabi farm in Japan, and is one of the popular sightseeing spots in Azumino.
It is about 15 hectares wide, and the annual production of wasabi is about 150 tons.
In the farm, there are restaurants, cafes and shops.
The ice cream with wasabi and the croquette with wasabi are the popular foods in this farm.
How to get here
By local train of JR Oito Line, get off at Hotaka station.
From Matsumoto, about 25 to 30 minutes.
Other Tourist Attractions in Nagano Prefecture
Northern part
Central part
Along Northern Alps
Along Kiso Valley
Along Ina Valley