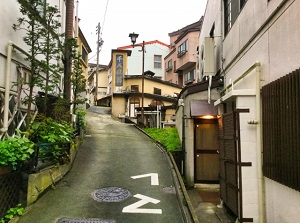 Nozawa Onsen town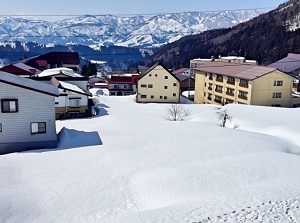 Nozawa Onsen in winter
Photo by Nagano Tourism Organization
Nozawa Onsen is a hot spring resort located about 40 km northeast of Nagano city.
It is at nearly north edge of Nagano Prefecture, and the prefecture's border with Niigata Prefecture is only about 5 to 15 km from this area.
The resort town is in a narrow valley at the foot of Mount Kenashi (1,650 m).
In winter, much snow falls and the depth of snow reaches about 2 meters in the town.
It is said that the hot spring was found in the 8th century and had been used as an important resort in the 13th century.
There are nearly 20 hotels and ryokans within a range of about 500 meters on the slope.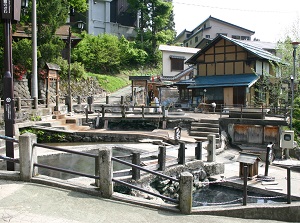 Ogama
Photo by Nagano Tourism Organization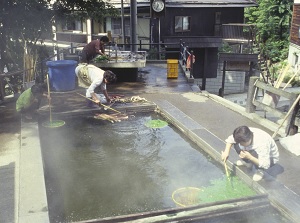 People boiling vegetables at Ogama
Photo by Nagano Tourism Organization
At the northeast edge of the town, there is Ogama (麻釜).
It is the place that about 100 degrees of hot water is gushing and is the source of Nozawa Onsen.
The spring is the place for the people in this town.
We can see them boiling eggs and foods in the hot water and is like a public kitchen.
The boiled eggs are sold for the visitors.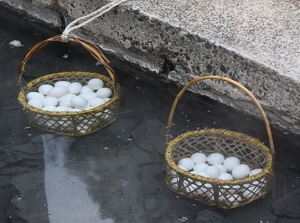 Boiling eggs in hot spring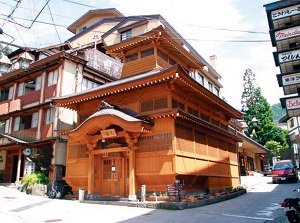 Ooyu in Nozawa Onsen
Photo by Nagano Tourism Organization
There are 13 communal bathhouses in this town.
Ooyu bathhouse (大湯) is at the center of the town and it is the symbol of Nozawa Onsen.
There is the ski resort to the east of the hot spring resort, and it is one of the popular ski resorts in Japan.
In the Nagano Winter Olympic Games in 1998, here was used as the course of biathlon.

Nozawa Onsen Ski Resort
Photo by Nagano Tourism Organization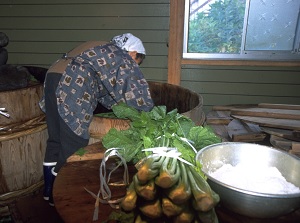 Pickling of Nozawana
Photo by Nagano Tourism Organization
Nozawana is a Japanese leaf vegetable, and is a special local product of Nozawa-Onsen village.
When you stay here, any hotel or ryokan probably serves pickled Nozawana to you at the table.
Nozawana is harvested in autumn and is pickled in early winter.
In the season, you may see the people washing and boiling Nozawana at Ogama.
How to get here
From JR Iiyama station, nonstop bus is operated.
It takes 25 minutes to Nozawa Onsen.
To Iiyama, by Hokuriku Shinkansen, about 1 hour and 50 minutes from Tokyo, 11 minutes from Nagano.
Or, by local train of JR Iiyama Line, about 45 minutes from Nagano.
Other Tourist Attractions in Nagano Prefecture
Northern part
Central part
Along Northern Alps
Along Kiso Valley
Along Ina Valley