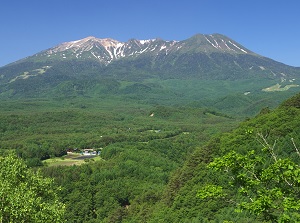 Mount Ontake in summer
Photo by Nagano Tourism Organization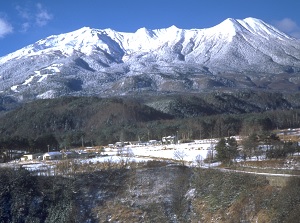 Mount Ontake in winter
Photo by Nagano Tourism Organization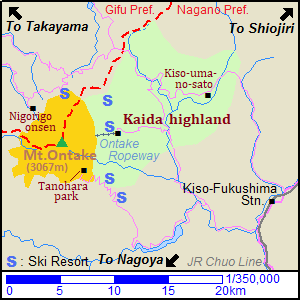 Mount Ontake is the mountain towering on the border between Nagano and Gifu Prefectures.
In Japanese, it is called Ontakesan.
It is located about 25 km south of Mount Norikura.
And it is about 35 km southeast of Takayama city and about 60 km southwest of Matsumoto city.
It has four peaks.
Kengamine (3,067 m) is the highest peak.
This mountain is an active volcano.
Since it erupted about 6,000 years ago, it had been tranquil.
But it suddenly caused a phreatic explosion in 1979.
After that, volcanic tremors were detected and volcanic smokes were emitted occasionally.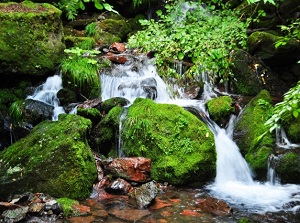 Waterfalls in Mount Ontake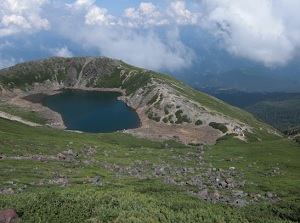 Sannoike around the top of Mount Ontake
On September 27, 2014, it erupted around the top suddenly without warning.
Because of a good season for climbing, many climbers were around the top.
Much volcanic smoke and stones involved them and 58 climbers died.
Now, entrance into the area within a few kilometers from the top is not permitted.
Since the 7th century, this mountain had been worshipped as one of the sacred mountains.
Until the late 18th century, only monks had climbed this mountain.
After that, common people also started climbing here.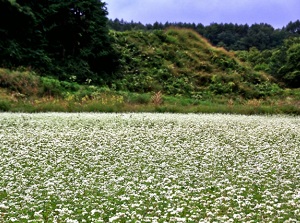 Buckwheat field in Kaida highland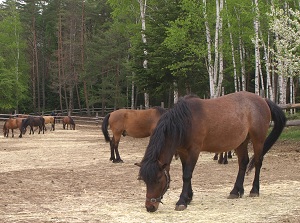 Kiso-uma-no-sato
Photo by Nagano Tourism Organization
The northeastern foot of Mount Ontake has relatively-gentle slope.
It is called Kaida highland (開田高原).
Kaida highland is located at the level of 1,000 to 1,500 meters.
Buckwheat fields spread, ranches are dotted, and there are many forests.
It is said that we can see the most beautiful view of Mount Ontake in Kaida highland.
This highland is known as a production center for Kiso-uma (Kiso-horse or Kiso-pony).
It is a local breed in Japan, and it has short and thick legs.
It had been in an extinction crisis, but about 150 ponies are bred now after the action by the preservation team.
We can meet and try to ride at Kiso-uma-no-sato (木曽馬の里) which is the farm of Kiso-pony preservation team.
And, Ontake Ropeway takes us from the foot of Mount Ontake at the level of 1,570 meters to the observatory at the level of 2,150 meters.
Around the observatory, there are an alpine garden and Ontake shrine.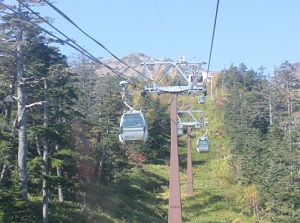 Ontake Ropeway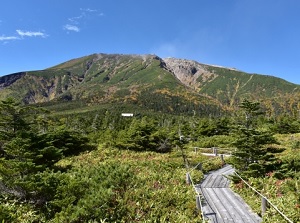 Tanohara park
Tanohara park (田の原天然公園) is also a good observatory.
It is located at the level of 2,180 meters, and the route bus comes here only in summer.
Nigorigo Onsen (
濁河温泉

)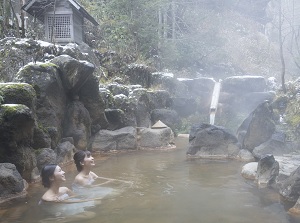 Outdoor bath in Nigorigo Onsen
Photo by Gero-Spa Tourist Association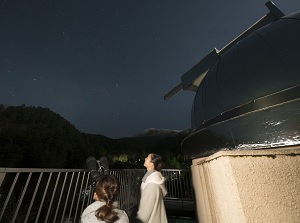 Starry sky in Nigorigo Onsen
Photo by Gero-Spa Tourist Association
Nigorigo Onsen is a hot spring resort located on the nothwestern slope of Mount Ontake.
It is at the level of about 1,800 meters, and is one of the hot spring resorts located at the highest place in Japan. (Another onsen is Manza Onsen in Gunma Prefecture.)
The water has brown color, because it contains iron.
Along Nigorigo River, there are about a dozen hotels and ryokans.
And there is a public outdoor bath.
There is no town and village around this resort.
So we can see the star-filled sky.
This onsen resort is in Gifu Prefecture.
So, courtesy bus with fare is operated from JR Takayama station.
The bus requires reservation when you reserve any hotel or ryokan in Nigorigo Onsen.
It starts around 14:00, and it takes about 1.5 to 2 hours.

Or, a route bus is operated only from mid-July to the end of August.
It start from JR Kiso-Fukushima station in Nagano Prefecture.
It takes about 1.5 hours.
How to get here
Get off at Kiso-Fukushima station of JR Chuo Line.
From Shinjuku in Tokyo to Shiojiri, about 2 hours and 25 to 40 minutes by JR limited express.
Then from Shiojiri to Kiso-Fukushima, about 27 minutes by another JR limited express.
Or, from Nagoya, about 1 hour and 25 minutes by JR limited express.
By route bus from Kiso-Fukushima station, 36 minutes to Kisouma-no-sato, 65 minutes to Ontake Ropeway, 1 hour and 30 minutes to Nigorigo hot spring resort.
(The bus to Nigorigo is operated only from mid-July to the end of August.)
Other Tourist Attractions in Nagano Prefecture
Northern part
Central part
Along Northern Alps
Along Kiso Valley
Along Ina Valley