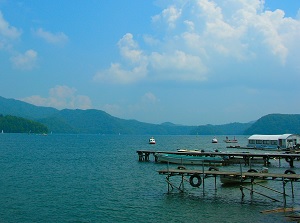 Lake Nojiri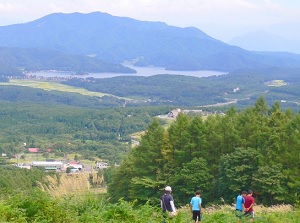 Lake Nojiri from a hill
Lake Nojiri is located about 20 km north of Nagano city.
It is at nearly the prefecture's border with Niigata Prefecture.
The lake is about 3 km from east to west and about 2 km from north to south in width.
And it is located at the level of 654 meters.
Around this lake, there are some beautiful mountains such as Mount Kurohime (2,053 m), Mount Myôkô (2,454 m) and Mount Madarao (1,382 m).
This lake was developed in the 1920s by Daniel Norman (1864-1940), a Canadian missionary.
He developed Karuizawa as a summer resort for foregners in the 1900s, then he developed this lake after that.
Since that, here had been the resort area where many foreigners had visited.
The developed resort town is on the west coast of the lake, and is still the main area of the lake.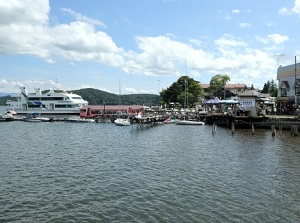 Pier of Lake Nojiri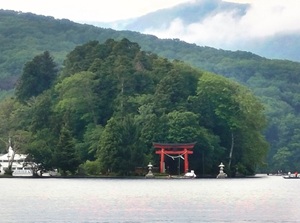 Lake Nojiri in winter
In summer, marine sports are popular.
And the pleasure boats are operated from late April to early November.
The boarding point is also near the resort town.
In winter, this lake doesn't freeze up although it is located in cold area.
So we can enjoy fishing of Japanese smelt by boat with heater.
In 1948, the tooth fossil of Naumann Elephant (Asian straight-tusked elephant which lived until about 20 thousand years ago) was discovered here.
And, by the following investigation, it was discovered that paleolithic men had been living here about 40 thousand years ago.
There is Nojiriko Naumann Elephant Museum in the resort town, and we can get the knowledge.
How to get here
By local train of Shinano Railway, about 35 minutes from Nagano to Kurohime.
Then, by route bus, about 12 minutes from Kurohime station to Lake Nojiri.
Other Tourist Attractions in Nagano Prefecture
Northern part
Central part
Along Northern Alps
Along Kiso Valley
Along Ina Valley