Mount Kiso-Komagatake [
木曽駒ヶ岳

]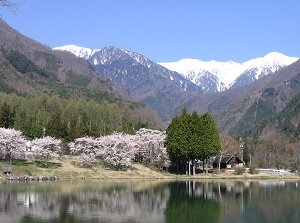 Kiso-Komagatake from Komagane in spring
Photo by Chuo Alps Kanko Co,Ltd.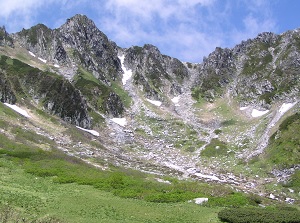 Houkendake and Senjojiki cirque
Photo by Chuo Alps Kanko Co,Ltd.
Kiso-Komagatake is a mountain located at the south part of Nagano Prefecture, and it is the main mountain of Central Alps.
The altitude is 2,956 meters.
There are the peaks of Nakadake (2,925 m), Houkendake (2,931 m), Ina-maedake (2,883 meters) and Kiso-maedake (2,826 m) around the main peak.
The original name is "Komagatake".
But there are many mountains with same name in Japan, so the area name "Kiso" is usually added to the name.
Additionally, because the name is long, it is sometimes called "Kisokoma" in short.
At the eastern foot of this mountain, Ina Valley lies.
And Tenryu River from Lake Suwa flows through this valley from north to south.
At the wester foot of the mountain, Kiso Valley lies.
Kiso River flows through this valley from north to south.
For tourist, the route from Ina Valley side is convenient.
The nearest city to the mountain is Komagane city in the bottom of the valley.
It is located about 13 km east-southeast of the mountain.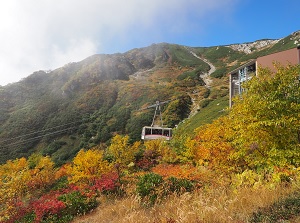 Komagatake Ropeway in autumn
Photo by Chuo Alps Kanko Co,Ltd.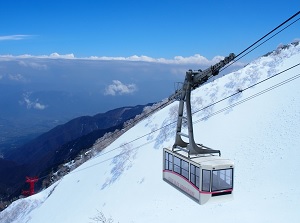 Komagatake Ropeway in winter
Photo by Chuo Alps Kanko Co,Ltd.
We can reach Shirabi-daira (しらび平) at the level of 1,662 meters on the mountainside by route bus.
From Shirabi-daira, we can go up to Senjôjiki (千畳敷) at the level of 2,612 meters by Komagatake Ropeway.
The ropeway goes up 950 meters only in 7.5 minutes, so you need to be careful with altitude sickness.
Senjôjiki is the highest point in Japan that we can climb by ropeway, and is the main view point of Mount Kiso-Komagatake.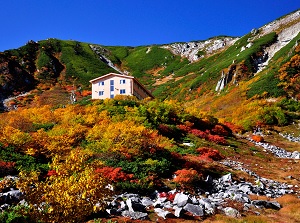 Hotel Senjojiki in autumn
Photo by Chuo Alps Kanko Co,Ltd.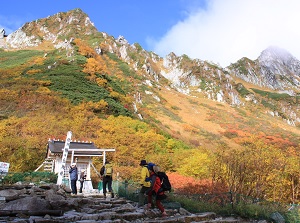 Komagatake Shrine and Houkendake
Photo by Nagano Tourism Organization
There is a hotel by Senjojiki station and small Komagatake Shrine is near the hotel.
Senjojiki is located at the bottom of a cirque.
It is said the the cirque was formed by around 20,000 years ago in the Last Glacial Period.
So the slope around Senjôjiki is relatively flat, but the cirque is surrounded with very steep cliffs.
The top of the cirque is Houkendake (宝剣岳) peak.
A walking trail is set up around Senjojiki station, and we can walk around for 40 to 50 minutes.
In July and August, we can see various alpine plants.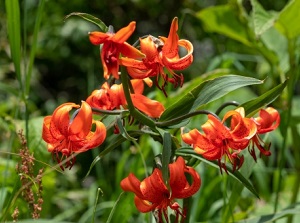 A kind of alpine plants at Senjojiki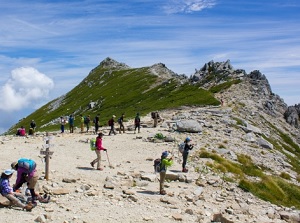 The top of Kiso-Komagatake
From Senjôjiki, the mountain trail to the peaks of Kisokoma.
When visiting there, you should wear the clothes for trekking.
The temperature around Senjôjiki is under 20 degrees C even in summer.
By the way, the ropeway is besically operated every day.
From the middle of April to the end of November, it is operated every 30 minutes.
But in the other season, it is operated every an hour.
How to get here
By railway, get off at Komagane station of JR Iida Line.
From Shinjuku (Tokyo) to Okaya, about 2 hours and 15 to 30 minutes by JR limited express of Chuo Line.
Then from Okaya to Komagane, about 1 hour and 5 to 15 minutes by local train of JR Iida Line.
From Komagane station, by route bus, 45 minutes to Shirabi-daira.
To visit Komagane city, express bus may be convenient.
About 3 hours and 50 minutes from Shinjuku.
About 2 hours and 35 minutes from Nagoya.
Komagane bus terminal is near Komagane station, and you can catch the route bus to Shirabi-daira.
Other Tourist Attractions in Nagano Prefecture
Northern part
Central part
Along Northern Alps
Along Kiso Valley
Along Ina Valley