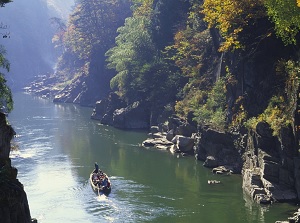 Tenryukyo
Photo by Nagano Tourism Organization

Tenryu River and JR Iida Line
Photo by Nagano Tourism Organization
Tenryûkyô is a gorge formed by Tenryu River, and is located at the south part of Nagano Prefecture.
Tenryu River flows from Lake Suwa at the center of Nagano Prefecture.
The river flows toward south and forms Ina Valley between Central Alps and Southern Alps.
Then, it flows into Pacific Ocean.
The length is 213 km.
Tenryukyo gorge is positioned roughly about 80 km from Lake Suwa.
From Lake Suwa to this gorge, Tenryu River flows through the relatively-wide bottom of the valley.
But, from the gorge, the river flows through narrow and deep valley.
The first section of the gorge are called "Tenryukyo".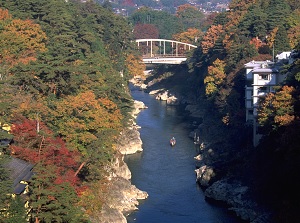 Around Tenryukyo Onsen
Photo by Nagano Tourism Organization

Tenryukyo in winter
Iida city (飯田) is the nearest city.
And, Tenryukyo onsen (hot spring) resort is located about 10 km south of Iida city.
We can enjoy the boat tour of Tenryukyo.
Two companies operate the boats.

Tenryu-funakudari
Photo by Nagano Tourism Organization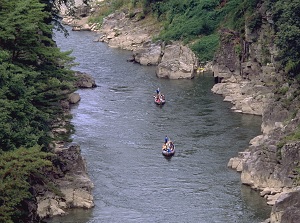 Tenryu-Rhine-kudari
Photo by Nagano Tourism Organization
Tenryu-funakudari operates the boats from Benten boarding point to Tokimata. (About 6 km)
Benten is located about 4 km east of JR Iida station, and it takes about 35 minutes to Tokimata.
Tenryu-Rhine-kudari operates the boats from Tenryukyo-onsen boarding point to Karakasa. (About 6 km) ["Rhine" means Rhine River in Germany.]
Tenryukyo Onsen is located near JR Tenryukyo station, and it takes about 50 minutes to Karakasa.
Tenryu-funakudari passes some rapid streams, so we can enjoy a thrill.
On the other hand, Tenryu-Rhine-kudari mainly shows the scenery of the river.
Hirugami Onsen (
昼神温泉

)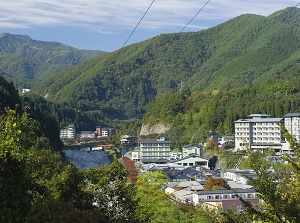 Hirugami Onsen
Photo by Nagano Tourism Organization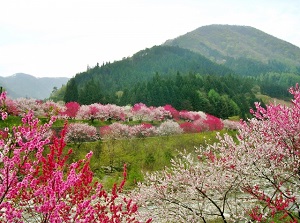 Hanamomo around Hirugami Onsen
Hirugami Onsen is a hot spring resort located about 10 km west of Tenryukyo Onsen.
And it is located about 12 km southwest of Iida city.
The onsen town is in the valley formed by Achi River which is a tributary of Tenryu River.
In 1973, when a tunnel was building, hot spring gushed out near this town.
So, this onsen resort town has been formed rapidly and became the biggest resort town in the southern part of Nagano Prefecture.
There are about 20 hotels and ryokans in the town.
In the center of the town, there is a square and morning market is held every morning.
And, Achi village including this resort was designated as "The place where the brightness of the night sky is suitable for the observation of the star" by Ministry of the Environment in 2006.
So, the guided tour from the onsen town is held in the fine day from the middle of April to the middle of October.
The place for the observation is on the top of a mountain about 7 km west of Hirugami Onsen.
And the area around Hirugami Onsen has a lot of Hanamomo (Peach blossoms).
They are beautiful from late April to early May.
How to get here
To Tenryukyo
Get off at Iida or Tenryukyo station of JR Iida Line.
From Shinjuku (Tokyo) to Okaya, about 2 hours and 15 to 30 minutes by JR limited express of Chuo Line.
Then from Okaya to Iida, about 2.5 hour by local train of JR Iida Line.
Between Iida and Tenrykyo, about 30 minutes by local train.
Or, from Toyohashi station, about 2 hours and 20 minutes to Tenryukyo, 2 hours and 35 minutes by limited express of JR Iida Line. (It takes 4 hours by local train.)
To Toyohashi, Tokaido Shinkansen comes from Tokyo, Nagoya, Kyoto, Osaka.
Or, by express bus, to Iida station, about 4.5 hours from Shinjuku, about 3 hours from Nagoya, about 3 hours from Nagano.
To Hirugami Onsen
By, route bus, about 30 minutes from Iida station.
Other Tourist Attractions in Nagano Prefecture
Northern part
Central part
Along Northern Alps
Along Kiso Valley
Along Ina Valley