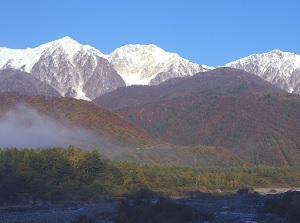 Hakuba Sanzan
Photo by Nagano Tourism Organization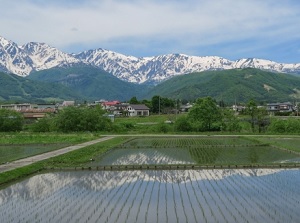 Hakuba village in spring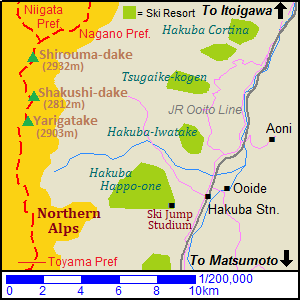 Hakuba village is located at the northwest part of Nagano Prefecture, and is located about 50 km north of Matsumoto city.
It is on the Sea of Japan side, then Hime River through the village flows toward the north.
Northern Alps lies on the west side of the village, and the village is in a valley.
The mountains around the village are on the northern edge of Northern Alps.
The popular mountain is Mount Shirouma (白馬岳, 2,932 m).
Both "Shirouma" and "Hakuba" are written with the same kanji charachters.
It means "white horse".
Around early May, remaining snow is seen on the mountainside of Northern Alps.
On Mount Shirouma, the shape of a white horse appears.
At that time, the village people know the rice-planting season.
There are Mount Shakushi (2,812 m) and Mount Yari (2,903 m) at just south of Mount Shirouma.
These three mountains are collectively called "Shirouma Sanzan" or "Hakuba Sanzan" in Japanese.
At the eastern foot of Northern Alps, there is the center of the village.
The nearest station is Hakuba station of JR Ooito Line.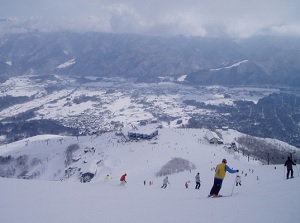 Hakuba village from Happo-one ski resort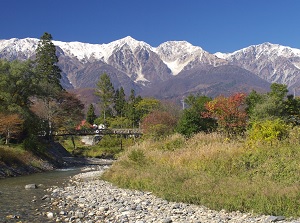 Bridge in Ooide distict
Photo by Nagano Tourism Organization
There is a suspension bridge across Hime River in Ooide distict about 1 km east of the station.
It is the popular spot where we can view the beautiful Shirouma Sanzan.
There are some ski resorts along the foot of Northern Alps, and they are very popular among skiers.
Especially, Happo-one ski resort is one of the largest ones in Japan, and it was used as a course of downhill skiing in the Nagano Winter Olympic Games in 1998.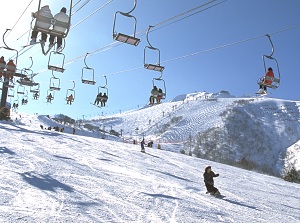 Happo-one ski resort
Photo by Nagano Tourism Organization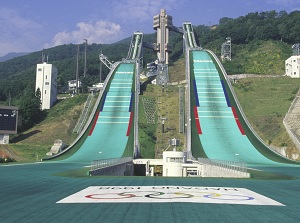 Hakuba Ski Jump Studium
Photo by Nagano Tourism Organization
And near the resort, there are Hakuba Ski Jump Studium which was also used in the Nagano Winter Olympic Games.
(Japanese jumpers made a very strong showing here, then they won two gold, one silver and one bronze medals.)
Aoni district (
青鬼集落

)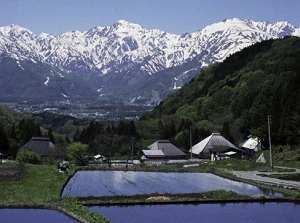 Aoni district

Rice terraces of Aoni in autumn
Aoni district is a small and quiet village located about 4 km northeast of Hakuba staiton.
It is on the mountainside opposite Norther Alps.
This village has rice terraces and several traditional farm houses, and the scenery of Northern Alps is good.
We can see one of the traditional Japanese villages here.
The form of the roof is a little unique.
Here is no shop, no hotel, no vending machine.
Of course, no route bus comes here.
If you want to visit here, you must use a taxi or a rental car.
Or, you can walk about 3.5 km from JR Shinano-Moriue station next to Hakuba.
This district was designated as an important national reservation district in 2000.
How to get here
From Matsumoto to Hakuba, about 1 hours 30 to 55 minutes by local train of JR Oito Line.
Other Tourist Attractions in Nagano Prefecture
Northern part
Central part
Along Northern Alps
Along Kiso Valley
Along Ina Valley