Kaikoen (Ruins of Komoro Castle) [
懐古園

]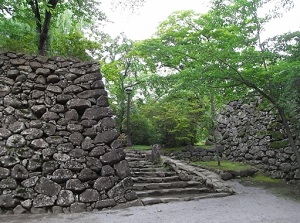 Stone wall in Komoro Castle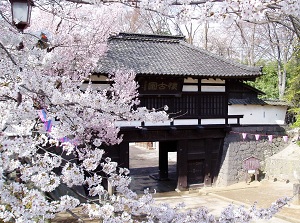 Kaikoen in spring
Photo by Nagano Tourism Organization
Kaikoen is the ruin of Komoro Castle (小諸城) in Komoro city.
It is located just west of Komoro station (JR and Shinano Railway)
Komoro city is located at the northeast part of Nagano Prefecture.
It is about 20 km west of Karuizawa.
It is said that Komoro Castle was built in 1487.
Since the 16th century, this castle had been the political center of this area until the end of Edo Period (the 1860s).
It is said that the castle tower was gorgeous, but it was burnt down by a stroke of lightning in 1626.
But the castle tower was not rebuilt.
This castle was very unique.
Generally, Japanese castles were built on high places such as mountain, hill.
Or, they were surrounded by some moats to protect from enemy attacks.
Komoro Castle was constructed on the fluvial terrace of Chikuma River flowing to the southwest.
And there are deep valleys on the north side and the south side of the castle.
The cliffs of them are the deposits of the volcanic ashes from Mount Asama.
It is very difficult that the enemies climb there, so it is a natural fortress.
On the other hand, the castle town spreads to the east of the castle.
It is located at the higher level than the castle.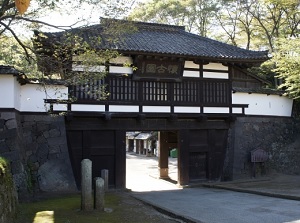 San-no-mon in Kaikoen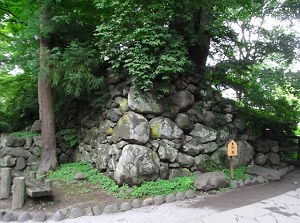 Ruin of Kuromon gate in Kaikoen
The site of the castle is nearly a trianglar shape surrounded with the river and two valleys.
The length of each side is about 350 to 400 meters.
The whole site is called Kaikoen.
The name has been given as the name of municipal park.
The origin of the name is unknown, but the kanji characters mean "the park to look back to the past".
The front gate San-no-mon (三之門) is at a corner of the triangle on the east side.
Therefore, if the enemies had come from the castle town, the soldiers in the castle had only to guard the gate.
In the site, some stone walls of the castle ruin.
And, there are some museums, a zoo, an amusement park and some other facilities.
Also there are many cherry trees, then here is one of the major cherry blossom-viewing spots in this area in late April.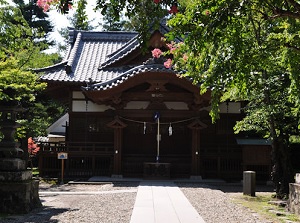 Kaiko Shrine on the ruin of castle tower
Photo by Railstation.net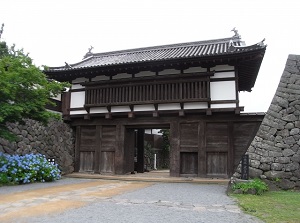 Otemon in Komoro city
In addition, Ôtemon gate (大手門) is just north of Komoro station.
It was built in 1612, and one of original buildings of Komoro Castle.
How to get here
By Hokuriku Shinkansen, about 1 hours 5 to 10 minutes from Tokyo to Karuizawa.
Then, by Shinano Railway, about 24 minutes from Karuizawa to Komoro.
Or, by Hokuriku Shinkansen, about 1 hours 15 to 20 minutes from Tokyo to Sakudaira.
Then, by JR Koumi Line, about 15 minutes from Sakudaira to Komoro.
Hotels in Komoro
Other Tourist Attractions in Nagano Prefecture
Northern part
Central part
Along Northern Alps
Along Kiso Valley
Along Ina Valley