Nezame-no-toko gorge [
寝覚の床

]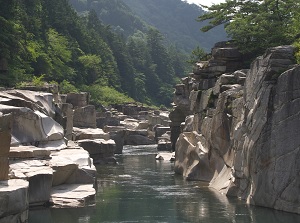 Nezame-no-toko
Photo by Nagano Tourism Organization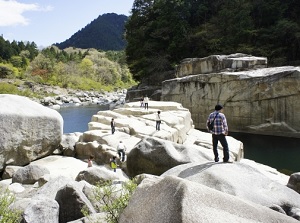 Rocks of Nezame-no-toko
Nezame-no-toko is a gorge formed by Kiso River.
It is located about 8 km south of JR Kiso-Fukushima station which is a gateway to Mount Ontake.
Kiso River has been eroding the granite bedrock in the bottom from the earliest times.
As a result, the river flows between the vertical walls of the rock.
The lenght of the unique gorge is about 1.5 km.
"Nezame-no-toko" means "bed when awakening".
This strange naming came from the following old legend.
Once upon a time, Urashima Taro, a fisherman, found a few children bullying a tortoise on a shore.
So he rescued the tortoise.
In return for the rescue, the tortoise took Taro to Ryûgû Castle which is the submarine castle living the god of the sea.
In the castle, Princess Otohime entertained Taro warmly.
After a few days, Taro wanted to return his home, so he said goodbye to the princess.
She gave a box to him for souvenir.
But she warned him never to open the box.
Then, he was taken back by the tortoise to the shore again.
When he came back to his home, the scenery had changed entirely.
Because, while he was in Ryûgû Castle, several hundred years had passed.
There had been no acquaintance in his home, so he started a journey.
When he reached this gorge and see the view of beautiful Kiso River, he remembered Ryûgû Castle.
And he opened the box on the rock, at last.
A white smoke came pouring out from the box, and he was instantly transformed into an old man over 300 years old.
At that time, he thought that he had awoken from a dream.
Therefore, it is said that the name of this gorge became "Nezame-no-toko".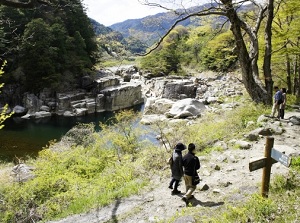 Walking trail by Nezame-no-toko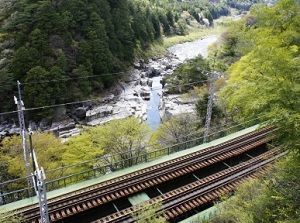 JR Chuo Line and Nezame-no-toko
There is a huge flat rock around the center of the gorge, and it is said that Urashima Taro was sleeping on the rock.
And, there is a small temple enshrining him near the rock.
Along Nezame-no-toko, the railway of JR Chuo Line and the road of National Route 19 run.
We can view the gorge from train, bus and car.
How to get here
Get off at Kiso-Fukushima station of JR Chuo Line.
By limited express, about 40 minutes from Matsumoto, about 1.5 hours from Nagano, about 1.5 hours from Nagoya.
By route bus of Kuramoto Line, about 20 minutes from Kiso-Fukushima station.
Other Tourist Attractions in Nagano Prefecture
Northern part
Central part
Along Northern Alps
Along Kiso Valley
Along Ina Valley