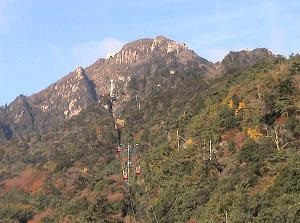 Mount Gozaisho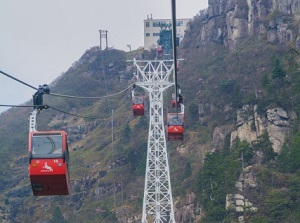 Gozaisho Ropeway
Mount Gozaisho (Gozaisho-dake in Japanese) is a mountain at the north part of Mie Prefecture.
It is on the border between Mie Prefecture and Shiga Prefecture.
The top of the mountain is located about 20 km west of central Yokkaichi city and about 50 km west-southwest of Nagoya city.
This mountain is one of the peaks of Suzuka Mountain range.
It is not so high mountain and the altitude is 1,212 meters.
This mountain has a little unique natural features.
It has some steep cliffs on the Mie side.
Most of the rocks are formed by granite, and strange rocks by erosion are dotted around the cliffs.
Though Mie Prefecture is in temperate region, the plants in both subantarctic zone and temperate zone grow with mixing around this mountain.
So we can find the various plants.
Of course, this mountain is famous for the beautiful colored leaves in autumn.
"Autumn darter" is a kind of dragonfly, and it lives commonly in Japan.
(The name is simply called as "red dragonfly".)
It is born in early summer, then moves to high mountain to avoid the hot summer.
The dragonflies are seen around the top of this mountain in midsummer.
In addition, frost-covered trees are seen around the top of the mountain in the midwinter.
It is called "soft rime", and is generally seen only in the northern Japan.
Mount Gozaisho is a mountain that soft rime is seen in warm area near big city such as Nagoya and Yokkaichi.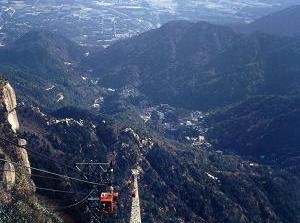 View from Gozaisho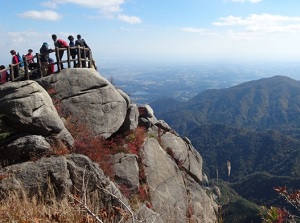 An observatory on Mount Gozaisho
Gozaisho Ropeway leads to near the top of mountain from Yunoyama hot spring resort.
The distance between the peak of the mountain and the station of the ropeway is about 500 meters.
In winter, this part becomes ski slope.
Therefore, a few lifts are set up.
Of course, the lifts are used in all seasons.
There are some observatories around the ropeway station.
We can see the city of Yokkaichi and Ise Bay.
A few mountain trails are set up from the foot to the top.
Various strangely shaped rocks are near the trails.
Yunoyama Onsen (湯の山温泉) is at the foot of Mount Gozaisho.
It is located about 15 km west of Yokkaichi city.
Mitaki River flows and a dozen hotels and ryokans are mainly around the ropeway station.
The terminal station of Kintetsu railway is the entrance to the hot spring resort, and the distance is about 2 km.
How to get here
From Nagoya, by limited express of Kintetsu Railway, about 28 minutes to Kintetsu-Yokkaichi.
Change to Kintetsu Yunoyama Line.
By local train, about 26 minutes to Yunoyama-Onsen terminal station.
Between Yunoyama-Onsen station and ropeway station, route bus is operated.
It takes about 10 minutes.
Other Tourist Attractions in Mie Prefecture