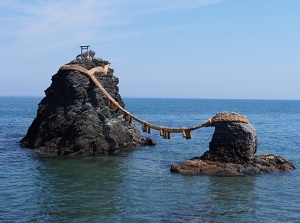 Meoto-iwa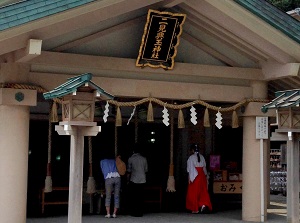 Futami-Okitama Shrine
Meoto-iwa is a pair of rocks near the Futamigaura coast facing Ise Bay.
It is located about 8 km east of the center of Ise city.
"Meoto-iwa" means "rocks of husband and wife".
The rocks with the same name exist along the coasts nationwide.
But, these rocks in Ise have been famous since ancient times, and were drawn in ukiyo-e (Japanese wood-block paintings) in the 19th century.
The rocks are a few tens of meters off the coast.
The left large rock about 9 meters high is "husband", and the right small rock about 4 meters high is "wife".
On the shore, there is Futami-Okitama Shrine (二見興玉神社).
This shrine has enshrined a stone.
The sacred stone is in the sea about 700 meters off Meoto-iwa.
It is said that a god changed to the stone.
Meoto-iwa is a Torii gate to worship the stone.
Additionally, the legend says that the god came from the heaven with a frog as a guide.
So, many statues of frogs are around this shrine.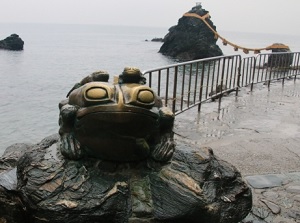 Statues of frogs around Meoto-iwa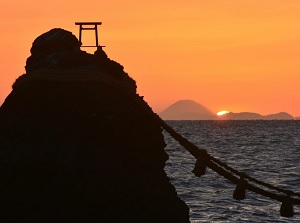 Meoto-iwa & Mt.Fuji at sunrise
Both rocks of Meoto-iwa are connected with the thick ropes.
The ropes are renewed in May, September and December.
That is one of the important festival of the shrine.
Five thick ropes are used.
A rope is 35 meters long and 10 centimeters in diameter.
And, the weight is 40 kilograms.
The view of sunrise from here is famous.
From April to August, we can see the rising sun between two rocks of Meoto-iwa.
Especially, around the summer solstice, the sun rises at the right position that there is Mount Fuji beyond the horizon.
The distance between Meoto-iwa and Mount Fuji is about 200 km.
The season is in tsuyu (rainy season), so if you can see Mount Fuji, it is the rare piece of luck.
How to get here
By JR Sanguu Line, about 7 minutes from Iseshi to Futamigaura station.
Then, about 1.5 km walk from there.
By route bus for Toba, about 53 minutes from Uji-Yamada station, about 41 minutes from Geku.
Get off at Meoto-iwa-higashiguchi stop.
(The bus run through some sightseeing spots, so it takes time.)
Other Tourist Attractions in Mie Prefecture