Akame 48 Waterfalls [
赤目四十八滝

]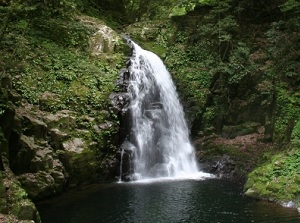 Fudou-daki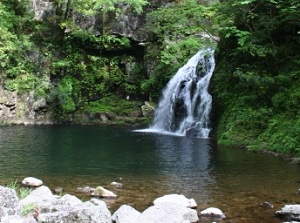 Senju-daki
Akame 48 Waterfalls is located about 6 km south of central Nabari city at the south part of Iga Basin.
And it is located about 25 km south of Iga-Ueno.
In Japanese, it is called Akame-shijûhachi-taki.
Taki River forms a gorge, and many waterfalls are along the river for about 4 kilometers.
It is said that the number of the waterfalls is more than 48.
Of course, even very small waterfalls are included in the number.
The number of 48 had been used as the meanings of "a set of many things" in Japan from a long time ago.
And, the numbers of multiples of 8 or 12 have been important and lucky in religious significance.
So this waterfalls have such name.
These waterfalls had been a place of ascetic practice by Buddhist monks since ancient times.
It is said that Ninja in Iga had also trained around these waterfalls because it is not so far from Iga-Ueno.
We can walk along a walking trail along the gorge and see the waterfalls.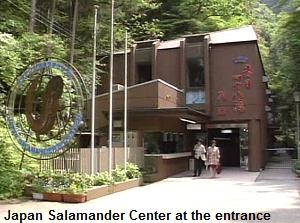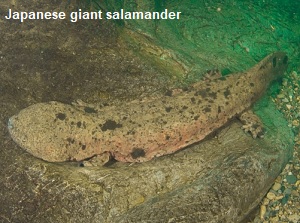 At the entrance of the gorge, there is Japan Salamander Center.
(In Japanese, salamander is "sanshô-uo".)
Japanese giant salamanders live in this gorge.
They are designated as a special national natural treasure.
Akame 48 Waterfalls have many waterfalls, but only 22 waterfalls have own name.
Among them, the follwings are the major five waterfalls.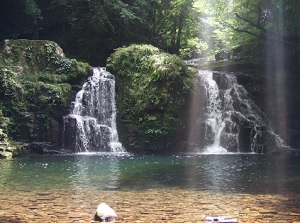 Ninai-daki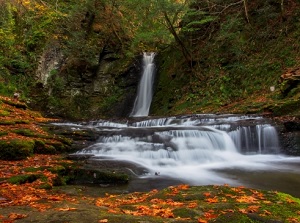 Biwa-daki
Fudou-daki (

不動滝

) : Height 15 meters, Width 7 meters.
"Fudou" is one of Gods of Buddhism. (0.3 km from entrance)
Senju-daki (

千手滝

) : Height 15 meters, Width 4 meters.
The water falls with branching. (0.8 km from entrance)
Nunobiki-daki (

布曳滝

) : Height 30 meters, Width 1 meters.
It looks like a long strip of cloth. (1.0 km from entrance)
Ninai-daki (

荷担滝

) : Height 15 meters.
The water sprits into two streams. (2.6 km from entrance)
Biwa-daki (

琵琶滝

) : Height 15 meters.
It is surrounded with rocky cliffs, and the basin has indigo blue color. (2.9 km from entrance)
When you reach Biwa-daki and return, it takes about 3 hours.
Far from Senju-daki, the trail is steep.
So, if you have not so much time or don't want to walk hardly, you had better return from Senju-daki.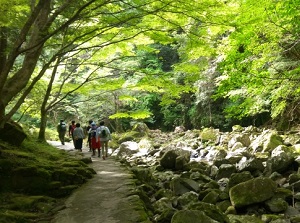 Walking trail of Akame 48 Waterfalls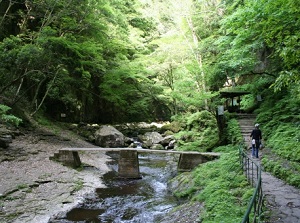 Walking trail of Akame 48 Waterfalls
By the way, there is Ninja no Mori (忍者の森, "Forest of Ninja") near Japan Salamander Center.
It is a facility to experience the training of Ninja.
You can learn the training of Ninja wearing Ninja costume.
You can experience some athletic plays for Ninja, throwing Ninja's weapons, blowgun, passing the trick room, etc. for about 1.5 hours.
Children are also able to join.
How to get here
Get off at Akameguchi station of Kintetsu railway.
From Nagoya, by limited express for Nanba, about 1.5 hours to Nabari.
By local train, about 3 minutes from Nabari to Akameguchi (next station).
From Nanba or Osaka-Uehonmachi, by limited express for Nagoya, Toba or Kashikojima, about 30 minutes to Yamato-Yagi.
By express train, about 30 minutes from Yamato-Yagi to Akameguchi.
From Akameguchi station, by route bus, about 10 minutes.
Hotels around Iga city
Other Tourist Attractions in Mie Prefecture