Maruyama Rice Terrace (Senmaida) [
丸山千枚田

]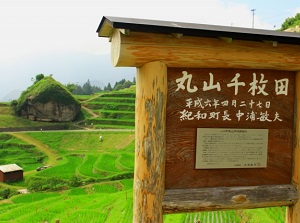 Sign of Maruyama Rice Terrace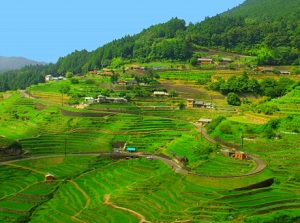 Maruyama Rice Terrace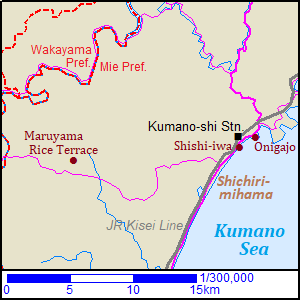 Map around Kumano city
Maruyama Rice Terrace ("Maruyama Senmaida" in Japanese) is a scenic rice terrace in Mie Prefecture.
It is located about 20 km west of the center of Kumano city.
About 1,340 small rice fields are arranged in a staircase pattern on the the mountain slope, and it is the largest in scale in all over Japan.
It is unknown when this rice terrace was constructed.
There remains a record that this rice terrace had about 2,240 rice fields in 1601.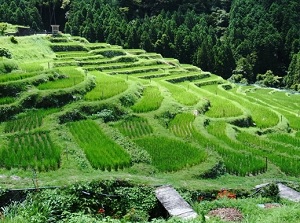 Maruyama Rice Terrace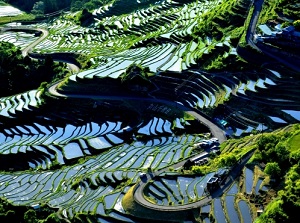 Before rice-planting in Rice Terrace
Recently, the farmers have been decreasing.
So, the rice fields also decreased to 530 in 1992.
To preserve this historic farm, the town mayor established the preservation society.
Then, many fields have been restored by the people in the town, and set up the "ownership system".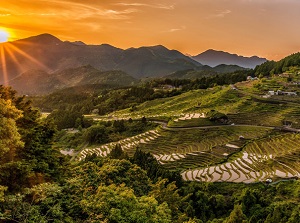 Sunset at Maruyama Rice Terrace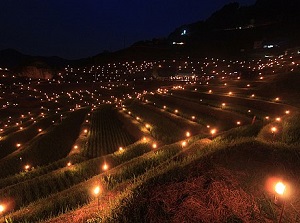 Mushi-Okuri in Maruyama Rice Terrace,
Photo by Kiwachiiki [CC BY-SA 3.0]
(https://creativecommons.org/licenses/by-sa/3.0)
The rice fields are cultivated in early spring, and they set out rice-plants in May.
And the rice harvest is held in September.
In the evening in June, "Mushi-Okuri" feastival is held.
They pray to prevent damages caused by harmful insects and have a rich harvest of rice. In the dark, 1,340 lights are set up and the scene is fantastic.
How to get here
By route bus for Seiryusho, about 35 minutes from JR Kimanoshi-station to Senmaida-Toritooge-iriguchi stop.
This bus is operated from around 11:00 at Kumano-shi station every about 2 hours.
From the bus stop to the rice terrace, you must walk for about 1.8 km.
Other Tourist Attractions in Mie Prefecture