Shugakuin Imperial Villa [
修学院離宮

]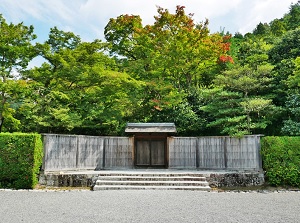 Entrance gate of Shugakuin Imperial Villa
Photo by Kyoto Free Photo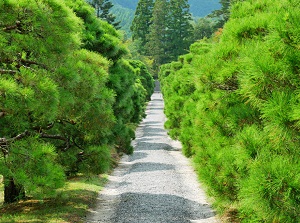 Path in Shugakuin Imperial Villa
Photo by Kyoto Free Photo
Shugakuin Imperial Villa ("Shugakuin Rikyû" in Japanese) is one of the villas of Emperor Family.
It is at the west foot of Mount Hiei and is located in the north part of Higashiyama mountains.
It is located about 5 km northeast of Kyoto Gosho (Kyoto Imperial Palace).
This villa is managed by Imperial Household Agency.
Therefore, we must apply for visit to the agency in advance.
Additionally, the visitors under 18 years old aren't allowed to enter this villa.
And, in the guided tour, you masu walk for about 3 km.
This villa was built by Emperor Go-Mizunoo in the 1650s.
It has three different Japanese Gardens in broad site with rice fields and forests.
And they are connected with pathways.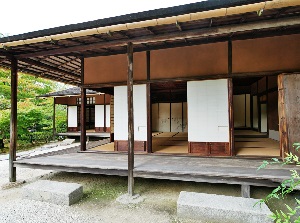 Jugetsukan in Shimono-Ochaya
Photo by Kyoto Free Photo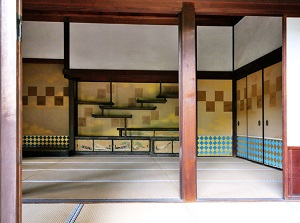 Kyakuden in Nakano-Ochaya
Photo by Kyoto Free Photo
The entrance is at the west side of the villa, and there is Shimono-Ochaya villa (下御茶屋).
In a Japanese garden, there is a villa residence Jugetsukan (寿月観) rebuilt in 1824.
Emperor Go-Mizunoo had lived in the residence.
There is Nakano-Ochaya villa (中御茶屋) about 300 meters southeast of Shimono-Ochaya.
This villa has two buildings called Kyakuden (客殿) and Rakushiken (楽只軒).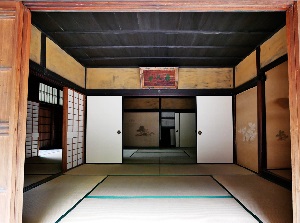 Rakushiken in Nakano-Ochaya
Photo by Kyoto Free Photo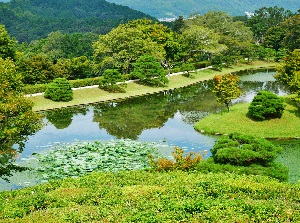 Yokuryuchi in Kamino-Ochaya
Photo by Kyoto Free Photo
There is Kamino-Ochaya villa (上御茶屋) about 250 meters east of Shimono-Ochaya.
It has a large Yokuryûchi pond (浴龍池).
And two buildings, Rin-untei (隣雲亭) and Kyûsuitei (窮邃亭) are dotted around the pond.
Rin-untei is built at the highest place in this villa, so we can see the nice view.
How to get here
By route bus, get off at Ichijoji Sagarimatsucho stop.
About 37 minutes from Kyoto station, about 14 minutes from Kita-oji subway station.
About 5 minutes walk from there.
Hotels in Sakyo Ward
Other Tourist Attractions in Kyoto Prefecture